Hey Jesstonk lovers
If you haven't noticed the US stock market is an absolute madhouse with everyone with a TikTok or Instagram account thinking they are now a stock trading genius. When stocks only go up, no one thinks they can lose. It's so simple, you put money in, you take more money out, it's the magic pot of gold, and it's been on that trend for at least the last 40 years now.
Some of the gains have come through productivity, but a larger and larger portion has come from money printing, especially within the last 2 years. IT seems each year money printing takes up more responsibility for gains than actual growth and productivity.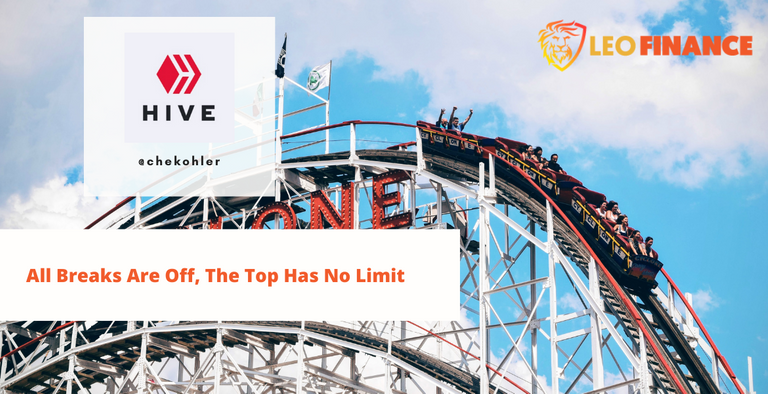 The S&P 500 index is a benchmark of American stock market performance, dating back to the 1920s. The index has returned a historic annualized average return of around 10% since its inception through 2019.
If you're getting an annualised 10% return on the S&P 500 then really a ham sandwich could sit at the trading desk, go long the S&P for the last 100 years and have made major gains.
I'll give you an example, if you got in at any point in the last 100 years using $100 as your entry point, this would be your averaged return.
| Year | Time | Return |
| --- | --- | --- |
| 1920 | 100 Years | $1 378 061.23 |
| 1930 | 90 Years | $ 531 302.26 |
| 1940 | 80 Years | $ 204 840.02 |
| 1950 | 70 Years | $ 78 974.70 |
| 1960 | 60 Years | $ 30 448.16 |
| 1970 | 50 Years | $ 11 739.09 |
| 1980 | 40 Years | $ 4 525.93 |
| 1990 | 30 Years | $ 1 744.94 |
| 2000 | 20 Years | $ 572.75 |
| 2010 | 10 Years | $ 259.37 |
If we consider inflation and we include let's say the average is 2%, the returns could look even greater. Think this calculation is on a single $100 entry point and the gains over time are ridiculous.
So really do you have to be a genius investor to sit in some stocks, average in every year and ensure you make gains?
I don't think so, and neither does this data.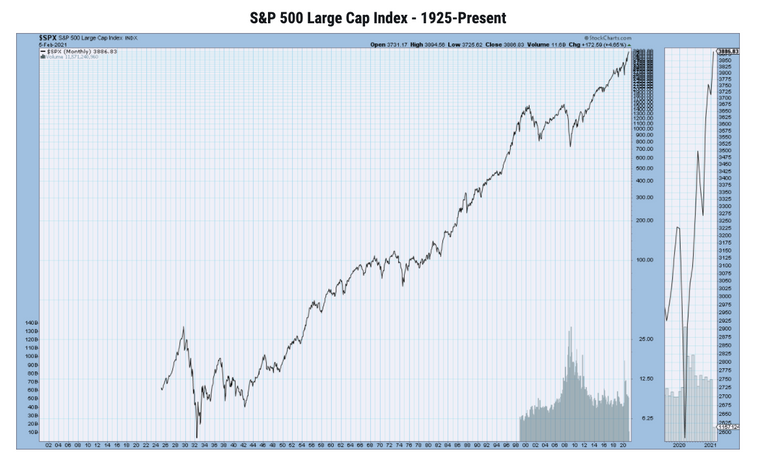 Source: stockcharts.com
Stocks are now a store of value
Stocks have become a hybrid store of value in a world where inflation drives the world. It's a way to protect against inflation when, in the past, it was a way to tap into cash flow. Many stockholders don't even care about the dividends or id there are dividends and care more about the asset's price.
This is why we see people buying stocks that have 40, 50, 100, even 1000 times the earnings ratio. They would rather own something that is seen as scarce than hold on to cash.
This narrative and consistent proof over the last how many years you've been alive reinforce this behaviour and get in on the game as they see others making money.
Shortsellers are out of the picture
If we look at all the factors driving the upward momentum, and the fact that the Fed will put a floor under any correction, stock markets will only go up. They're also a steady stream of new companies wanting to access the frenzy by going public with an IPO or SPAC.
This rampant speculation needs a corrective force, but with short-sellers pulling out of the market, that to me is the final break removed from the market.
The more I watch the market, the more I feel a crash up will be where we end up as this frenzy concludes.
Have your say
What do you good people of HIVE think?
So have at it my Jessies! If you don't have something to comment, comment "I am a Jessie."
Let's connect
If you liked this post, sprinkle it with an upvote or esteem and if you don't already, consider following me @chekohler and subscribe to my fanbase
| Safely Store Your Crypto | Deposit $100 & Earn $10 | Earn Interest On Crypto |
| --- | --- | --- |
| | | |
---

Posted Using LeoFinance Beta