Ozzie Woman Sued For Accidental Transfer From Crypto.com
In today's YIYL we embrace the fact that fortune favours the brave and have a look at what's going on in the world of the most annoying centralised exchange when it comes to marketing. The Singapore firm has been around for a while and as you can tell from the way they operate, the top guys and girls don't really have much going in terms of finance and security but when it comes to marketing boy do they know what they're doing.
They advertise everywhere, sponsoring the UFC, buying stadium rights, sponsoring soccer teams and even recently pulled out of being the official sponsor of the Uefa champions league, I guess the money sure is getting tighter these days.
Hasn't been smooth sailing for CRO
When it comes to products, their card is trash, they've soft rug pulled customers forcing them from MCO to the highly diluting CRO and the exchange token continues to offer very little value for its holders.
They've also recently laid off a bunch of staff around 25% or 1300 people for the bear market cost-cutting program, a sign of weakeness if my opinion because if you had the funds and runway they did and didn't overleverage yourself a downturn like this should be a cakewalk.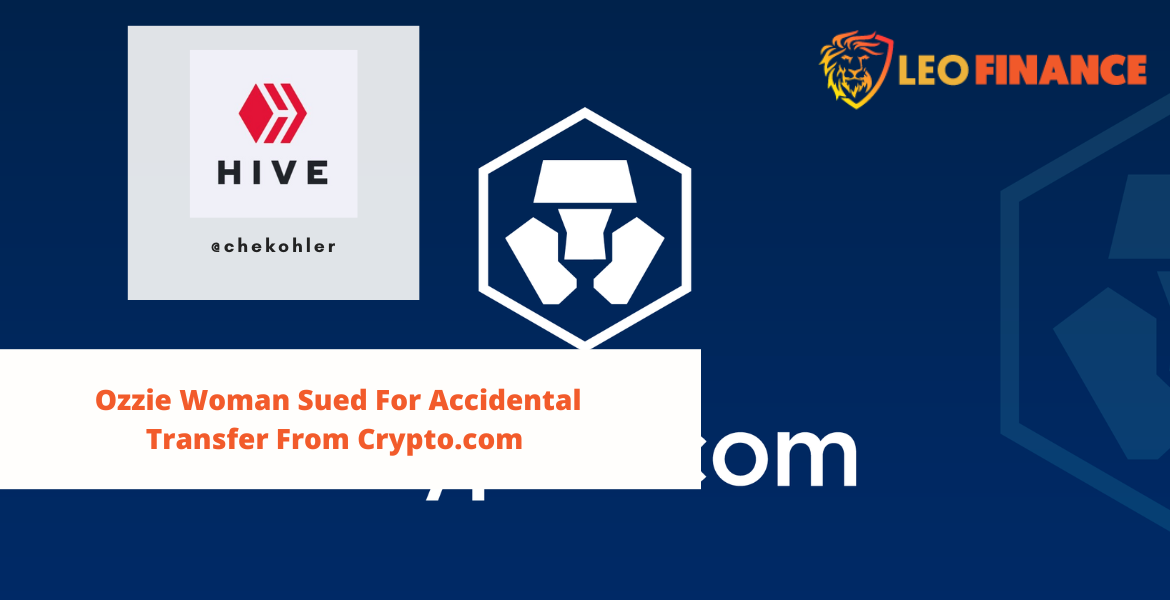 Crypto.com's latest faux pas
According to local news outlets down in Australia two lucky or rather unlikey Melbourne women, Manivel Thevamanogari and her sister Gangadory Thevamanogari had a whirlwind experience with crypto.com
Similar to the case I covered where coinbase cocked up their fiat withdrawals, crypto.com said hold my bear and they did it 10x as big.
The woman in question went to withdraw around $100 from Cryptocom and received an AUD$10.5 million deposit from Singaporean crypto exchange Crypto.com. Apparently, an employee allegedly typed an account number in the payment section, resulting in an erroneous transfer to their bank account.
Geez, how overworked was this employee that they couldn't catch that mistake and why are manual payments processed without 2 or 3 checks, even a basic ass bank doesn't allow you to do that if you hitting limits of over $10 000 in any country in the world.
Instead of calling up the company to query the mistake and refund the amount, she saw it as her payday and went full lotto winner with the funds. The woman put the money into a joint account shared with her sister and purchased her sister a five-bedroom home in Craigieburn worth nearly US$1 million of the funds.
Its not confirmed where the rest of the funds are or how they were spent.
The incident occurred back in May 2021, but was not discovered until an annual audit in December 2021, so for 8 months, she thought she had got away with it. I mean it's not like a housing deal is a quick purchase even if you have the cash.
It's arse covering time
Upon discovering the hole in their balance sheet, just an aside how shit is your accounting that you don't notice this within a quarter? Anyway back to the story, they now trying to claw back the funds.
Crypto.com filed a lawsuit, the Victoria Supreme Court recently ruled that the funds must be returned to the company. Since she spent the money and cannot meet the demands she was ordered to sell the property and return the remaining funds or face potential contempt of court charges.
The case will return to court in October.
Don't mistake fiat for bitcoin
Unlike bitcoin transactions, which are final and irreversible, it is possible for centralized financial institutions to reverse erroneous transactions. As for shitcoins, if she pulled it out in any stablecoin it or Turing complete shitcoin chain, the funds could be blacklisted and once it hit another exchange you're pretty much shit out of luck.
The funny thing about this is, that fiat transfer mistakes happen all the time, and since there is no final settlement, there is plenty of time to reverse said transaction.
However, given the time it took to discover the error and that the funds from Crypto.com were transferred out of the original account post-receipt, a simple transaction reversal would have been impossible in this instance.
But with fiat having KYC they were able to match all the details and easily set up a case against the woman.
Lol, just another day in shitcoin land, am I right?
Sources:
Have your say
What do you good people of HIVE think?
So have at it my Jessies! If you don't have something to comment, "I am a Jessie."
Let's connect
If you liked this post, sprinkle it with an upvote or esteem and if you don't already, consider following me @chekohler and subscribe to my fanbase
| Earn Free bitcoin & shop | Earn Free Bitcoin & shop | Claim Free Bitcoin & Shop |
| --- | --- | --- |
| | | |
Posted Using LeoFinance Beta
---
---