Hey Jessiemployees
As a salaried worker myself, I know first hand that salaries don't stretch as far as they used to. Even if you are getting inflation-based increases or above that, you're moving into higher tax brackets and having to give more of your disposable income to governments.
The idea of earning more money also doesn't help much when we fall for hedonic adjustments and adaptation encourages us to improve our lifestyle and purchase better or newer goodies with our newly found income.
It can quickly catch up to us, and many of us regardless of how well we live could only be 1, 2 or 3 paycheques from ruin. Living on cash flow and not having savings is a dangerous place to be even in the most stable of times, but when you're earning a currency that is losing value each year, it adds a layer of complexity.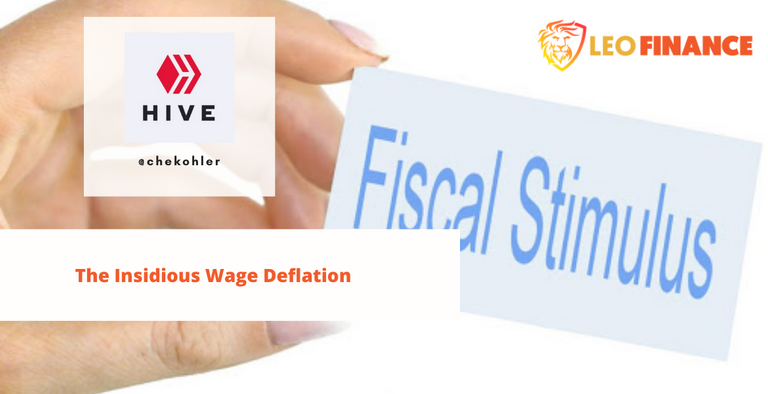 Efficiency deflates wages
Technology is moving at a rapid pace, and each year it gets exponentially better and reducing the need for human labour, machine learning, AI, 3D printing, Computer processing power, internet speeds, IoT, Blockchain and more are all slowly starting to converge and provide levels of efficiency we've never seen before.
This should, in theory, be a good thing; it removes us from doing menial work. It gives us more leisure time and makes miserable jobs easier to deal with as computers take over many rudimentary tasks.
We've lost out on deflationary gains for years
Since we're still very much entrenched in a fiat money system where we measure everything in a currency that loses value, we've lost out on years of deflationary gains. When our labour was worth much more, we cannot enjoy that labour gains since what we were rewarded in, save in and spend in losses its value.
Spreading the gains of technology
Instead of sharing the benefits of technology, the way our monetary system is set up means labour has to compete as we don't live in a savings based world.
As people compete with computers, we find labour becomes redundant, jobs are automated, and the jobs around aren't paying much short of specific niches, like technology or medicine.
The vast majority of industries have been disrupted by the productivity gains of technology. Technology with time may eliminate labour, and we'll have a smaller job market for traditional jobs, and new jobs will have to be created of which many will not be able to adapt to and fall into cracks of soceity.
Money that can be transported through time
One way to solve this issue is to have money transported through time and capture the share of the world's productivity. Money that cannot be debased and provides a way to store unused purchasing power of the past.
Fiat cannot compete with the technological deflation, and eventually, it will break as these two forces collide. This is one of the reasons why I think Bitcoin flourishes in the new world of technology. We need a new form of money for all the productivity we've created.
Have your say
What do you good people of HIVE think?
So have at it my Jessies! If you don't have something to comment, comment "I am a Jessie."
Let's connect
If you liked this post, sprinkle it with an upvote or esteem and if you don't already, consider following me @chekohler and subscribe to my fanbase
| Safely Store Your Crypto | Deposit $100 & Earn $10 | Earn Interest On Crypto |
| --- | --- | --- |
| | | |
---

Posted Using LeoFinance Beta