Hey Jesstable coin users
If you've spent any amount of time in the crypto space and read the news around it there's always drama going on, it's like the Kardashians but for tech and financial nerds like myself. Some of it is gossip, or what we like to refer to as FUD and some of it is serious accusations that have wider ramifications.
One of the stories gripping the market right now is the trail of Tether, like in all cases, you are innocent until proven guilty, but in the court of public opinion, it doesn't often matter. Many have already made up their minds and begun to ditch Tether, while others either don't care because it works or has no idea what is going on.
Tether continues to work and has already hit a market cap of 25 billion, which is meant to be backed 1 to 1 with the US dollar. The bigger the market cap, the more questions arise around does Tether have the backing for all this capital or are they printing funny money.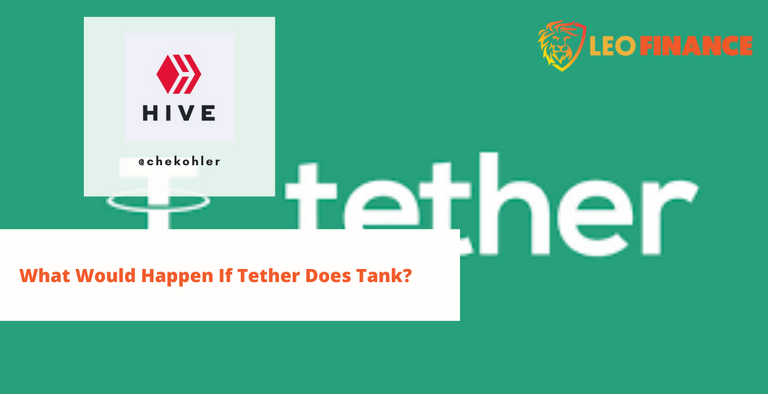 What is Tether?
Tether or USDT was originally known as "Realcoin" was founded Brock Pierce in 2014 with the idea of giving traders an asset to quickly enter or leave a position without being subject to the volatility of the crypto market.
In the old days of crypto trading base currency pairs was a pain as you had to fund your wallet with wire transfers and to move to other exchanges with Bitcoin or ETH wasn't always practical.
The stable coin unlocked a range of new markets, and it been copied by several projects, some backed by reserves, like USDC and others backed by crypto-like MakerDAI.
A reserve backed stable coin was meant to be backed 1:1 by real USD, meaning the coin's price would be relatively stable. Around November 2018, the rumours of Tether not being backed 1:1 reached the former state attorney general of New York, Letitia James.
She initiated an investigation in Tether and Bitfinex, but the two companies filed an appeal resulting in the investigation's halt.
Then the approval of the New York Court on the 9th of July 2020 the case finally resumed against Tether and Bitfinex, and the saga caught heat on social media and in the crypto-sphere once again.
What does this case mean?
I am not going to go into all of the details because that's been explained in length on articles and podcasts all over the web. To give you a summary, there are claims that USDT is unbanked, worked with organisations suspected of money laundering and securities fraud and a range of other issues.
I am not here to comment on that; we'll have to wait on the verdict. I don't own any USDT, never have and probably never will, what I am on about is what this could mean for crypto if they are found guilty, since man as crypto holders we always have to prepare for the worst, never think an MT Gox size issue won't arise again.
What could happen if this doesn't fall in tethers favour?
Tether is currently available on ONMI chain, Ethereum, TRON and EOS and has base pairs with so many cryptos on so many exchanges. If they are found to be unbacked, this will cause quite a shit storm, in my opinion.
Naturally, people will want to unroll from their USDT holdings, and 23 billion isn't a small chunk of change. It's going to rip out trading pairs on exchanges; it will rip up DE-FI smart contracts and landing platforms using it to back contracts. It's going rip through CE-FI and derivative platforms that don't have access to bank accounts and rely on USDT to get hard currency into their ecosystems.
USDT is engrained in the ecosystem and for it to blow up will leave more than a 25 billion dollar hole in the market. It also gives governments a sweet piece of ammo to beat crypto and Bitcoin over the head, that we're a bunch of misfits printing our own money out of thin air and just the case to regulate even more.
Source:
Have your say
What do you good people of HIVE think?
So have at it my Jessies! If you don't have something to comment, comment "I am a Jessie."
Let's connect
If you liked this post, sprinkle it with an upvote or esteem and if you don't already, consider following me @chekohler and subscribe to my fanbase
| Safely Store Your Crypto | Deposit $100 & Earn $10 | Earn Interest On Crypto |
| --- | --- | --- |
| | | |
---

Posted Using LeoFinance Beta