Bearish market? Now there are stablecoins!
In these weeks, or rather from 10 November 2021 when the Market Cap Crypto reached its all-time high at $ 2,936T, we are witnessing a slow but steady decline that today brought the market back below the value of 2T ( this value had not been touched since mid-October).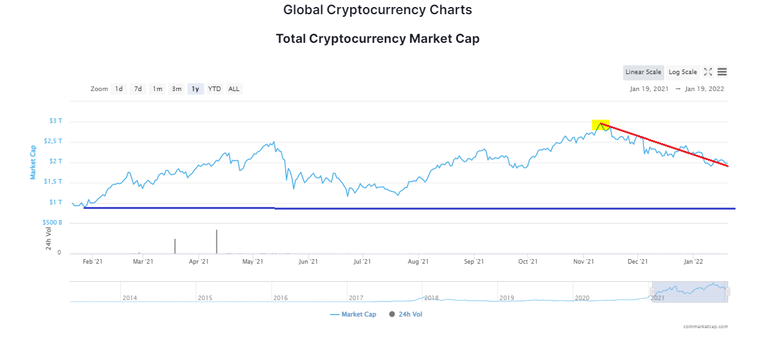 ---
In just over 9 weeks the crypto market has lost 1T and it is evident from the graph above that the trend is progressive downwards and even the most optimistic are starting to revise their positions. Are we in the middle of a bearish market? Or is it just a physiological flexion? Hard to say, although my personal opinion is that the market has grown too fast and too hype with DeFi and NFTs.
Many analysts predict a gradual decrease of Bitcoin up to $ 30k, here a new phase of accumulation would begin and it would be an excellent entry point for many high-level private and institutional investors. My experience in the previous bearish cycle led me to start thinking about converting part of my wallet into stablecoins, including HBD, while enjoying an excellent annual interest of 12% and protecting my investment from possible downturns.
My vision is long-term and I believe in all the projects I am currently following. I have decided to convert collateral projects into stablecoins that will allow me to increase my coins in the event of a very appetizing decline.
Those who trade today, it is very likely that they will continue to lose capital, especially if the bearish trend continues this pace. Better to build a good defensive strategy and wait for the right moment to re-enter. For example, I am accumulating HBD to defend part of my capital and if HIVE hits $ 0.50 I will proceed with the purchase.
Personal strategy is always to intelligently increase my wallet. The long term is a goal I believe in and therefore the value of the market does not shake my faith in cryptocurrencies. Indeed, I am convinced that the bear market is an excellent opportunity to rationalize and create new strategies. Emotion is always an enemy for a trader, regardless of market sentiment.
Honestly, I would be happy to see the market still in a calm phase for the next two years, wait for the Bitcoin halving and then free the chains of cryptocurrencies and let them markedly affect the life of every single man on earth.
Hive in 2025 could easily be in the top ten of Coinmarketcap, after having matured new projects, new technologies and applications over the years. After every bearish market, there will always be a bullish market! The stablecoins, compared to the last cycle of 2017/2018, will be able to help users a lot to protect their investments and avoid huge losses and therefore creating a great sentiment of distrust.
For this reason, in addition to the entry of the big international giants and a positive sentiment towards cryptocurrencies, I believe that there will not be a drastic collapse of the market. But, not being able to accurately predict the data, it is better to immediately build a good barrier for our investment.
This is not financial advice but a consideration on my next steps
Posted Using LeoFinance Beta
---
---