Splinterlands! Opening Up 96 Gladius Cases!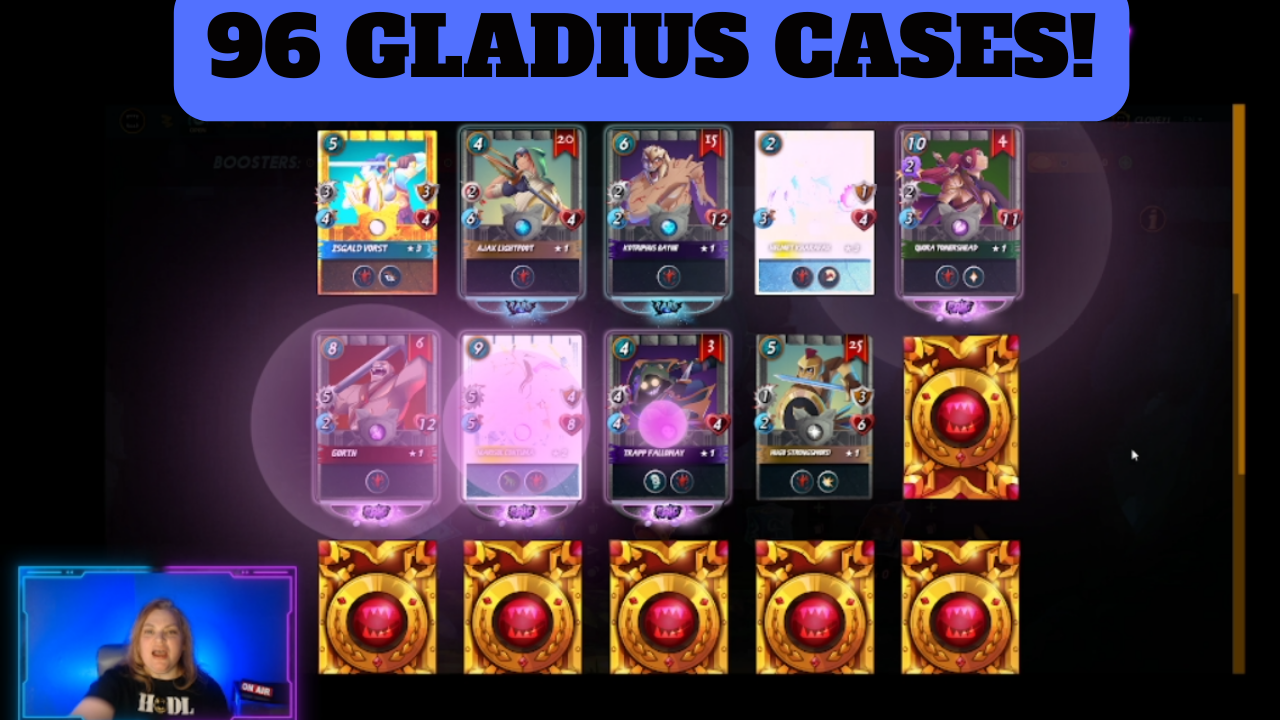 Hello everyone! I am here on Splinterlands opening up 96 Gladius Cases! Yes, 96! These are going to be the most Gladius cases that I have ever opened up all at once. When you battle in a Guild brawl you earn merits and you can buy Gladius cases with them in your Guild store. The best card I love in the Gladius cards is one hundred percent Quora Towershead! I was happy I pulled a few of her to be able to level her up!

I mean she is such a beast of a card! At level 1 with just 1 bcx, Quora Toweshead has 11 health, heals herself, has bloodlust, 2 melee damage, 2 magic damage, and 3 speed.

I love to pair her up with the Llama summoner when I can, wow, she is almost unstoppable in so many battles. It is such a fun card to use, I love her! She is my hero, haha!

I was so happy when I saw I pulled a few more of her and was able to level her up! Time to celebrate for sure! I need to have a Quora party now, lol! I hope you pulled a great card in your recent gladius case opening! It is too much fun opening up those packs!

The great player Mondroid battles for me and we share all the rewards 50/50. He just got a 0 loss on the current brawl that just ended! What a rockstar he is! Splinterlands has many top players and he is one of them!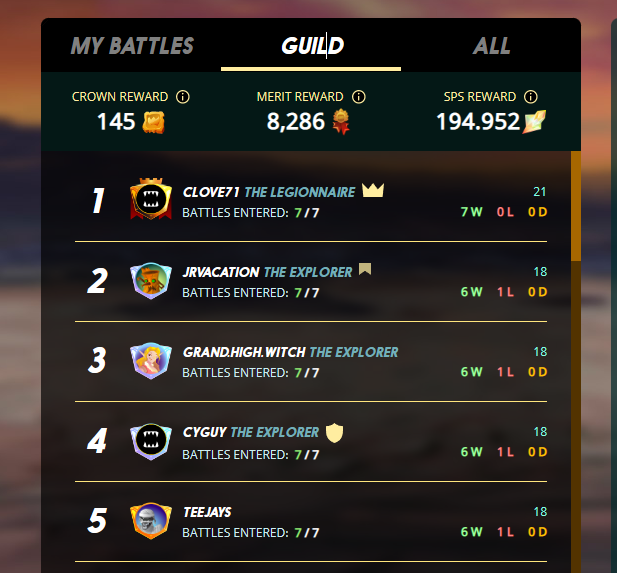 Having a level 3 is amazing as she now has Immunity, Healing, and Bloodlust. What a great card! I am surprised she is an Epic and not Legendary! She is Legendary in my book! Speaking of Legendary!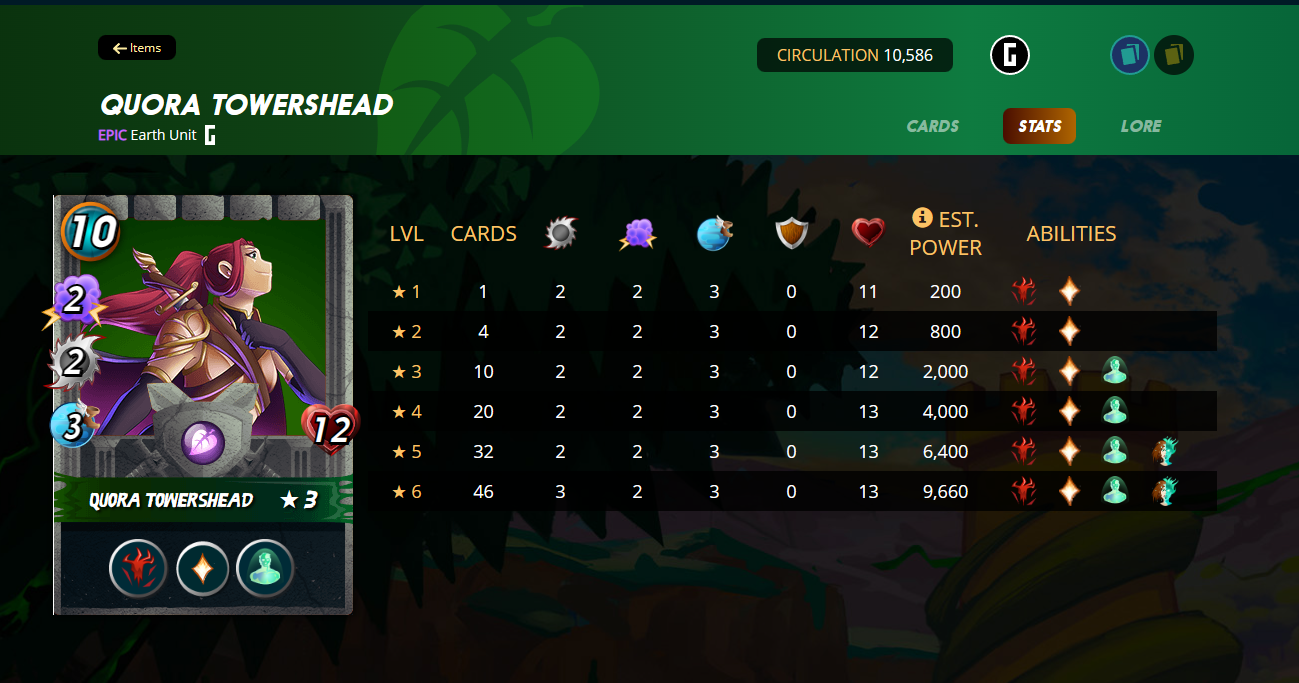 Speaking of Guilds, Immortal Gods has openings for 2 Champion players with high win rates, and IG4,5,6,7 and IGTV have openings as well. Feel free to ask me in Discord I am clove71#5266 there. It is awesome to be in a Guild, especially one that is built up a bit so you can receive your max rewards. Check out the Youtube video below where I am opening up all 96 Gladius cases!
I started playing Splinterlands when it started in May of 2018. I also started live-streaming Splinterlands back then and have never stopped since! It has been a long road and I still live stream today on Twitch. I was so pleased to make Twitch partner a few years ago! We do have a lot of fun in the stream as we are all playing the same game Splinterlands!
It is good to see the winner's battles, try to remember their combos and use them in your own battles so your win rate will improve. It is like a fun way to study!
Join me LIVE Monday 3-6-23 for a Splinterlands tournament, live streamed on Twitch by me HERE You can join the Live streamed tournament on Monday, March 6th at 7:00 PM EST and do not forget to check-in 15 minutes prior to start! There will be NFT and Crypto giveaways in the live chat! Just be active to be eligible!
Nightbot picks random active winners! HERE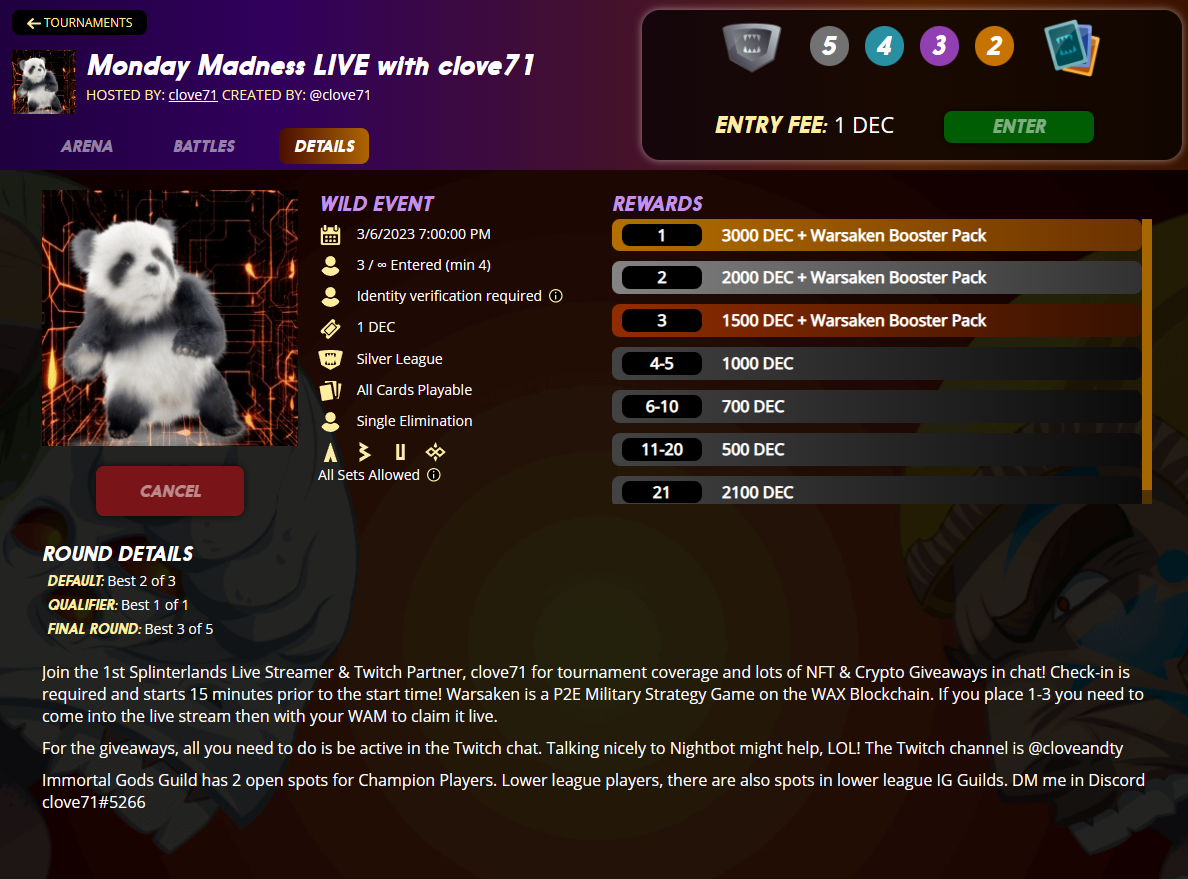 I hope to see you all there on the live stream! we will go over the battles and nightbot will randomly pick winners from the chat! Just be active in chat to be eligible to win a prize! Also, if you are in the tournament and win in one of the top 3 spots, make sure you join the live stream and give me your WAM for the Warsaken booster pack! I will hand them out live on stream as soon as you place in it!
You never know what you will pull in a booster pack as well. It is pretty fun to open up packs that is for sure.
Hopefully, you got some nice rewards this season, if not here is some luck to you for next season! I am looking forward to opening up the next season-ending rewards!
Don't forget there is room in Immortal Gods Guilds! IG needs 2 Champion players with a high win rate. There are also spots in lower league IG Guilds like IG4,5,6,7, and IGTV. If interested please reach out to me and I will see what we can do!
See you all there! May the Monsters be with you. ~@clove71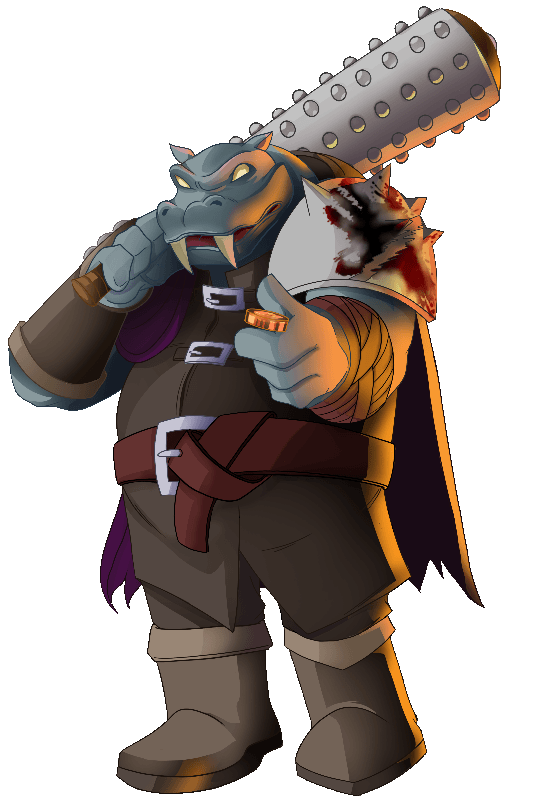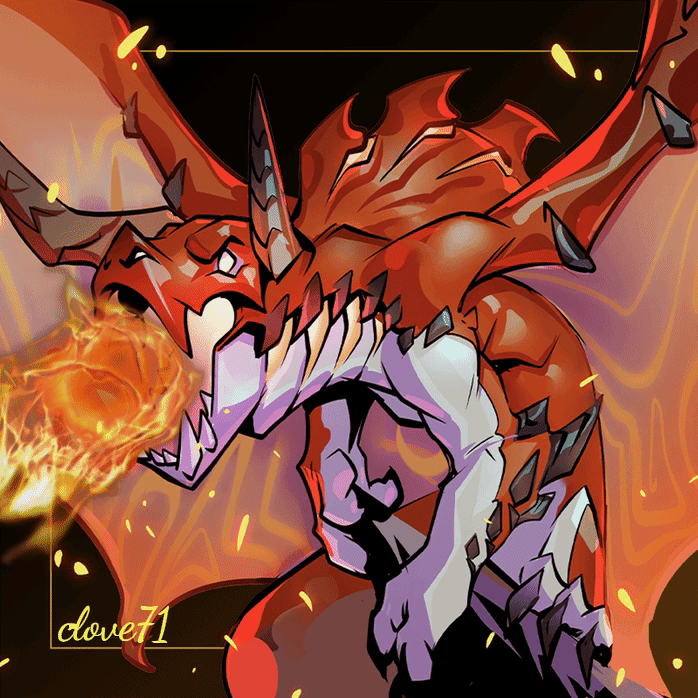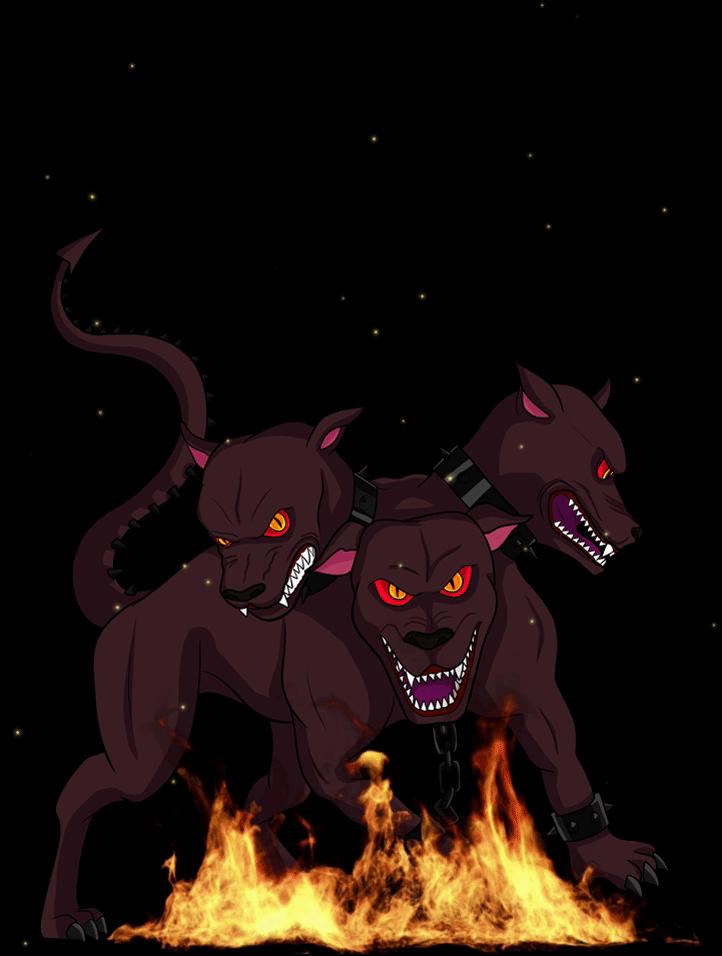 ---

---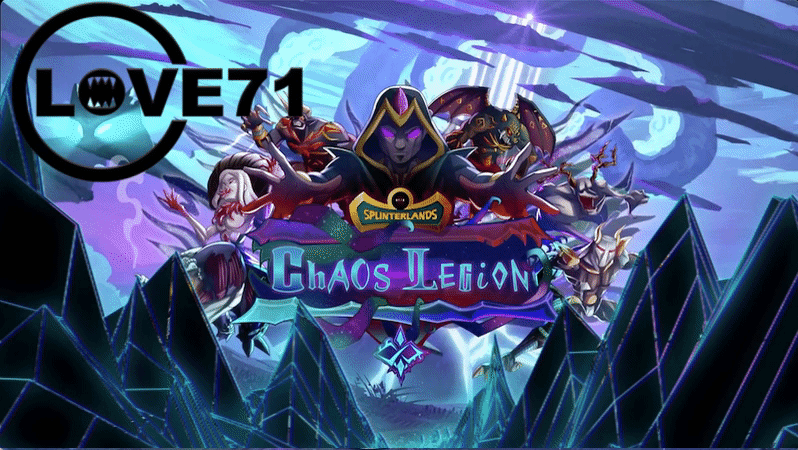 ---

---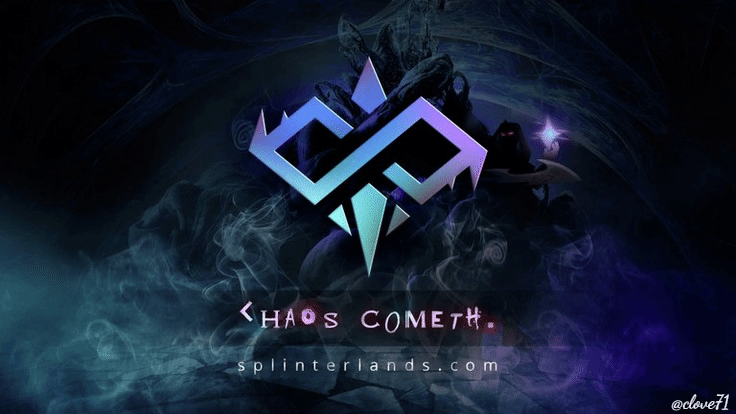 Immortal Gods is now RECRUITING! DM me, clove71#5266, in Discord. If you have an excellent win rate and decent cards, apply at the Guild, OR you can also DM me! Gold foil cards are needed in IG4,5,6, etc.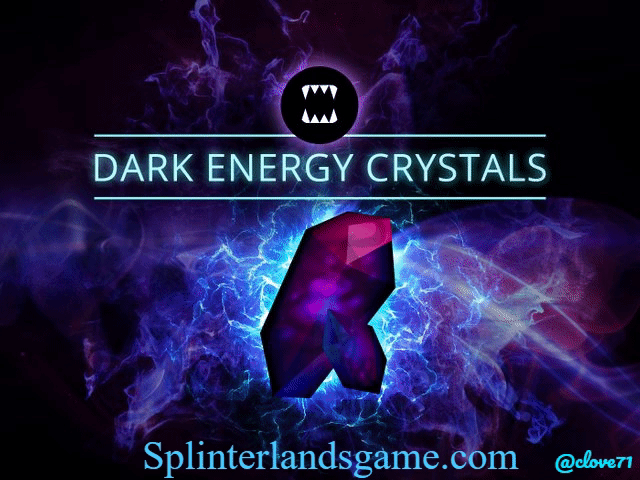 Check out all their features, like the packs and rewards analyzer HERE.
View rewards cards going out of print, get your season report card, and view cards by league cap by the great @kiokizz, who is @splinterstats [HERE](https://kiokizz.github.io/Splinterlands/ please show him some Monster love on his recent Splinterlands posts!

Want to view Splinterlands stats? Check out @rafalski and his excellent Splinterlands stats HERE, and make sure to show some Monster love on his recent Splinterlands post!

Check out @peakmonsters today HERE and all their features!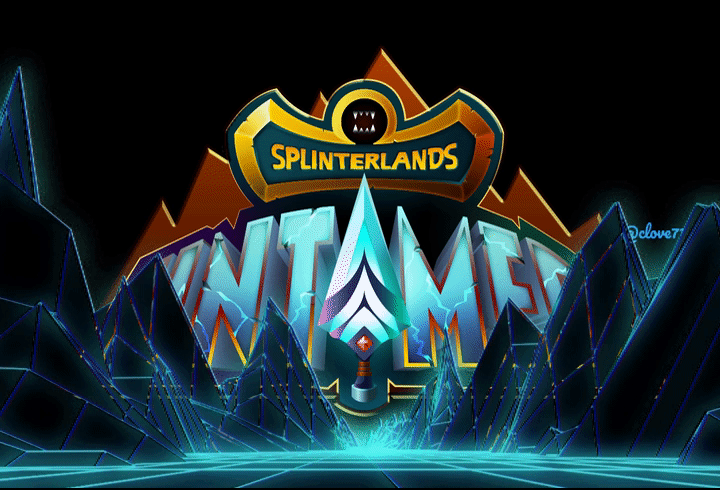 My Feral Cat Colony TikTok HERE
Start Playing Now for FREE!
TWITCH Live Streams HERE
MY NFT ART GALLERY HERE
Twitter HERE
Splinterlands Discord HERE
IG - HERE
YouTube - HERE
3Speak HIVE Splinterlands Community - HERE

I wish you luck in your battles and daily quest loot chests!
I will see you all on the battlefield!
May the Monsters be with you.
Chris Love @clove71
Splinterlands Rep.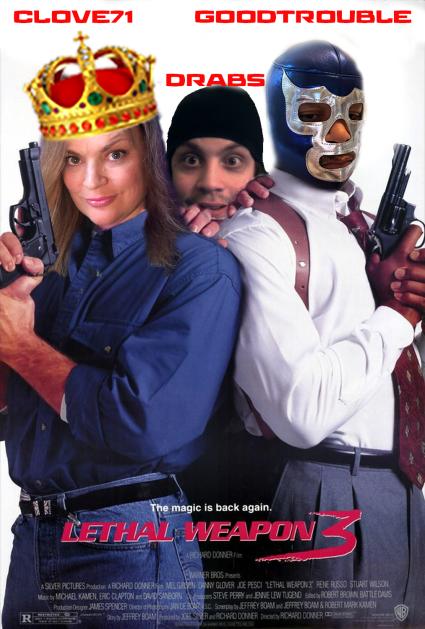 Follow myself & Goodtrouble on Twitch HERE
Follow the great @drabs587 on Twitch HERE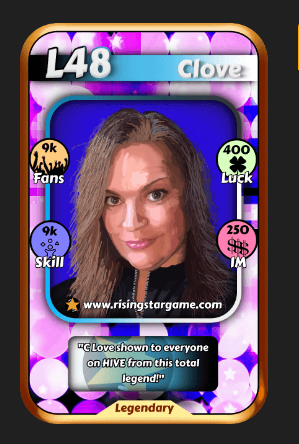 2023
Play Rising Star HERE



2021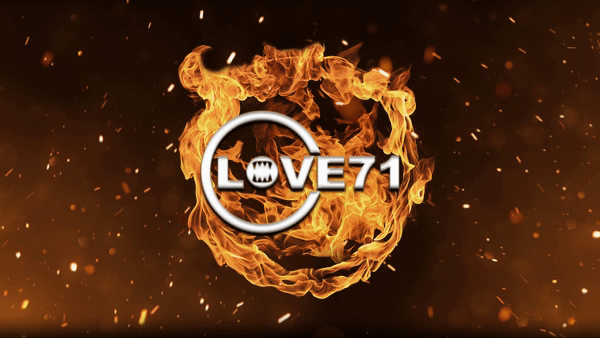 2019


2018


Posted Using LeoFinance Beta
---
---