This post can also be read in Portuguese
This decision of mine to delegate a part of my HP to LeoFinance was not a difficult decision, since for some time now I wanted to think about a way to give back and at the same time contribute to the community. And delegation is one of the best options for that.
"Who should I delegate to?"
@leo.voter is the LeoFinance community's curator account and you delegate your HP to it. As far as I know there is no minimum amount for this, so do it the way you feel most comfortable.
"What do I get in exchange for the delegation?"
For those who are accustomed to delegating their HP know the countless advantages that we can have and in some cases we have a good return. An alternative for those who do not frequent many blogs to vote and if they are not so active in their posts. If you keep your blog constant with content, your earnings added with the delegation will be greater.
Delegating your HP is a type of passive investment where we can receive daily / weekly / monthly payments through HIVE or simply in another specific token.
To help the LeoFinance platform grow, you must delegate to @leo.voter, payments will be daily and we will receive LEO token at a rate of ~ 16% APR and the person responsible for this distribution is the account @leo.bounties. Below is an example of earnings from the past week for major HP delegates.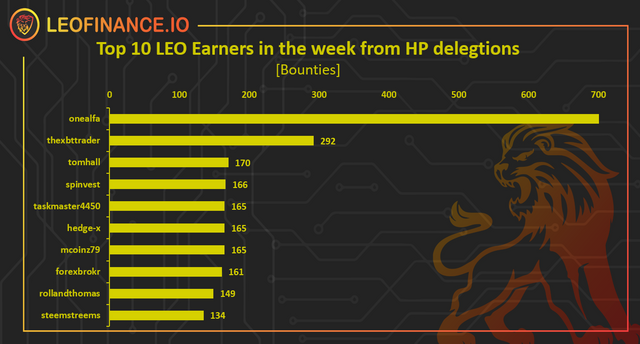 LeoStats
Another good reason is that the more HP delegated to the @leo.voter account, the greater your voting power will be and so we users will be more rewarded. This curatorship account was created especially to encourage us and continue on the LeoFinance platform. In short, we all gain from it and the ecosystem only gets stronger.
"Ok, Ok, now tell me a quick and simple way for me to delegate to @leo.voter!"
Come on, to start I had to withdraw about 50 HIVE from my LeoDex account to join my 650 that I already owned. At first I want to delegate 100 HP, as I also want to increase my share of HP through curation as well.
Currently the best way to withdraw your HIVE is at LeoDex, as we only have a 0.25% deposit / withdrawal fee.
1 - Requested the withdrawal of 50.26 HIVE;
2 - The withdrawn balance appears on the HIVE Keychain and very quickly. I didn't even wait 15 seconds;
3 - Now we go to HiveStats and this icon marked in red is where we will delegate.
4 - We put the destination account and the amount you want to delegate;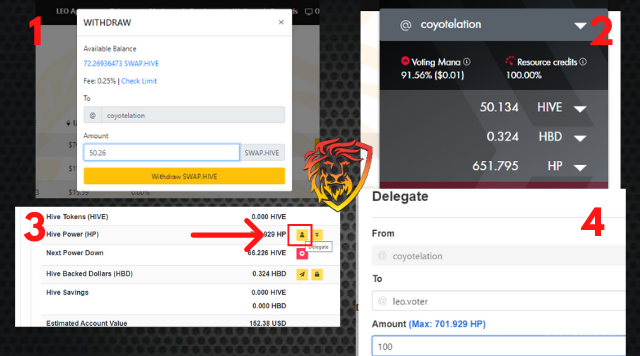 If you have problems with something along the way, you have other options when it comes to delegating, such as on Hive's own wallet and PeakD. Well, the important thing is to be able to delegate hahaha ...
I know that for many 100 HP it means nothing, but for me it is a lot because every day I am looking to increase my participation in HIVE too, as diversifying is the most advantageous way to obtain more profits. In order to know in reality how much we can earn daily with 100 HP delegates later I will make a post about it, because I believe that many people are curious about it.
If you are just like me who believe in the LeoFinance community and platform and know the real potential that this tribe may have in the future, join and delegate some of your HP. To the next!
PS: At the time of publication, there was a small problem with HiveStats and that function is currently inoperative (delegate). Through Discord, @khaleelkazi, as always very attentive, informed me that this situation will be verified. For those who want to delegate now, do as I mentioned above, we also have the options for Hive wallet and PeakD.
PS: This is just a personal opinion and should not be taken to any kind of professional analysis to take certain investment attitudes as the basis for this post. Any decision must be made exclusively by you.

Versão em português
Essa decisão minha de delegar uma parte de meu HP para o LeoFinance não foi uma decisão difícil, pois já há algum tempo que eu já queria pensar numa forma de retribuir e ao mesmo tempo contribuir com a comunidade. E a delegação é uma das melhores opções para isso.
"Para quem devo delegar?"
@leo.voter é a conta de curadoria da comunidade LeoFinance e é para ele que você delega seus HP. Até onde sei não tem uma quantidade mínima para isso então, faça da maneira que você achar mais tranquilo.
"O que recebo em troca da delegação?"
Para quem é acostumado em delegar seus HP sabe das inúmeras vantagens que podemos ter e em alguns casos temos um bom retorno. Uma alternativa para quem não frequenta muitos blogs para votar e caso não seja tão ativo em suas postagens. Caso mantenha seu blog constante de conteúdos, seus ganhos adicionado com a delegação serão maiores.
Delegar seu HP é um tipo de investimento passivo onde podemos receber pagamentos diários/semanais/mensais através de HIVE ou simplesmente em outro token específico.
Para ajudar a plataforma LeoFinance a crescer, você deverá delegar para o @leo.voter, os pagamentos serão diários e receberemos LEO token a uma taxa de ~ 16% APR e quem é o responsável por essa distribuição é a conta @leo.bounties. Abaixo está um exemplo de rendimentos da última semana para os maiores delegadores de HP.
Outro bom motivo é que quanto mais HP delegado à conta @leo.voter, maior será seu poder de voto e assim nós usuários seremos mais recompensados. Esta conta de curadoria foi criada especialmente para nos incentivar e continuar na plataforma LeoFinance. Em resumo, todos nós ganhamos com isso e o ecossistema só se fortalece.
"Ok, Ok, agora me diz uma maneira rápida e simples para eu delegar para o @leo.voter!"
Vamos lá, para comecar eu tive que retirar cerca de 50 HIVE da minha conta da LeoDex para juntar com os meus 650 que eu já possuía. De começo quero delegar 100 HP, pois também quero aumentar aumentar minha participação de HP através da curadoria também.
A melhor forma atualmente para retirar seus HIVE é na LeoDex, pois temos apenas uma taxa de 0.25% em depósito/retirada.
1 - Feito o pedido de retirada de 50.26 HIVE;
2 - O saldo retirado aparece no HIVE Keychain e bem rápido. Não esperei nem 15 segundos;
3 - Agora vamos para o HiveStats e neste ícone marcado em vermelho é onde iremos delegar.
4 - Colocamos a conta destino e a quantidade que deseja delegar;
Caso tenha problemas com alguma coisa pelo caminho, tem outras opções na hora delegar como na própria wallet da Hive e pelo PeakD. Bem, o importante é conseguir delegar hahaha...
Sei que para muitos 100 HP não significa nada, mas para mim é muito pois a cada dia estou na busca por aumentar minha participação em HIVE também, pois diversificar é o caminho mais vantajoso para obter mais lucros. Para saber na realidade o quanto que poderemos ganhar diariamente com 100 HP delegados depois farei um post sobre isso, pois acredito que muita gente tem curiosidade nisso.
Se você é assim como eu que acredita na comunidade e na plataforma LeoFinance e sabe do real potencial que essa tribo pode ter no futuro, faça parte e delegue alguns de seus HP. Até a próxima!
PS: No momento da publicação foi verificado um pequeno problema com HiveStats e que no momento está inoperante essa função (delegar). Através do Discord, @khaleelkazi como sempre muito atencioso me comunicou que será verificado essa situação. Para quem deseja delegar agora façam como eu mencionei acima, temos as opções também pela Hive wallet e pelo PeakD.
PS: Essa é apenas uma opinião pessoal e não deve ser levada a nenhum tipo de análise profissional para tomar certas atitudes de investimento como base neste post. Qualquer decisão deve ser tomada unicamente exclusiva por você.

Thanks for reading so far. If you liked it, give that strength with your upvote and rate me. Feel free to leave a comment .Thanks guys!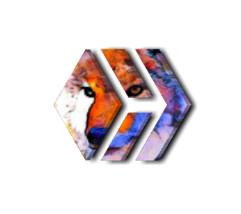 Posted Using LeoFinance