Hive today can confirm the breakdown of a descending channel and it is good news we will see why.
Let's see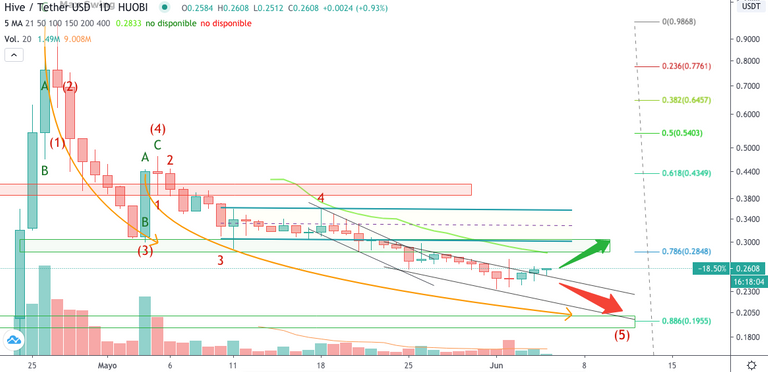 Weekly Chart Analysis
As we see the chart to confirm the breakdown of the descending channel could be the beginning that the price has marked a floor in the $ 0.23.
The important thing about the behavior of the price in the last weeks is that the price decreased not abruptly but through lateral channels, which was forming with a lesser degree of inclination, forming a curve and a price adjustment.
Hive price history
Hive had a big bullish momentum with the listing on the Huobi exchange
When any alcoins have such a sudden lifting and correcting motion, it's normal for them to need to build up strength to start a new boost. If the force is not enough to push it higher, it will continue to correct its price. (this is what should normally happen)
Analyzing the entire graph we can identify 2 correction curves.
Among the pullbacks we find a first bullish momentum ABC.
The reason Hive's price loses support is due to:
The decrease in volume, since there are few buyers, the price continues to decrease seeking strength.
Power Down
Hive's price is still pegged to Steem's, chains will continue to be pegged until investors don't sell their tokens from the other chain, price fluctuations will continue, and that may depend on Power Down and the decisions of the witness votes
We are still linked to Steem, why?
Power down
Hive users may be doing Steem Power Down and vice versa. Steem users may be doing a
Power Down of your Hive tokens
This process can be verified in the HBD currency, which is a currency that tends to be $ 1 dollars, abrupt changes are due to massive token sales.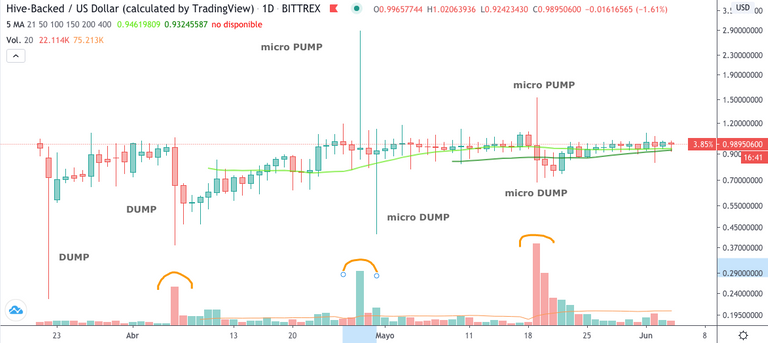 See the graph
When can this process end?
It depends on each investor's decision when to sell after Power Down and at what price to sell.
But a key date is June 20, 3 months ago, a key date because those who have awarded Power Down may have liquidated most of their position.
Other key facts
The price in the last days achieves support of $ 0.23 and begins to rise
RSI remains above 42 points, which is good. (When it was less than 42 points, the price continued correcting)
The volume continues to increase in the last days.
The price begins to stabilize between the different exchanges.
Sale of Hive tokens by Steem users and vice versa
As I said, the price has broken the descending channel and could generate a lateral channel that validates the support price to then begin to rise in a first bullish cycle, if it fails it will continue correcting
Continue Correcting
If we analyze the Elliot wave chart, a next correction target would be the Fibonacci retracement of 0.886
The sale of tokens by Steem users and the domain that Bitcoin is acquiring after halving may be a factor delaying a possible price recovery over time
The minimum price that Hive has reached is 0.09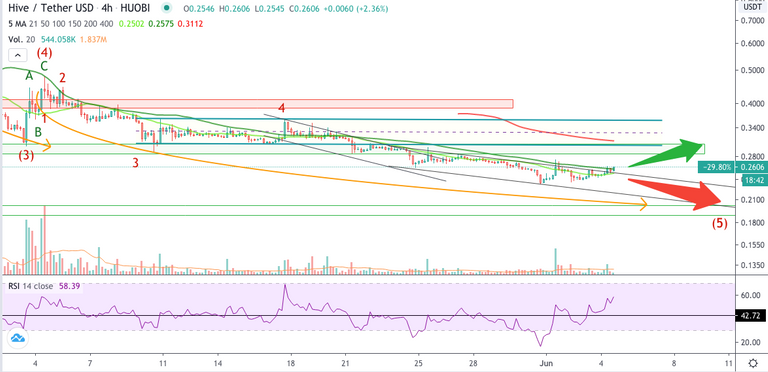 Price Analysis Today
In previous days it broke the descending channel that had formed and validated a support price of $ 0.23
What could we see in the next few days
We could see the formation of a lateral channel that confirms this base price of $ 0.23
That the volume grows is a good indication, it could be indicating that investors or the exchange may be buying the Hive coin.
But it is still low, but if you can indicate that the price continues to lateralize.
What you think?
Remember to give your post a vote, Always support good content. Thanks
Follow me it costs you nothing and you get a Healing Reward with Your Vote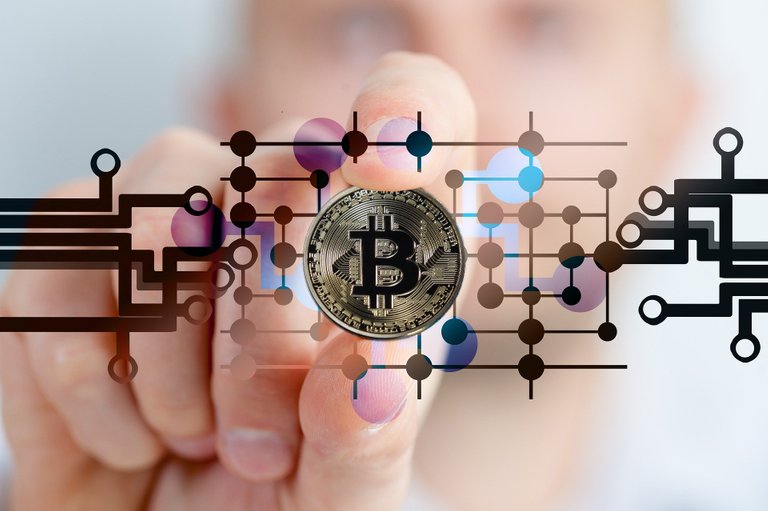 Leave your comment or your vote. Your opinion and participation is important
Protect your assets use Stop loss
The alcoins market is very dependent on the price of Bitcoin, when Bitcoins goes up the alcoins go up more, but also in the other sense, so I suggest that you periodically review a Bitcoin and use stop loss and move it when they are already in profit. Do not let a profit become a loss.
We will continue monitoring
To be attentive
Protect your Investments
If the analysis helped you, give your vote with some hive, thanks !!
Lately I have noticed that there is no good analysis on hive, everything takes time, I ask that as you read them leave your vote, it is a way to encourage you to continue making more reports, thanks.
Feel free to use and share my post or graphics, but please mention, @criptoar as the author. Otherwise, consider plagiarism and I will call you and advise my friends to do the same.
READ DISCLAIMER: this publication / analysis is only for general information purposes. I am not a professional trader and I will never be a financial advisor. The material in this publication does not constitute any trading advice of any kind. This is the way I see the paintings and what my ideas are.
Perform your own analysis before making an investment decision. Use money that you are willing to lose if you make an investment.
If you make exchanges or investments after reading this publication, it is entirely at your own risk. I am not responsible for any of your gains or losses. By reading this publication, you acknowledge and agree that you will never hold me liable for any of your profits or losses.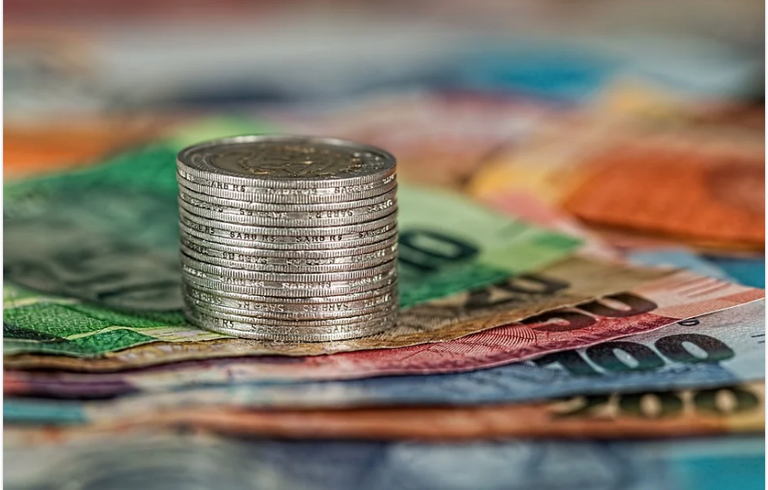 For your vote or comment, thank you
Or else Buy me a beer ! Ligthing Network

Vote for the post.
Always support good content.
Follow me it costs you nothing and you get a Healing Reward with Your Vote
Posted Using LeoFinance