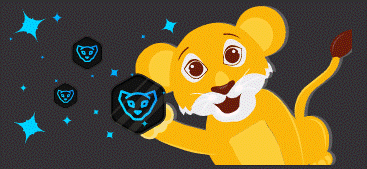 Here we are. Cub at $2. Just as predicted by some when comparing Cub to Uniswap. It truly is amazing how these things follow patterns when you step away and look at them from a broad perspective. Cub has only been trading for about 17 days and yet it feels like months. That's what happens when you get inside the "bubble" of Hive and LeoFinance and don't get away from it into the "real" world every once in a while.
I'm certainly guilty of it. I "know" Cub is going to do very well in the months to come so I went ahead and bought my first bit around $5. I then saw this coming last weekend but wasn't sure it would actually happen so I didn't wait and bought another batch just under $3. Now, with the entire market taking a beating, I'm looking at trying to get some more fiat into the mix so I can buy one more block around the $2 mark that, objectively, everyone probably should have known was coming.
Not that I'm upset about that. I'm perfectly happy owning some at $5 or even higher. The future is just too bright and the tech is just too good for this not to succeed in my opinion. I've got the "Diamond Paws" and will be happy owning this for quite some time. We are literally just getting started.


Sometime in the next couple days, per the LeoFinance post, the audits from CertiK should be finalized and then "published publicly and Cub Finance will be added to the official CertiK leaderboard as a certified DeFi project". That, to me, is absolutely fantastic news. "
Pairing best-in-class technologies and security expertise to guard against hacks and malfunctions
", CertiK "
combines leading formal verification technology with best-in-class cybersecurity experts to deliver end-to-end security services.
" Taken right from their website.
With the news of hacks and exploits happening on a regular basis, it is very comforting to know that my first foray into defi is with a group of devs that take my (and everyone else's) money seriously. This was not a cheap endeavor. Leo and Cub had to put up some serious collateral to get this audit. So, not only are they seeking to protect my skin, they have some skin in the game as well. Very comforting. And with the amount of money flying around these days on BSC and other defi platforms, knowing we have a trustworthy team that wants to sink or swim right along with us gives me a lot of confidence in what they're doing.


Also, coming in the next few days is LeoBridge. If you look at the Cubdefi site you can already see it sitting there waiting to be activated. This one application has the potential to process more money every single day than is currently traded in the entire Leo/Cub platform. All that will do is potentially burn a large percentage of the new Cub supply being "mined" every day. With a diminished supply, there will be less to sell into the market and less to fill any new buy orders coming in. All it will take is a small fraction of the people using that "bridge" to do a tiny amount of digging into the project who built it, and there could be a sizable influx of capital flowing into Cub and its collection of farms and dens on a regular basis. And why wouldn't they check it out? If you were going to send a few thousand dollars or more across a "bridge", wouldn't you do a little due diligence first to make sure the bridge is sound? I know I would.
Will it happen overnight? Of course not. But, again, in my opinion, it WILL happen. It just makes too much fiscal sense for people to use this bridge. Why spend all that money on fees on the Ethereum chain when they can bridge over to BSC and pay a fraction of the cost? And if you need to buy something not available on BSC, why bother jumping through all those hoops from chain to wallet to exchange to wallet to chain when you can do it all with "one click", again, for a fraction of the cost?


This isn't rocket science here. This is a live, real world, application that just makes sense. You don't have to be "tribal" or "loyal" to anything. You just have to want to
not pay huge fees
. It's a no-brainer. Seriously, if you had a nice shiny bridge you could drive over for a quarter, versus a convoluted, complicated path that would cost you more in time and gas to get to the same place, which would
you
choose?
And this is just the beginning. Other posts detail more of the projects coming down the pike, the best of which is probably the LeoFinance post here. I won't go into all the details. Suffice it to say that there is plenty yet to come.


Lastly, I want to say a few words about the team behind this project. When you mix ingenuity and vision with passion and integrity, the results are bound to be amazing. Throw in some humility and you're describing the LeoFinance/Cub team. None of what they're building has been easy and they've learned some hard lessons along the way, but the adversity has only proven their dedication to the project and the experience gained from those lessons has hardened their resolve to
build things the right way
. It has galvanized their community and the strength of all of us combined will take this project to incredible heights. It is a symbiotic relationship where the devs and the community both benefit in an extremely meaningful way. This is truly a case of the good guys having a very realistic chance at finishing first. I, for one, am enjoying the ride. The future looks very bright indeed.

I told you you should have bought some around $2, Woody!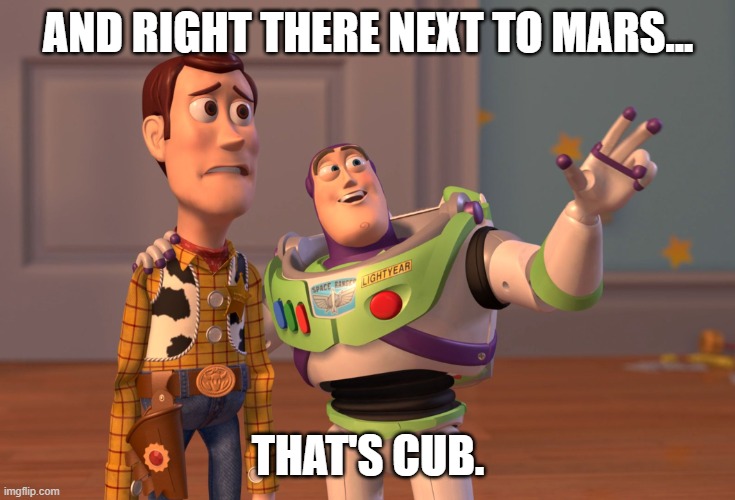 Thanks for reading. If you like the content, please consider an upvote and a comment. I'm always happy to reciprocate.

As always, I'm not a financial advisor. Cryptocurrencies can and do go up and down and you could lose all your money. Do your own research.

PS. I've been meaning to write a post about Cubdefi.com but hadn't gotten to it yet. The
#CubContest
being put on by
@crystalhuman
& co.
here
inspired me to do it sooner rather than later. Plus, I created my first meme so I could actually qualify. lol
Posted Using LeoFinance Beta