The Hive blockchain has its stablecoing starting from 2016. In a way its ahead of its time 😊. A lot of discussions have happened around HBD. Should we get rid of it? It's too confusing! What use from the HBD?
A pro and cons can be found on the both sides, for me personally as an advanced user of the platform having even a semi stable coin as HBD is an advantage. But for new users this might be confusing.
This being said let's take a look at the HBD printing in the past.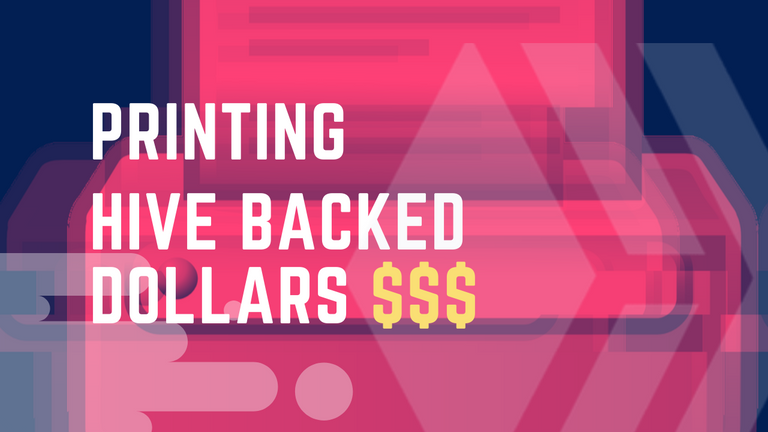 As for a lot of Hive things, HBD or formerly SBD, are also a bit complicated 😊.
First, they are sort of debt of the network.
From the white paper (with few edits):
Hive Dollars are created by a mechanism similar to convertible notes. Convertible notes are short-term debt instruments that can be converted to ownership at a rate determined in the future. A blockchain based token can be viewed as ownership in the community whereas a convertible note can be viewed as a debt denominated in any other commodity or currency. The terms of the convertible note allow the holder to convert to the backing token with a minimum notice at the fair market price of the token. Creating token-convertible-dollars enables blockchains to grow their network effect while maximizing the return for token holders.
Usually the posts rewards are paid out 50/50, 50% HP, 50% HBD. But there is a haircut rule! If the debt of the network is more than 10%, HBD stops being printed.
At the moment the HIVE marketcap is around 95M, and there is around 4.8M HBD, or just around 5% debt. The debt is lower than 10% and HBD is printed as author rewards.
These days HBD is printed in two ways:
HBD as author rewards is printed since the start of the blockchain, and the DHF funds HBD are printed since September 2019, when the DHF was introduced.
HBD Printing as author rewards
First let's take a look at the HBD printed as author rewards.
Here is the chart.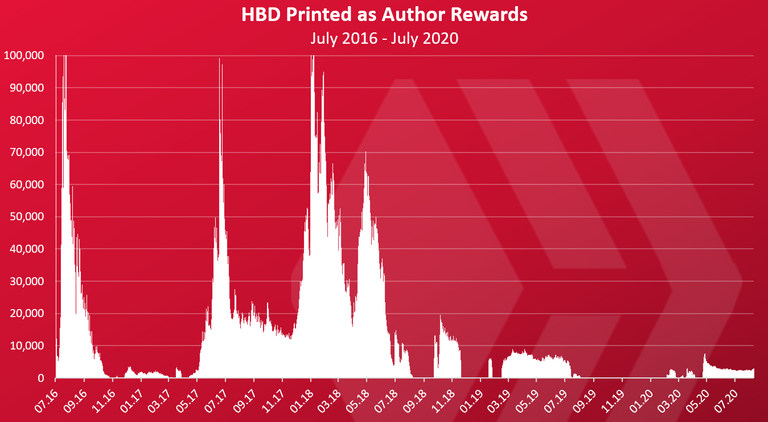 Quite an interesting chart. It is basically following the HIVE price. When HIVE/STEEM was above $1, when payouts happened 50% was paid in HBD. Since the price of HIVE/STEEM was high at the time, the HBD payouts need to be high to match the sums.
In the period May 17 till June 18 there HBD was printed the most with around 14M new HBD put in circulation.
These days HBD is printed again, but at a rate to match the HIVE price, that is still relatively low. Around 2.5k HBD is printed daily as author rewards, at the price level for HIVE in the range 0.2 to 0.25.
In total more than 20M HBD was printed in the past as author rewards.
HBD Printing to DHF/DAO
Starting August/September 2019 a 10% of the inflation is allocated to the DHF/DAO fund. These funds are printed in HBD.
Here is the chart.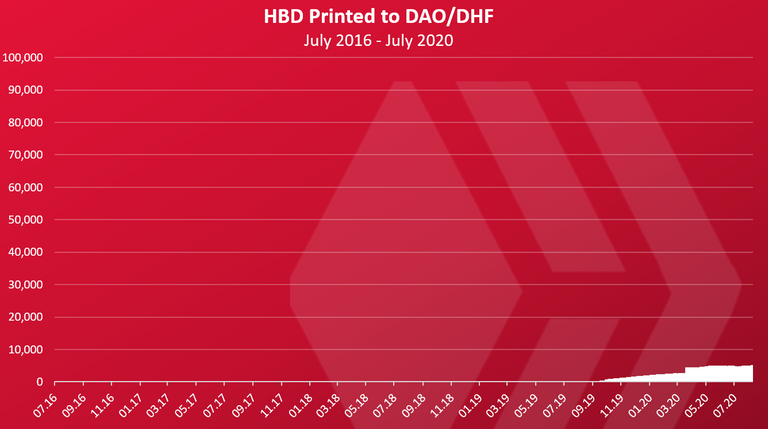 This chart might look funny at first, but I have intentionally left the axis scale the same as for the author rewards for comparison. As we can see there is no crazy history of printing HBD here.
Although these days more HBD daily is printed in the DHF then to authors. Authors get around 2.5k daily, while the DHF gets around 5k daily.
HBD conversions to HIVE
HBD is paid to authors/DHF workers, and then what. Well it can be sold at exchanges, including the internal one, or it can be converted to HIVE using the convert function. This process takes 3.5 days, and the blockchain gets the average price in these days when conversion ends. Conversion destroys HBD and creates HIVE. It's different from trading. PeakD has this option built in the wallet.
Here is the chart for the overall historical conversions.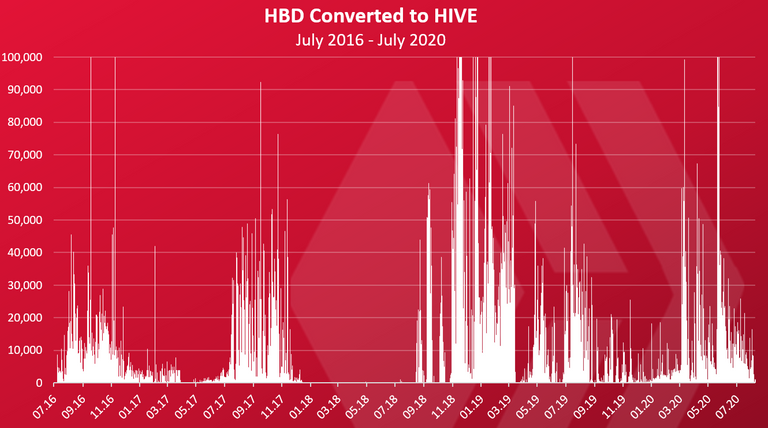 A lot of spikes in the chart above, indicating that few whales are making huge conversions at occasions.
In total a 19.5 HBD/SBD has been converted to HIVE. Because of this a total of 56.7M HIVE additionally was generated, at average conversion rate 2.9 HIVE per HBD.
Who is making these conversions?
Here is the rank for overall HBD conversions by account.
| Rank | Account | HBD Converted |
| --- | --- | --- |
| 1 | smooth-f | 4,111,958 |
| 2 | fermion | 1,439,800 |
| 3 | smooth-a | 1,078,071 |
| 4 | blocktrades | 808,300 |
| 5 | smooth-c | 755,259 |
| 6 | hbdpotato | 701,483 |
| 7 | worldwidealpacas | 581,699 |
| 8 | freedom | 480,811 |
| 9 | alpha | 429,547 |
| 10 | cryptomancer | 380,608 |
| 11 | cookie-biscuits | 370,334 |
| 12 | neverending | 341,918 |
| 13 | jhwang | 305,088 |
| 14 | shitposter | 300,000 |
| 15 | alittle | 300,000 |

@smooth has been on top of this game 😊.
Printed VS Converted HIVE
If we plot the charts above against each other, we get this.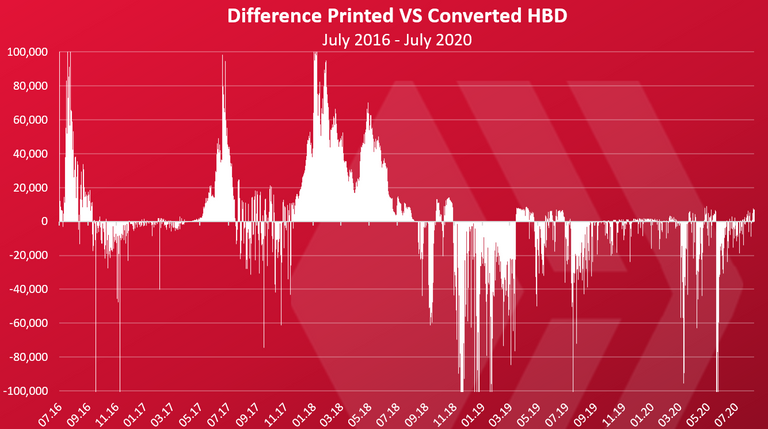 This is basically the difference between printed and converted HBD on a daily basis. When bars are positive it means that on that day, more HBD was created then destroyed. When they are negative it means HBD is destroyed, reducing the supply.
We can notice a clear pattern here. A lot more HBD was created in the past during the bull run, and in the last two years a lot of it was destroyed trough conversions. Starting somewhere from July 2018 almost every day more HBD is destroyed then created.
As mentioned above, at the moment the HBD supply is around 4.8M, and this is relatively low, compared to the marketcap of almost 100M. The last two years have constrained the HBD supply after the massive printing happened in the bull run. At one-point HBD supply was bigger than 15M.
If zoom in on the chart above for 2020 we get this.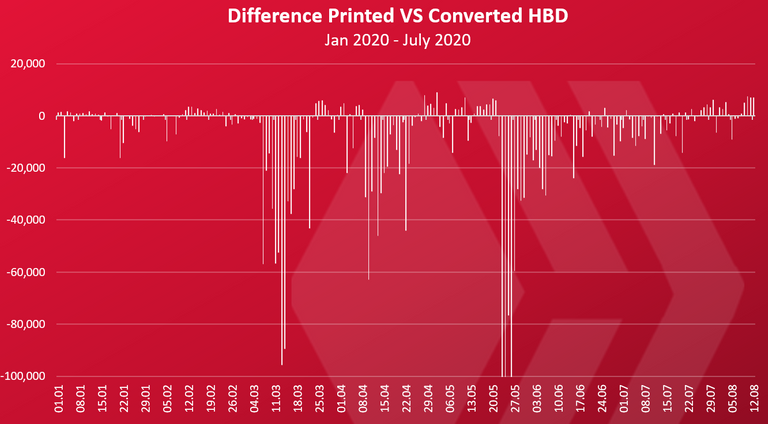 A bit asymmetrical chart, but this is clearly showing what is happening with the HBD. Much more is being destroyed then created in 2020. Approximately 2M HBD net amount has been destroyed in 2020 till now.
---
As mentioned above, the debate for HBD has been on for a long time. It has pro and cons. In the start I myself was against it, just because of the confusion it brings. Now with a bit more experience I'm for it. Off course we can make it better, @edicted has a lot of post for this in the past.
HBD acts a bit contra intuitive.
When the prices are high it constrains the amount of HIVE generated, putting more pressure on the price and in theory make the prices going higher. When the prices are low, HBD conversions generate even more HIVE supply, putting a down pressure on the price. When prices are low enough, a so called haircut rule apply and HBD stop being printed. But still there are leftovers from the bull market and time is need for the market to clean them up.
As we have seen from the past, it took two years for the HBD supply to be put in some reasonable range.
All the best
@dalz
Posted Using LeoFinance