Buying CROP tokens just got easier! SWAP.HIVE:CROP LP now live on Tribaldex.


A new liquidity pair for SWAP.HIVE:CROP has now been created on tribaldex. As you might already know, trades on the liquidity pools on tribaldex have a 0.25% fee per trade which is distributed among the liquidity providers.
If you would like to earn a part of this fee, feel free to add liquidity into the pool.
As of right now, a seed liquidity of 650,000 $CROP and 2411.5 $SWAP.HIVE has been added to the pool from @scriptkittie (me). The CROP as well as HIVE side of this liquidity came from the BETA edition sale.
Please note that no CROP tokens from the sale were sold. Moreover, 30% of all HIVE/SWAP.HIVE/BUSD/HBD used to purchase BETA packs were added to the holding rewards. Those funds were not used to add liquidity.
There are about 200k CROP tokens more which were used to buy packs and those tokens have been held as reserve for later.
In addition to earning the fees from swaps, we're planning to add some other forms of rewards for liquidity providers in the near future.
Please note that the CROP tokens that you add into the LP will not count towards your holding power as of right now and this will be changed in a later update. CROP tokens in the liquidity pool are planned to be given 2.25 points each as an incentive to add liquidity to the pool instead of 1 point for just holding them. This is also to account for any impermanent losses due to price movements.
How to add liquidity?
Step 1: Go to https://tribaldex.com/dieselpools/ and click on the add liquidity tab
Step 2: Select the SWAP.HIVE:CROP pool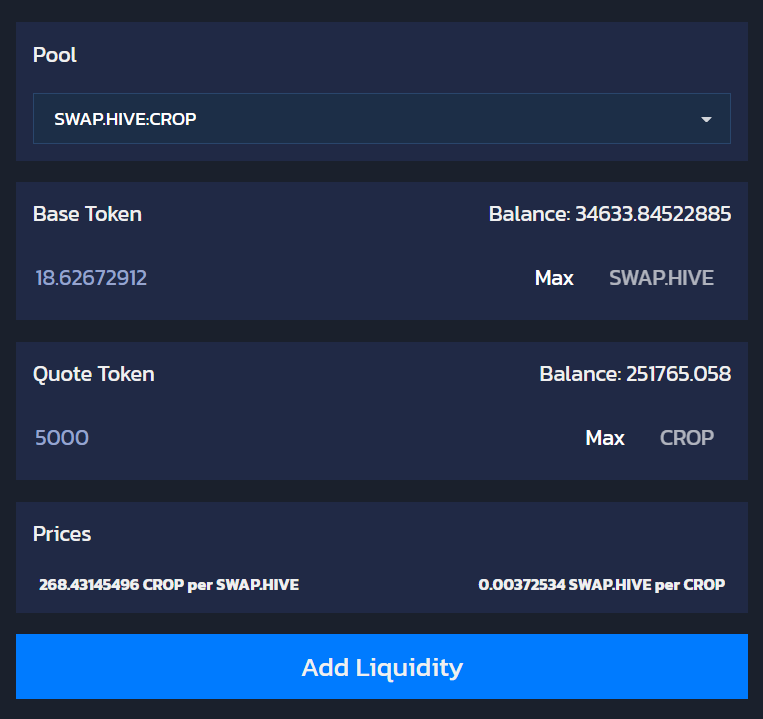 Step 3: Input the amount of tokens you want to add to the pool. Please note that you need equal USD values of the tokens on both side to add liquidity
Disclaimer: Please be advised to do your own research before you decide to add liquidity to the pools. dCrops is not responsible for any losses. This is not financial advice.
---
Play Now: https://www.dcrops.com
Join our discord: https://discord.gg/zeJShKkF7K
Twitter: https://twitter.com/d_crops
---
---