As of 19 hours ago, the LeoBridge status has been upgraded to the "soonest of soons" status meaning it is about to be launched very, very, veeeery soon and all you can do is get excited about what it potentially brings to the Leofinance ecosystem.
Not only will it make it easier for people to cross over from the Ethereum chain to the BSC network, but it also generates more fees on the CubFinance platform which will be used to burn both CUB and LEO.
That is fantastic but that is not why I am buying up as much LEO and BLEO as I can manage.
There are three lines that I have highlighted in the Leofinance Tweet that got me excited.
As liquidity for $WLEO and $BLEO deepens, the cap will be raised
The price of LEO will play a major role in LeoBridge viability.
Higher LEO price = larger swap cap
Allow me to make a bold prediction.
What is immediately discernible from this tweet is that to support large transaction volumes via the LeoBridge one thing that has to also increase is the liquidity pools for both $WLEO(Ethereum Chain) and $BLEO(BSC Chain).
Without that, it will be difficult to scale up the activity on the LeoBridge.
The other benefit of growing these two liquidity pools is that it helps in stabilizing the prices of those assets, therefore, a more stable LEO price.
So, how do we grow the $WLEO and $BLEO pools?
---
My prediction is that once the LeoBridge is launched there will be a need to offer LPs an incentive to lock up their assets in both of these pools.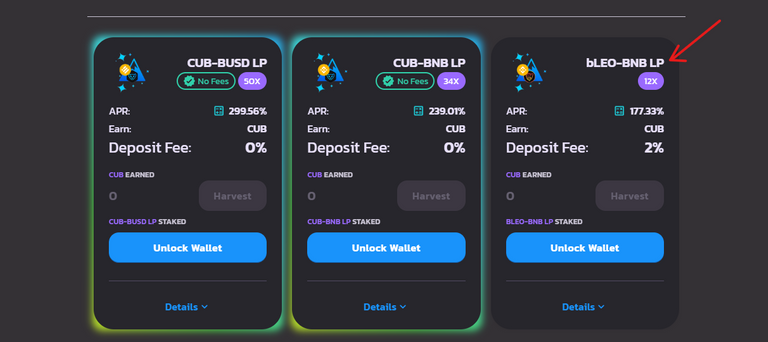 Could we possibly see the multiplier on the BLEO-BNB pool get a boost at the expense of a less active pool as well as a promotional ZERO deposit fee on CubFinance?
Could we see something similar on the Ethereum network as well for $WLEO?
If the answer to those two questions is yes, then what could follow is an increased demand for cheap LEO from the market and if demand doesn't meet that supply effectively, the price of LEO could break the all-time high or at the very least cross back over $1.
In the long term, a couple of things are happening.
LEO is locked up in liquidity pools as WLEO and BLEO.
Fees used on the LeoBridge are used to burn LEO.
Increased prices might encourage people to hodl.
All these things will cause scarcity for the token which will help increase the price of LEO consistently and who knows we could have the first second layer token that moons.
Conclusion
---
As I said, this is just a prediction. Who knows what craziness is brewing at Leofinance HQ. We can only read between the lines and try and predict what is going to happen and hopefully get to the moon.
Alternative thoughts, theories, and delusions of grandeur will be appreciated in the comments below. 🦁🦁
Posted Using LeoFinance Beta