DAPPRADAR update - response received but problem not yet fixed!

I want to thank everyone on HIVE twitter for their efforts, we are on the cutting edge you know its true, when we can use our social pressures to help solve technical integration problems 😅
Because of the effort, I did finally get a response from a member of the DappRadar team, we were able to continue our discussion from a month ago, although the problem is still not fixed.
Lets dig into it:

So first, although worded nicely, I got a message saying that it was probably me doing it wrong, and if I was so unhappy then I could delist the app. But our apps are not custom, I immediately insisted that this be taken into account, after all this is not personal.: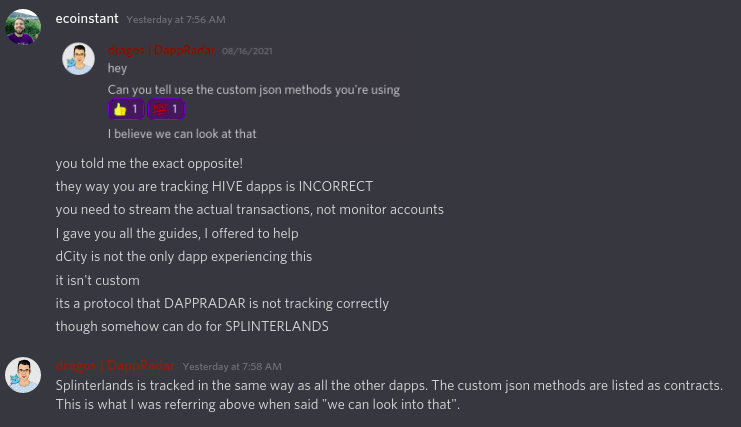 Ok, so Splinterlands is not receiving special treatment, again, I must be doing it wrong. But what is the right way?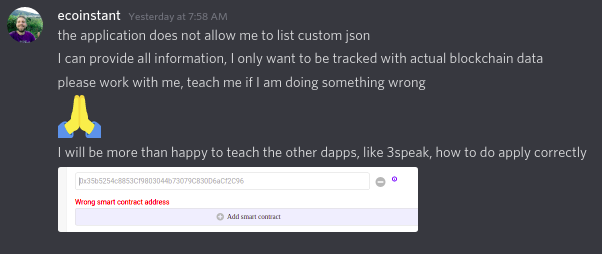 After a brief exchange, we are back on common footing, the conversation was very friendly from here on out. We compared contracts, and looked around at how I could list the contracts on their 'clearly deficient' UI for hive dapps.
Reference was made to hivedapps.com, which is also tracking dcity improperly. I went in and made some updates based on this conversation, but DappRadar has a point - even on HIVE we aren't tracking our own apps very well.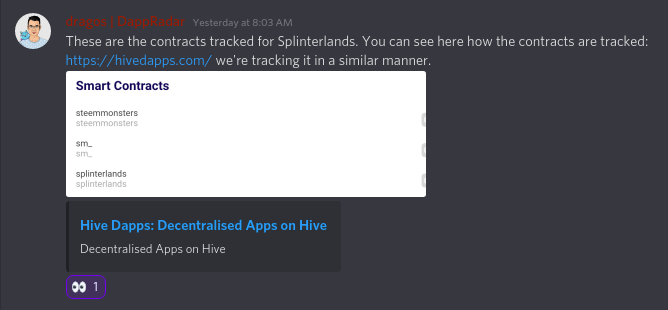 I updated the DappRadar application, although I am pretty sure it won't work this way either, since there is no underscore in our customjson symbols.

At this time, I was also chatting with @gerber. Playing bridge between two parties can be stressful, but that's my job!
Gerber sent over some specific examples, that should help if we can get DappRadar to actually consider looking at transactions correctly.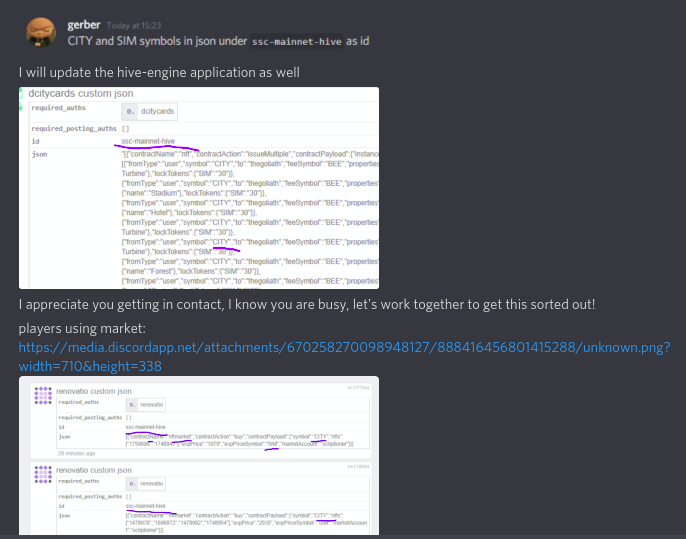 The contracts were updated! Also, we may have someone more technical coming into the conversation soon.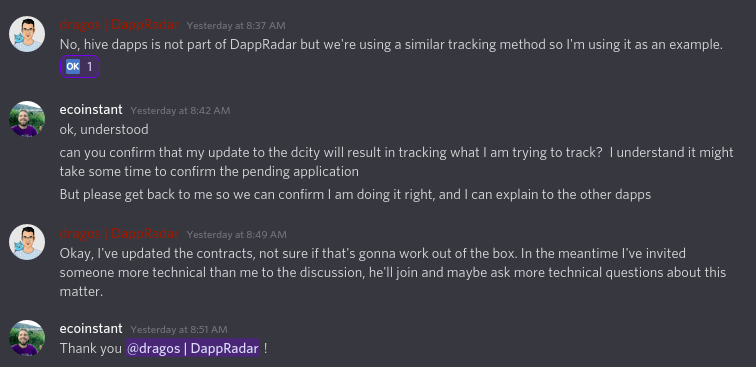 So far, as admitted, it doesn't seem to be working 'out of the box'.

I will keep you all up to date -
Let's keep pushing to get our protocols accepted!!!
Freedom and Friendship
---
---