HIVE TWITTER I NEED YOUR HELP! - dCity DappRadar Update.
So you may remember that I am working hard to get dCity listed on DappRadar. Very hard. Which I did do! But they are not tracking us correctly! Visit my previous linked posts to get an idea of how we got this far.

Three users and 6 transactions is a joke, I did 100 tx on 7 accounts yesterday by myself! This cannot stand! Even though we have received a number of new players from this listing, all of them expressed surprise that dCity was as big and active as it really is. We are also starting to convert some of the new players that Splinterlands is recruiting, but I can only imagine what we can do if they actually report our numbers right.
Its been more than a month since I got a very promising response, which I will show here: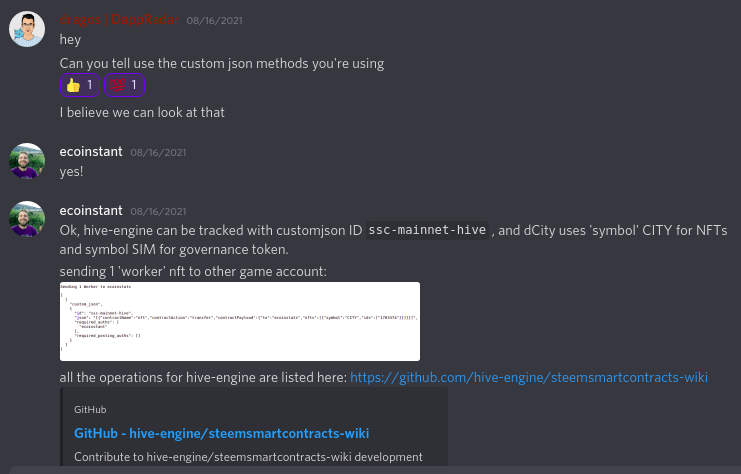 This response, on August 16th, was so promising I thought that it was just a matter of time before they got it right. And so I waited.... update incoming! And waited....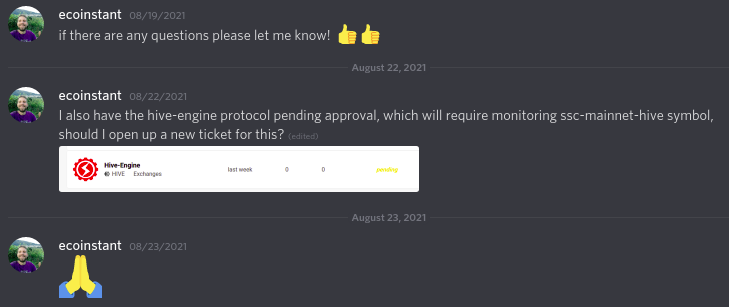 Of course, as a hive-engine witness, I am also taking the time and effort to get hive-engine listed correctly as an exchange. There are deposits, withdrawals, daily volume and a lot of cool stuff to track there, if only they would stream the blocks and look at the right custom jsons.
And we're waiting....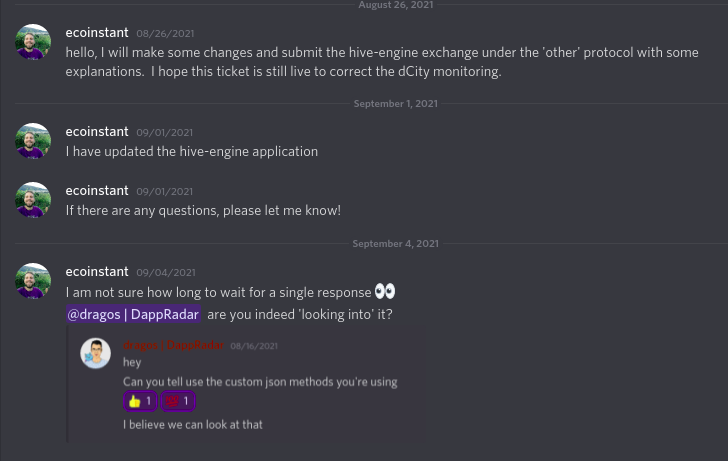 What really gets my goat is that they are literally doing this properly for Splinterlands. It shouldn't be that hard to track something you are already tracking.
As August turned to September, I started to lose patience.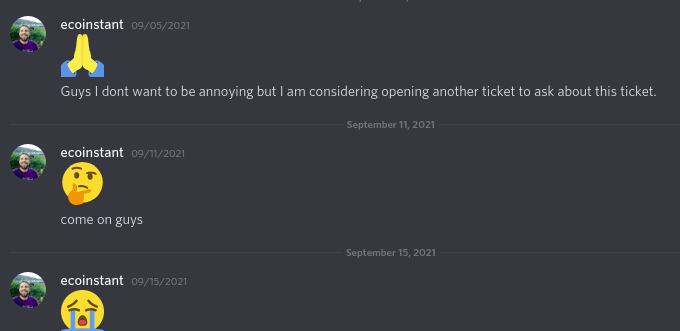 Well, if the ticket route won't work, what else can I do? I pinged the community manager about it at the start of September, she promised that she would chase it up.

Finally I developed a plan. If using the discord was not going to be an effective method to get our beloved HIVE dapps the attention they deserve, then TWITTER MOB it must be.

The more I thought about it, the more I realized it was not just a brilliant plan, it was the only plan. HIVE twitter has a lot of users, that is something we have going for us, and their voices can add to mine, in the public forum, to give us a chance at getting our apps tracked correctly IN THIS CALENDAR YEAR. I don't want to wait for the middle of the next crypto winter to get these data points right.

Sometime in the last month I found dapp.com, another site that will only let HIVE dapps put in account names. I will be applying to them this weekend, and perhaps we can see who will be faster to correctly indicate the data on how FAST, FREE and USEFUL our dapps on HIVE really are.
DappRadar has a head start, but they are blowing it! Can we encourage them to do the work necessary? Let's find out!
SHARE THIS ON TWITTER - make sure to tag DappRadar

They claim to be the 'most trusted source for decentralized app data', and even list #HIVE right on their description!
Can we trust any of their other data? Perhaps not, until they get this right. Help me let them know that this disappointment will not stand! Fix the #HIVE data!
Freedom and Friendship!
---
---