How to convert SplinterLands Cards and DEC into MONEY!

Splinterlands is booming, and a few people in our guild asked me, 'What is the best way to move all these tokens?'. Upon reflection, its a multi-step process that I take for granted, so I decided a nice simple guide would be in order.
The first step is an important step - turning cards into DEC. Even if you still want to 'go long' Splinterlands, selling your cards for DEC might get you a bigger SPS airdrop, as I have been discovering.
Step 1: Use PeakMonsters.Com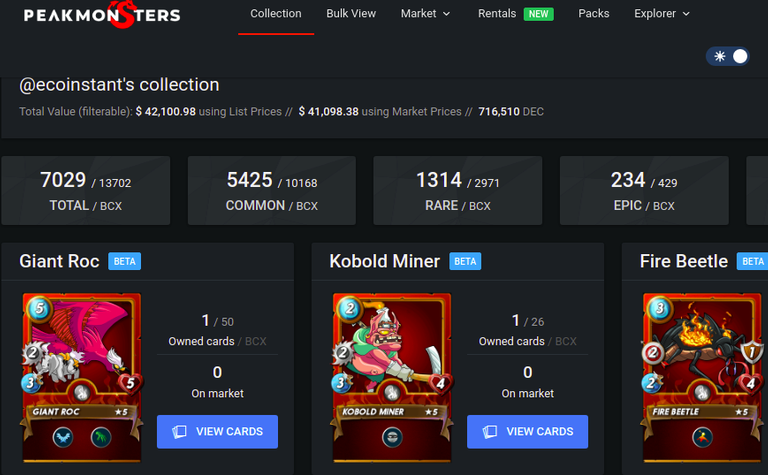 Wow what value!
After noticing that your card values have skyrocketed, you might be thinking that now is the time to pay rent or start a small business. Frankly my SplinterCards are currently worth more than my neighbors farm, and this is a signal to me about relative value, maybe I should rebalance my portfolio!
Between Collection View and Bulk View and their relevant filters, you should be able to scan and view all parts of your collection.

When selling cards we must distinguish between 'LOW BUY' and 'BEST PRICE (xBCX)'.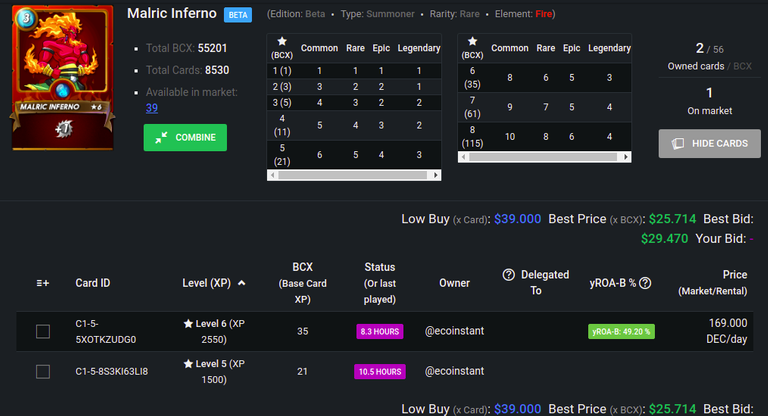 Taking a look at one of the great summoners, Malric Inferno, we can see that they low buy for this card is 39 dollars, and the best price per BCX is 25.714. My Malrics are leveled up to 5 and 6, and have a BCX of 21 and 35 respectively. If I want to sell my leveled Malrics, I would want to calculate the xBCX price multiplied by the BCX of the card.
Luckily PeakMonsters has a very easy option for this. We can check our card box and select 'SELL' in the menu above.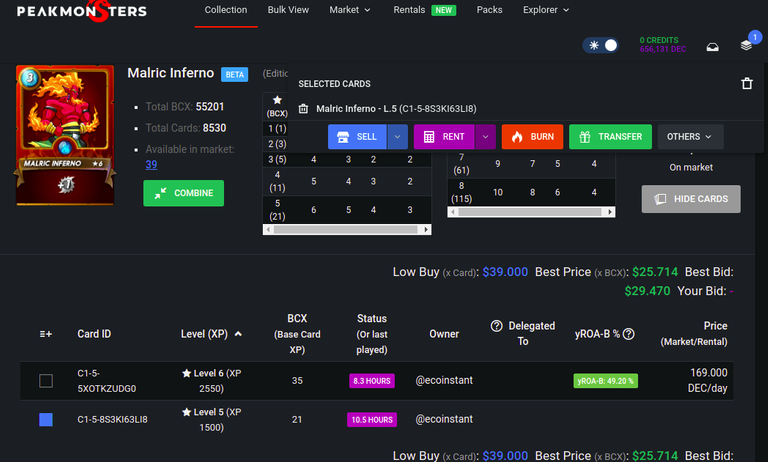 Once in the SELL menu, we can select the handy pricing option 'RELATIVE price xBCX', and in this case I have selected -2%, which means 2% lower than the current xBCX price. There are some market fee options, I don't remember them all but I leave it at 5% because that makes it visible on all markets.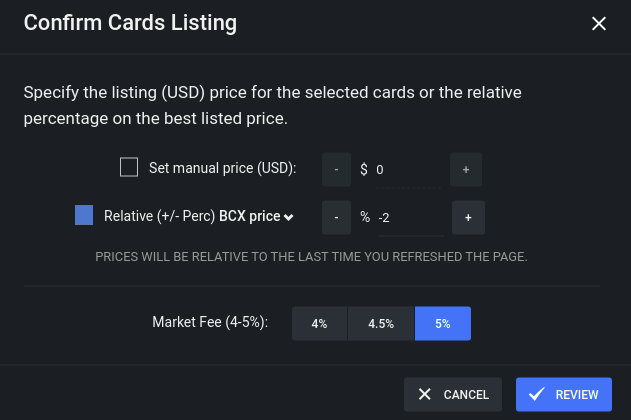 When we click 'REVIEW', we can get a look at what this '-2% xBCX' really means.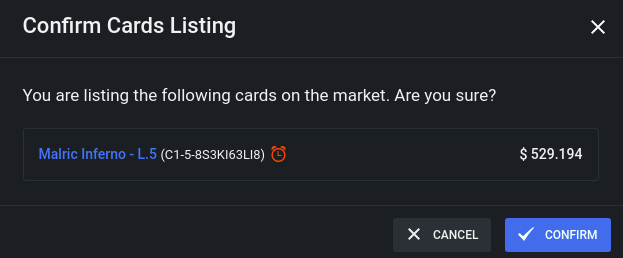 It means my level 5 Malric Inferno will be listed for 529.19 dollars, and this is a lower price per BCX than any other on the market.
Now let's take a look at non-leveled cards.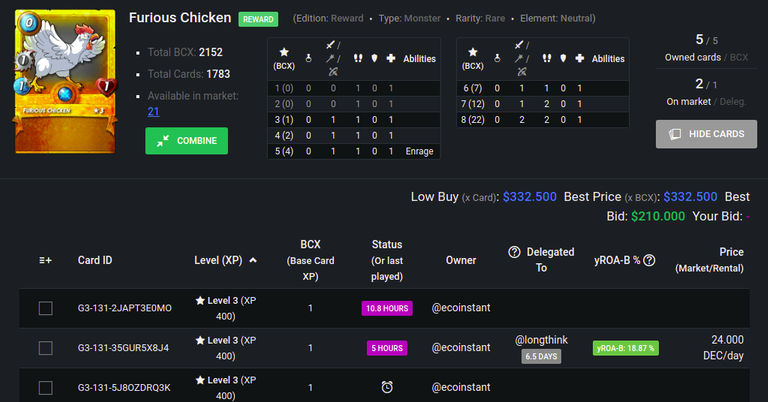 Here is probably my favorite card, the Golden Chicken. Its price, like that of other cards, has skyrocketed lately. Notice all the BCX for these cards are 1, they are not leveled.
While the LOW BUY and BEST PRICE (xBCX) are the same in this case, its not always true, lets look at another card to confirm this: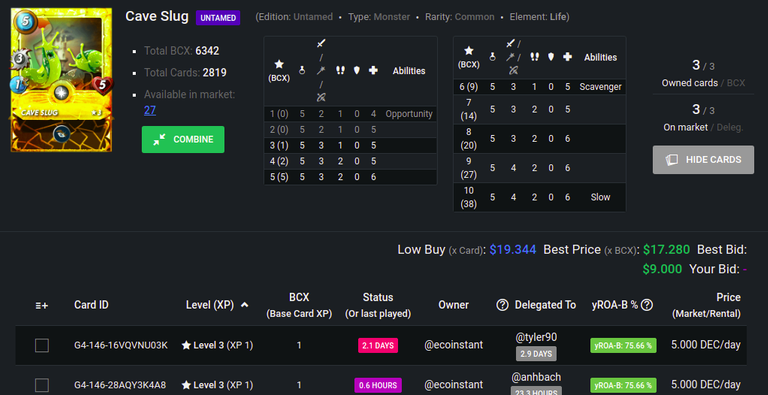 My golden Cave Slugs, which I am renting out for 5 DEC per day, could sell for 19.344 dollars, but if they were leveled, would only get 17.28 dollars per BCX. Its important to note the difference, single cards generally sell for more per BCX than leveled cards. So I use the 'SET MANUAL PRICE' method.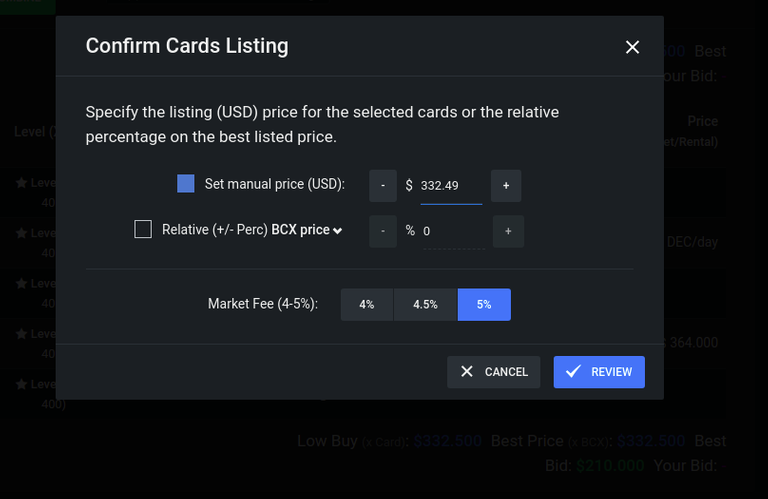 I'm back on the chicken, and as you can see, the menu pops up and doesn't always let you see the price, so you could remember it, or back out and look again. I can list the golden chicken for 332.49, one cent under the cheapest chicken on the market.
What does 332.49 mean?
Although we are listing in dollars, all cards are bought and sold with DEC. Behind the scenes there is some heavy duty computation going on, and when DEC is cheap selling cards at the same dollar prices yields more DEC, when its expensive the same dollar price will yield less DEC. There is some holding risk, so if DEC is expensive, you might want to sell it quick if you think its going to fall in price.
On the other hand, if DEC is cheap, you might hold it for a while if you think it will go up in price. Here are some results: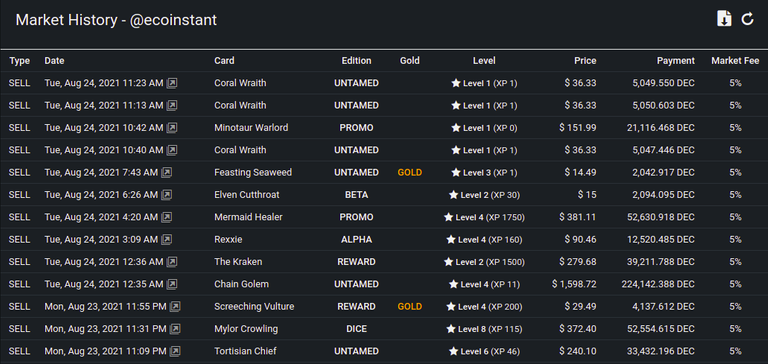 Once you have sold cards, the DEC will appear in your Splinterlands account, which also appears on PeakMonsters.

Go to splinterlands.com and click on the DEC window at the top, you will see this menu: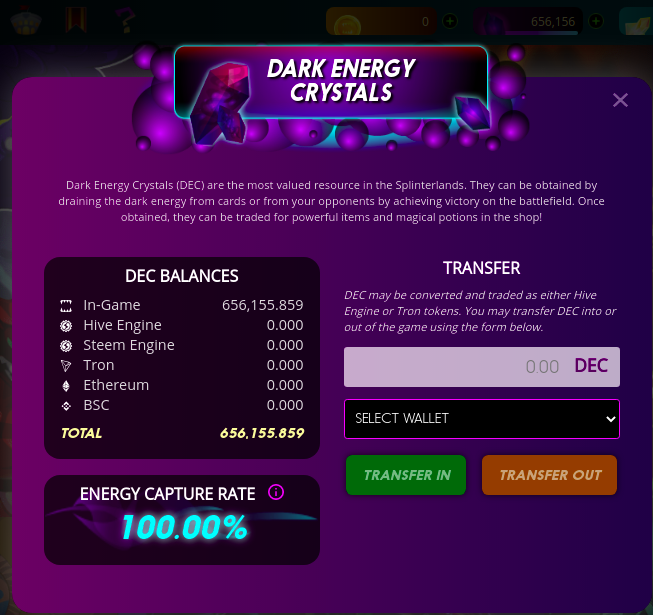 Type in the amount of DEC you want to take out. I use hive-engine, and will continue this guide as such, but you can also send to steem-engine, Binance Smart Chain, Tron Wallet, Ethereum Wallet, or even another player.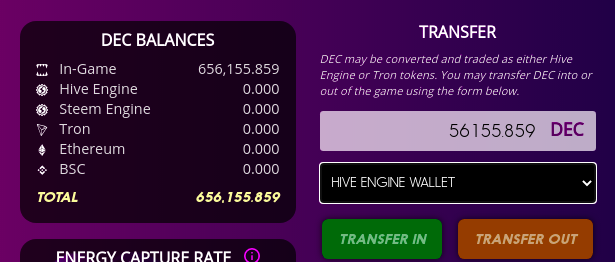 If you bought DEC on hive-engine, you would select 'TRANSFER IN', but since we are going the other way, I will click 'TRANSFER OUT'.
I'm going to leave 600k DEC in the account to generate SPS airdrop later this morning.
Once you transfer it out, it will appear on your keychain wallet (under TOKENS), on leodex or hive-engine exchange as well.

But the site I recommend using is https://tribaldex.com/dieselpools/ Especially with large quantities, these pools are way more price efficient than the markets.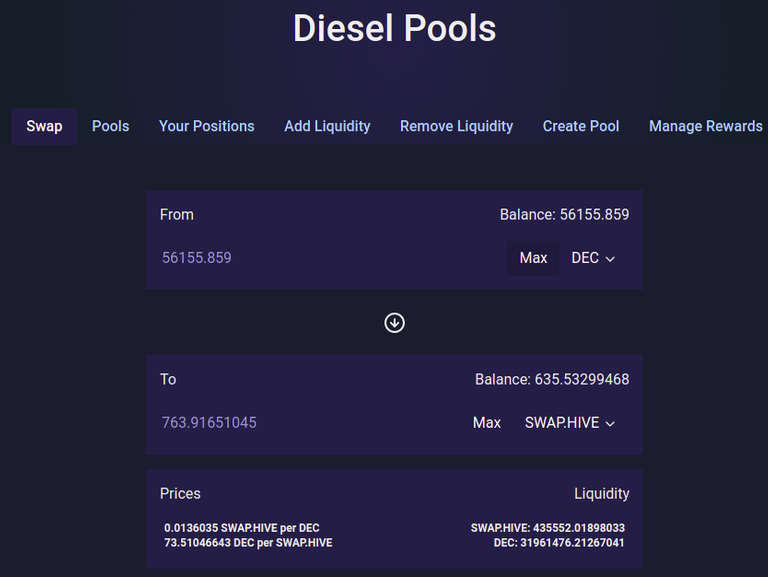 https://tribaldex.com/dieselpools/
Select the tokens (DEC to SWAP.HIVE), click max (or enter a smaller number), and visualize the trade. Notice at the bottom our total price will be 0.0136 per DEC. Go ahead and compare that with the market.

If I sold into the market I would get only 0.01345, there is some space to list my tokens a little higher, but I don't want to wait, so I will click 'SWAP' on TribalDex.
Now I have a lot of SWAP.HIVE in my wallet! This is not the same as HIVE, it is a 'wrapped' version that is used on the side-chain protocol hive-engine.
The best way to withdraw swap.hive for hive is https://beeswap.dcity.io/convert - they have only a 0.25% deposit/withdrawal fee compared to the hive-engine deposit/withdrawal fee of 1%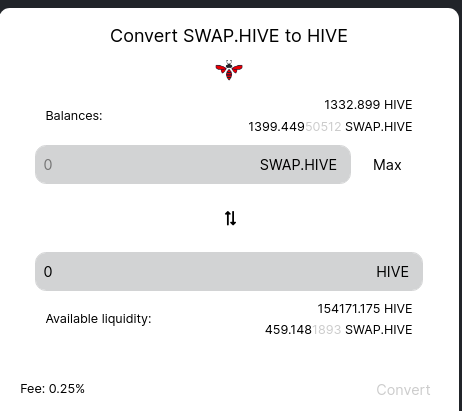 At the time of writing, BeeSwap has tons of HIVE and needs my SWAP.HIVE! You can generally notice which ways the winds are blowing with beeswap's 'Available liquidity', and I enjoy noting when I am moving against the crowd and when I am crowding in with them.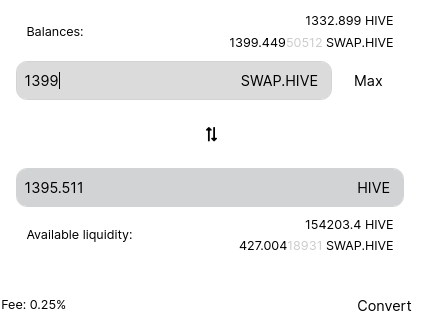 So I enter my numbers and click CONVERT. Beeswap displays the number I will be getting, looks like I'm paying just under 3.5 hive to convert 1399.
And there it is!

Now that its in HIVE, I can send it to bittrex or binance or another exchange, and deal with it like normal crypto. Personally if I need cash, my process looks something like this:
1 - Send HIVE to bittrex
2 - Sell HIVE for BTC
3 - Buy LTC with BTC
4 - Send LTC to Coinbase Pro
5 - Sell LTC to USD
6 - Send USD to Coinbase Wallet
7 - Withdraw USD to Paypal
8 - Withdraw COP from ATM using PayPal Debit Card
This is how I do it, I am sure many people have slightly different ways to push through into cash.
I hope this guide was helpful for you! Don't be afraid to re-balance your portfolio from time to time.
Freedom and Friendship
---
---