SIM arbitrage opportunity available - learn how to sell SIM for 12% more IN THIS POST
There is always more to learn on the blockchain! Lots of people are talking defi, and we have our very own growing defi space here on HIVE. It seems not all users are abreast of this situation, leading to an arbitrage opportunity at their expense, at least until they learn!
Let's get right to it. Take a look at this order book on hive-engine for SIM.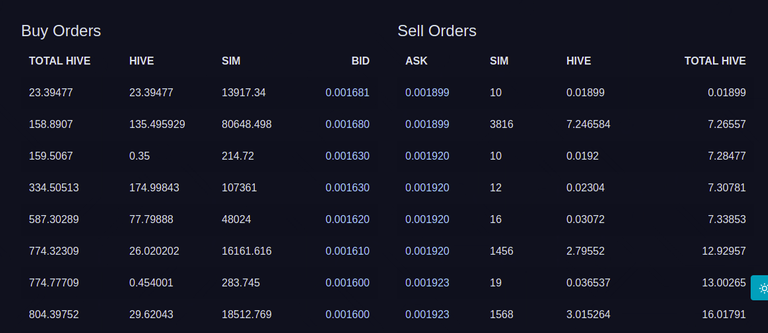 Notice the relatively deep depth on the left, and the relatively scant liquidity on the right. Buyers on the left know something that other's don't, and that is the fact that they can sell SIM into a liquidity pool at a much higher price!
Let's take a look at https://tribaldex.com/dieselpools/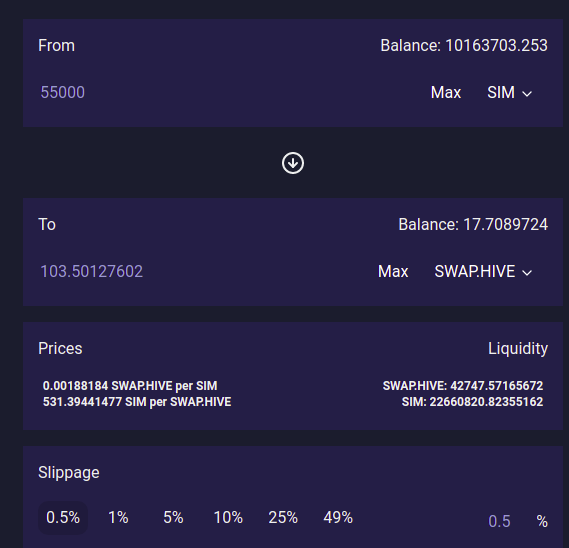 After selecting SIM in the top box and SWAP.HIVE in the middle box, as well as inputting a number of SIM to swap (under 'FROM'), we can see that the tribal dex could get me a SIM price for 55000 SIM of 0.00188184 HIVE per SIM. This is a 12% increase in the top line dump price as shown at 0.001681.
As in the nature of liquidity pools, the more you sell, the lower the price gets, and vice versa. If I wanted to sell 5 million SIM, well then I would get a lower average price, but notice nearly 8k hive of liquidity, much greater than that of hive-engine itself.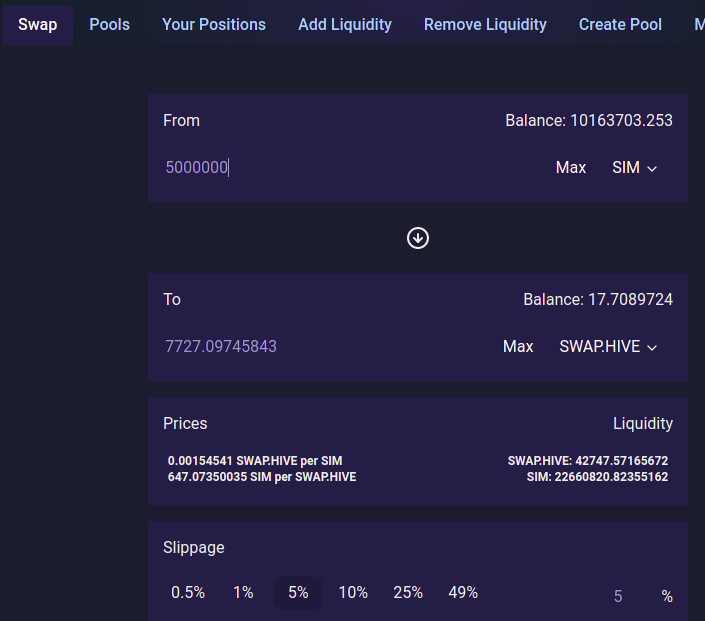 If you are selling a large amount, make sure you set the slippage rate higher, or your transactions will fail. I generally put the slippage rate to 5 or 10 percent, since I don't really care the overall slippage since the screen is telling me the price per unit that I am already agreeing to.
Why is SIM pumping anyway?
I believe that @gerber is about to release something that he has been teasing in the discord for a long while, which are some rewards for providing liquidity to the SIM:SWAP.HIVE liquidity pool. One thing he has confirmed is that he wants the SIM in the liquidity pool to ALSO count for SIM governance in game. This would stack rewards for holding SIM.
SIM holding rewards have recently been tripled by @gerber. At the current prices they yield a 45.776 APR paid out in HIVE each day.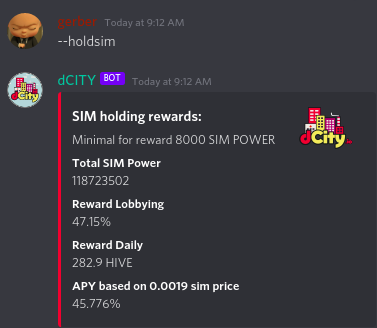 These holding rewards are backed by the beeswap liquidity provider fees, and this brings us back to the SIM:Swap.Hive pool.
HIVE has a growing defi space getting built up, and currently the only UI is tribaldex.com. Let's see what @gerber and @scriptioner can do about integrating these pools into the dcity UI, and continue dCity's transformation as longest running DeFiFarming platform game in blockchain history!
As a side note, I applied for dCity to be listed on hivedapps.com - @therealwolf let us know if you need anymore information about the game :)
Thanks @dalz for recommending!

What other list sites can we apply to get listed on?
Send me your suggestions I'm on a roll!
Freedom and Friendship
---
---