We must thank @vimukthi here for the post that led us down this path. DEC is a stable token, backed by the SplinterLands economy. If there is one thing we have learned over the last several years playing on blockchain - stable tokens aren't always stable, but since they do have mechanism that can help their price, they are much springier!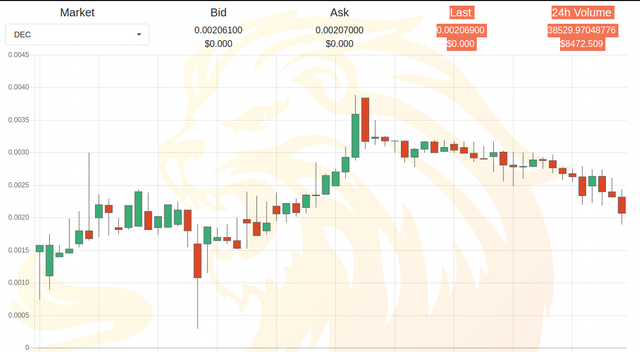 The thing to understand about DEC is that it buys cards, potions and card packs on SplinterLands. So there will always be a way out, and that's why the market behaves very cyclically - there is little risk (as with some other tokens) of DEC 'just going to zero'.
Generally, DEC should play countercyclical with the HIVE price. Since 2000 DEC will buy a pack of cards (market value of 2 USD to buy in with PayPal), if HIVE goes up in USD price it will buy more DEC. Thus we can see in the chart above a HUGE drop in DEC price earlier this year when HIVE price surged to 1 dollar.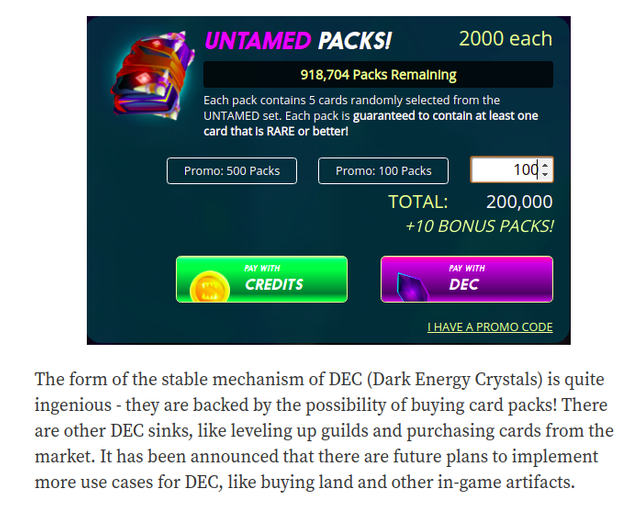 In our own article on DEC, written three weeks ago, we explained how to use DEC as an alternative gateway between STEEM and HIVE. Since then, the price has been pummeled even as HIVE price has squeezed. Since we (correctly) sensed a HIVE price squeeze, we held the DEC. But it has done everything but valuate!!!
Contrary to our own advice and understanding, as the HIVE price has squeezed, DEC has restricted even further. Obviously it is infuriating to get trapped on the wrong side of a trade, thinking that if we had dumped DEC first, we could be buying back even more DEC now.
But its not the end of the world!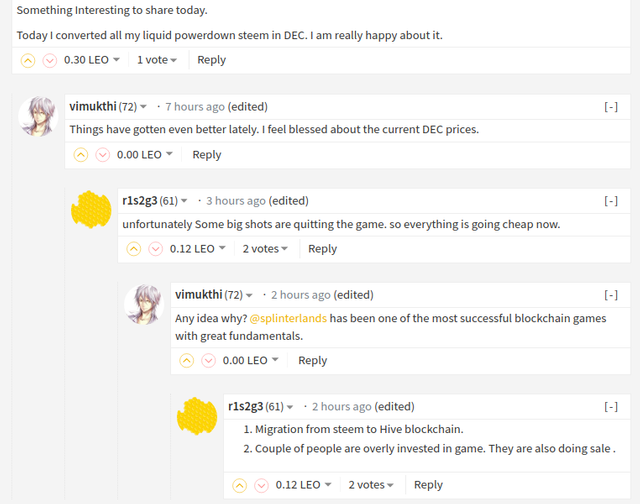 Source: Vimukthi's Post
It appears that a few of the original SplinterLands investors woke up one morning and decided that they had too much assets allocated to SplinterLands. After listening to @aggroed being interviewed on this issue by @nealmcspadden, he stressed the importance of markets for investors to be able to re-position themselves at any time. Reviewing the data, it doesn't appear there is any outright abandonment happening, just that many ALPHA cards are being sold off (dropping the price of these cards, which don't trade very often) as investors seek to lessen their exposure to a single game.
This is creating the conditions we see today, with opportunities for newcomers to get involved at very low prices.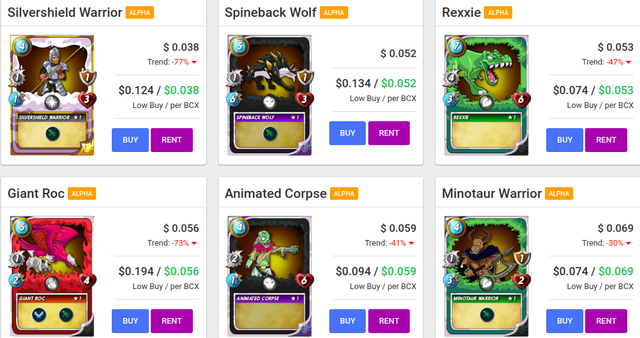 Most of the deep discounts in ALPHA card prices are for MAX level cards. Investors or Players interested in competing at the highest levels of CHAMPIONS league with HUGE DEC bonuses will be keeping an eye on these, as every ALPHA card used in a match gives a cumulative +10% DEC bonus.
This is not a strategy that will appeal to us, as assembling max level decks of cards is out of our price range. But we are not motionless, for there is indeed Blood on the Streets of SplinterLand.
Usually hovering near 80 cents, the current price per thousand of DEC on the engine marketplaces is, as of this morning just 45.5 cents
---
This is not advice, it is History! Always Due your own Diligence!
Posted Using LeoFinance