It's easy to look up how many grams are in an ounce. (It's 28.3495g per oz.) Sometimes, I forgot how big the difference is when putting them side by side. It's been a long while since I have bought any gold and I thought it would be fun to order some again.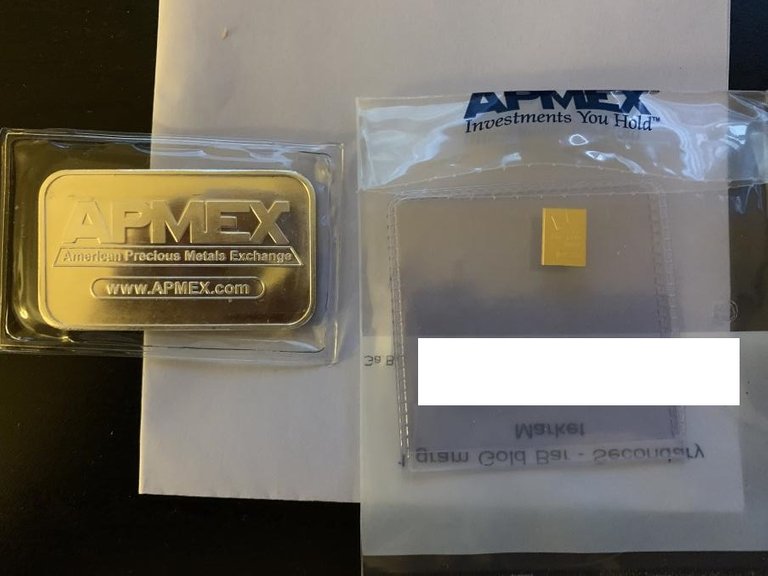 Above, you'll see an ounce of silver next to a gram of gold. I soon remembered why I'd preferred to buy silver over gold. Of course, price is always a consideration as I could obtain a lot more silver than gold.
         It's so much easier to handle an one-ounce bar than keeping track a speck of gold dust. Then again, it's not like I am always moving them around like someone would with digital assets. Not to mention, it feels somewhat unsatisfying.
         Buying gold is like buying Bitcoin. Most of the times, you could only afford a fraction at a time. Unlike BTC, it's not as easy for me to combine all the fractions I own into one whole unit. In fact, I have never smelted anything before in my life.
         At the end of the day, it goes back to value. It's like the classic example of giving a child ten pennies and a dime and ask which one is worth more. Having quantity does not always translate to more value.
         Would I still prefer silver over gold? In my mind, always. Would it stop me from diversifying my holdings? No. That's usually the safest approach even though I would still say it's not financial advice.
         Take a look at your crypto portfolio. Are you all in on HIVE? If so, you have more guts than I do. Nothing is certain in investments. Sometimes, you luck out and strike big. Sometimes, you lose some through no fault of your own. The rest of the times, you ride the waves to eventual gains over the years.
         When it's all said and done, do what you think will benefit you the most, but don't expect everyone to agree with you.
Posted Using LeoFinance