The following is my personal interpretation so do your own research and participate/invest when you decide so. Or not.
First, I wish to thank @oldtimer for his article about Koinos. Without I wouldn't be writing this article. At least not today :)
---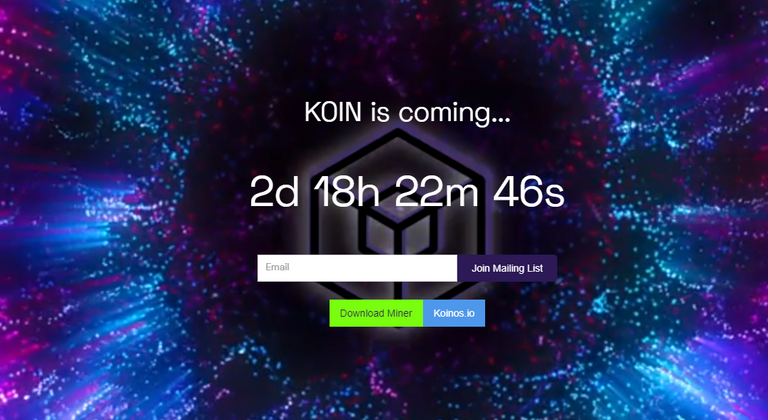 In short, Koinos is a new blockchain platform being built by the team which was once the creative force behind Steem. The team is called OpenOrchard and they have some noble goals.
Our mission is to empower people through ownership of their digital selves and blockchain is the most promising technology for accomplishing this mission. Blockchain-based applications can add value to people's lives in an infinite variety of ways but building such applications is far too difficult, time-consuming, and expensive.
About the platform ...
When it launches the Koinos mainnet will be a fast and fee-less blockchain that enables developers to create an unlimited number of free accounts for their users. With these features, Koinos won't just lower the barriers to entry, it will obliterate them and open up blockchain applications to an order of magnitude more users.
Both quotes were taken from @andrarchy's announcement about the platform and the initial mining.
Yes, there will be a mining mechanism in place in order to distribute the assets, called KOIN. CPU POW mining with their client software.
No ICO, no buying with cash or any other asset. Just plain and simple mining for six months.
And the following is actually a record on how I installed and enabled the miner on my Windows machine. It was a smooth procedure.
You can find the official instructions here.
You can also watch videos to learn about everything important.
Announcing KOIN Mining & Koinos Whitepaper

Koinos Miner Installation and Configuration

Now, let's go through the setup together.
---
After you download the miner client and run the installation you are greeted with the following warning.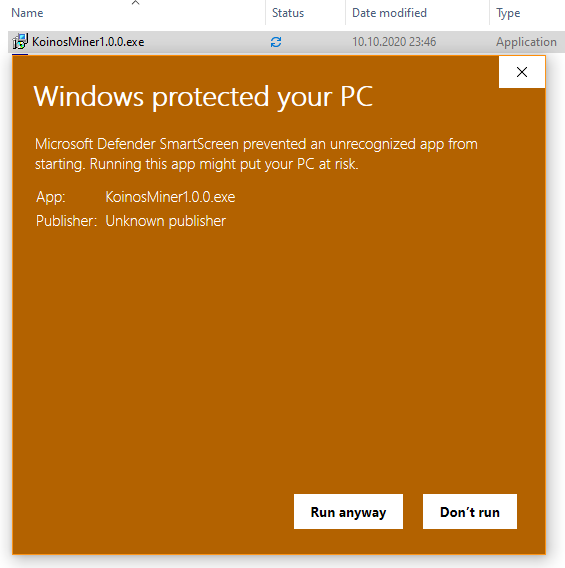 Remember, this is on Windows.
Don't fret. Push forward.
By default, the installation goes into ...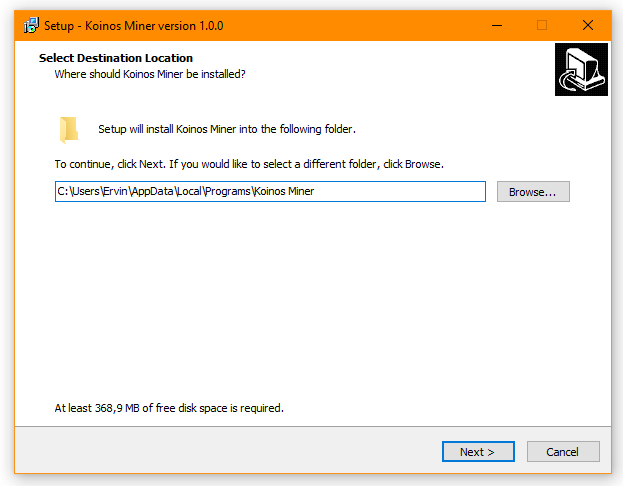 Seconds later ...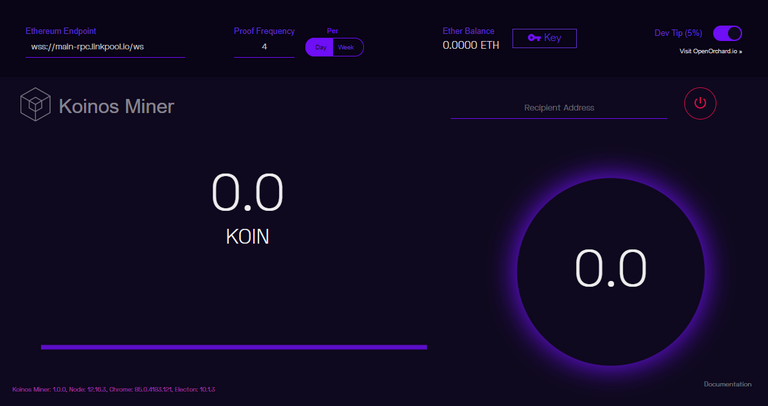 Setting up miner's private key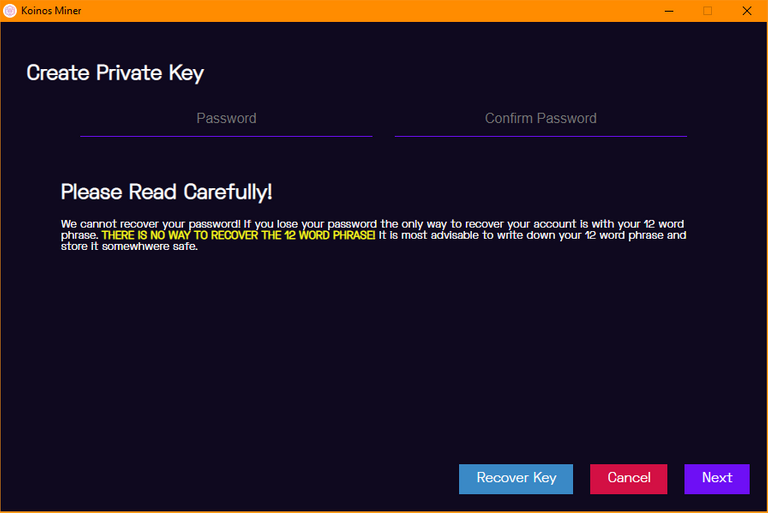 12-word phrase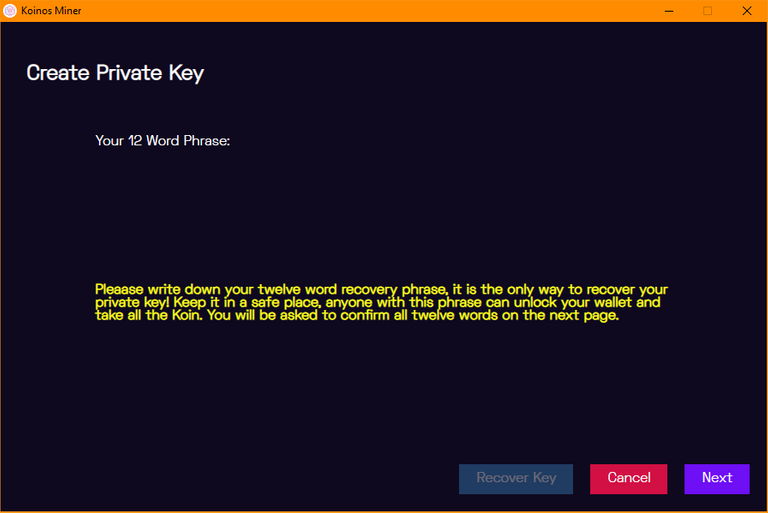 Verify the phrase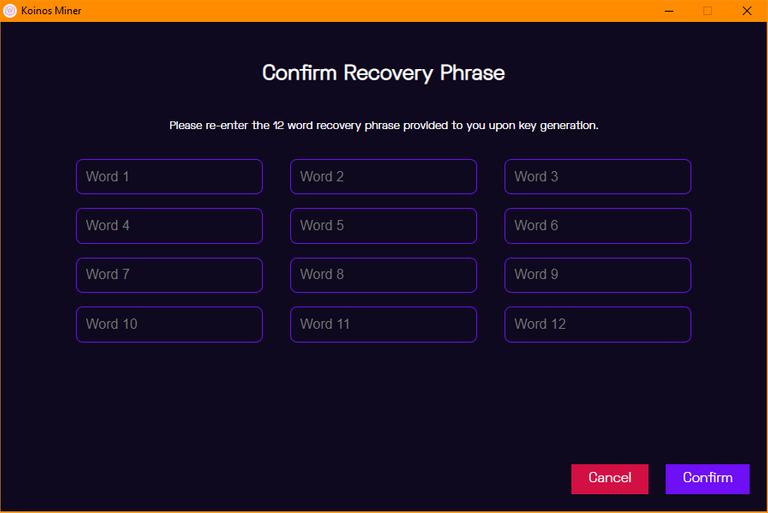 Funding address was generated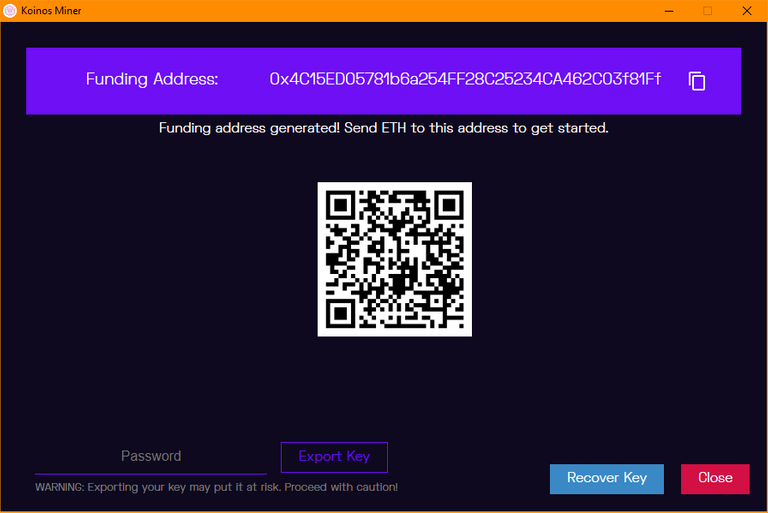 This address is for funding your transactions. The mining score is kept on the Ethereum blockchain and you mined tokens are actually ERC-20 tokens. There are transaction fees involved with your mining reports and they are covered from this address - hence funding.
The other address that you need is called the receiving address, This is where your mined KOINs will be stored.
I generated mine with my Ledger Nano S. You can do it with Metamask or any other ETH wallet.
Now, let's start the miner ...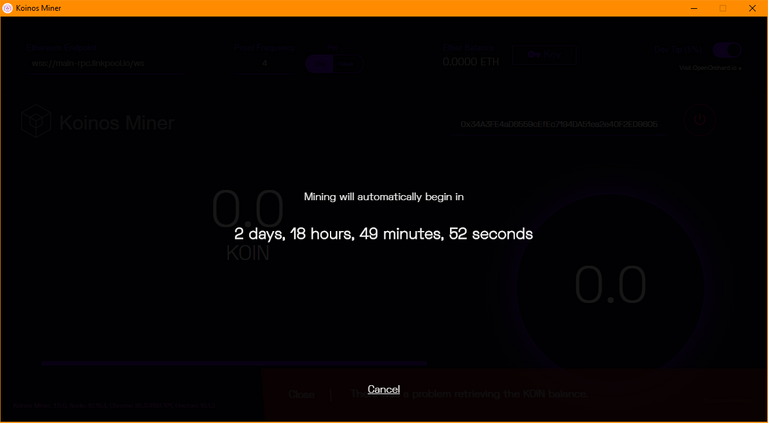 It's a countdown.
The mining will start on Tuesday, October the 13th, 2020
After canceling the mining I received the following message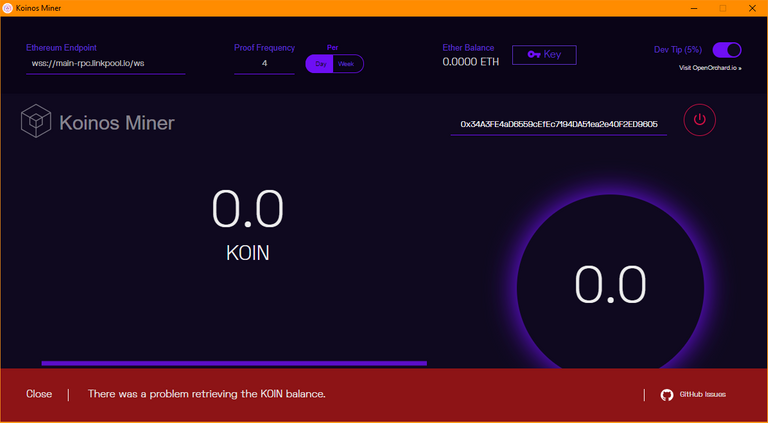 Quite right, since I didn't send any funds to the funding address yet.
OK, I transferred around 42 € that were sitting in my Bitwala wallet. That should be enough for initial mining, shouldn't it?
Several minutes later ...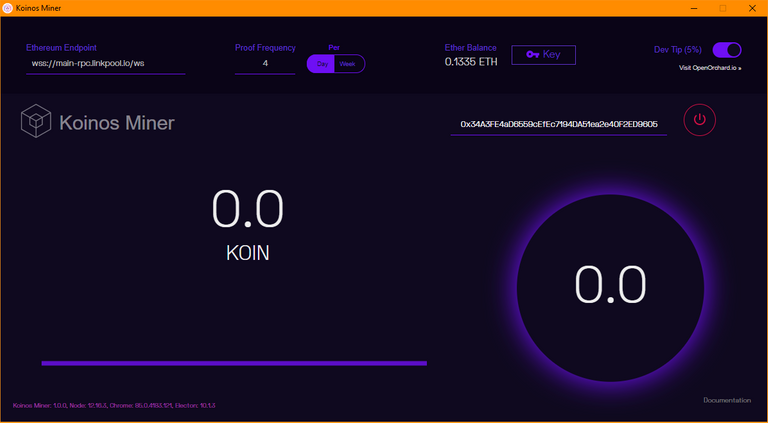 Good, the miner is funded and we are set.
This was easy :) I do hope it was done correctly too.
---
Things to remember
no ICO in a classical way to get your KOINS,
POW mining with the client,
it happens on Ethereum, transaction fees are involved,
with the installation of the client you get the funding address - to cover the fees,
you enter the receiving address - to get the mined coins,
reporting frequency is a grey zone for now - we'll see how will it play out - read the announcement.
Open questions
can we set up multiple miners? I guess YES.
can we have the same funding address for these multiple miners? I guess NO.
can we have the same receiving address for the miners? I guess YES.
how will the reporting frequency and mining difficulty be related? I guess we'll find out while mining.
I hope this covers everything important before we start mining.
---
Good luck with mining KOIN
---
Ps: I went through this exercise yesterday in the evening. Now, a day later, the miner is happily doing its countdown and waiting for the show to start.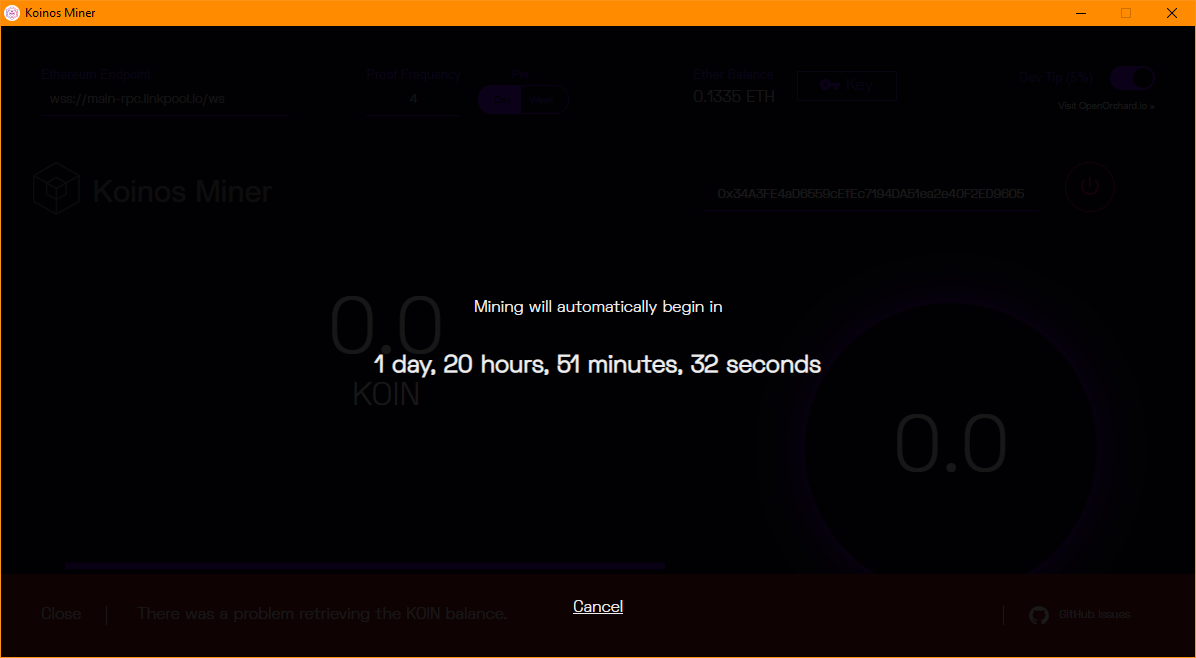 ---
Better and better
Posted Using LeoFinance Beta