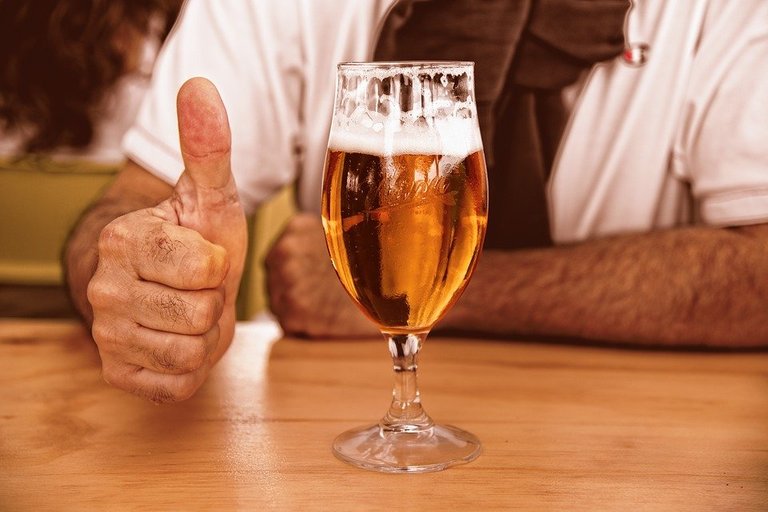 Img
For many, buying beer is a fixture on the shopping list, especially in these weeks of confinement. In fact, I read that beer sales in supermarkets had increased by 80%. Especially canned beer, but also craft beer. Not so much the wine or other alcoholic beverages.
Makes sense. After all, the bars are closed and those of us who are very brewers continue to maintain our habits. A very fresh beer and some accompanying olives are a small luxury, which we can still afford. Although our economy has been affected by the current situation. By the way, pickles have also gone up a lot.
However, this contrasts with the evolution of the listing of the world's largest beer group, the Belgian multinational Anheuser-Busch inbev. That it has sunk almost 50% since the beginning of the year. Owner of beer brands such as Cerveza Modelo, Peroni, Becks, Budweiser, Stella Artois, Quilmes, Cusqueña, Pilsen Callao, Brahma, Leffe ... and thus up to 224 brands around the world.
Have we consumed 50% beer in this period? What happened so that the price has dropped so much? Is it a good opportunity to invest in beer?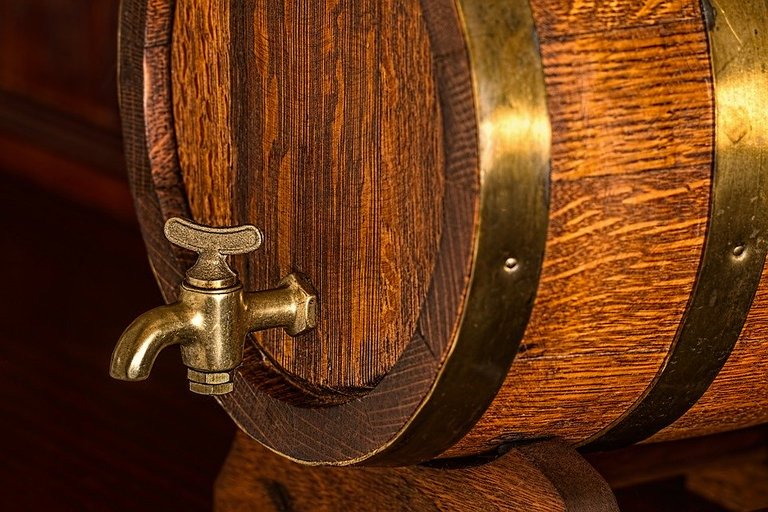 Img
It is evident that the fact that we cannot meet in bars and pubs, given the current situation, has affected the sale of beer, its distribution and consumption. And a second bad quarter awaits you. But the data says that the consumption of beer has held up much better than that of wine. Well, the latter is more of a restaurant and also, given its price, it is more sensitive to an economic contraction.
The truth is that, although it has coincided with the health crisis, it seems that the fall of Anheuser-Busch inBev has to do with other factors, such as its high indebtedness. With debt equal to five times your gross income, it doubles the average leverage of other comparable companies. They are choking a bit on their merger with the 2016 SAB Miller group and it seems they are not quite getting the accounts in order.
And also with a drop in its operating margins. Where to improve them, they should focus more on the premium beer segment. Something they are immersed in, but the current situation has slowed their progress a bit.
So is it a good idea to invest in beer right now? It seems to me an investment opportunity. I think that the beer companies will always be there and I don't think they will disappear. But there are also some threats.
On the one hand, if you know you are seeing a certain change in consumption habits. For various reasons, more and more people are pushing to moderate beer consumption or to substitute it for other healthier drinks. The main ones are weight loss, general health reasons and improving sleep quality.
On the other hand, the distribution business of the big brands is also being threatened by an explosion of craft beer businesses in many countries. In fact, sales figures in Spain, for example, indicate that craft beer is gaining market share.
Artisanal microbreweries have made a name for themselves in the market. That has given rise to an entire craft beer market online, with the sale of all kinds of products and items to produce homemade beer. And it is a phenomenon that occurs everywhere. Well, they see in it an opportunity for business or entrepreneurship.
In no way can they compete with the producers and distributors of industrial beers, but they have realized that there is a small market niche that looks for other nuances or has a more select palate. Still, I believe that the impact on sales of large brewers is limited.
However, you also have to think that the big brewers are not going to stand idly by. In addition to acquiring a small craft beer producer and incorporating it among their brands, they have also managed to capture that sensitivity towards responsible and healthy consumption. And they are investing in the sale of non-alcoholic beer and other alternative product lines. In short, they adapt to new trends.
For all of the above, I still think that investing in beer in these moments of crisis is still one of the good investment opportunities. Among other groups such as Heineken, Constellation Brands or Carlsberg, Aheuser-Bush Inbev is, however, the one that offers the best potential by valuation. It is a global giant that had been growing in sales for a decade and now has had a little stumble. But it seems to me a good investment given the current valuations, with a time horizon of 3-5 years ahead.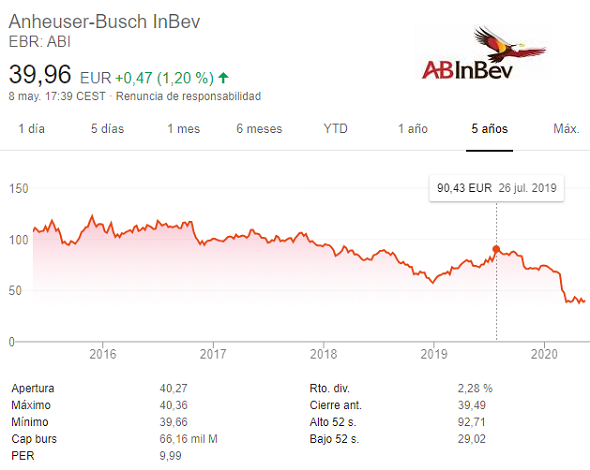 When you drop 50%, you have to climb 100% to get back where you were. And that I think is the potential that I think the Belgian beer giant has in the medium term. Sales will pick up when things get back to normal and bars and restaurants reopen.
Investing in vices at low hours has always been a good idea. And whenever you go for a beer, you can justify yourself by saying that you are supporting your investment, while enjoying a few drinks of beer. Of course, it is a business that will continue to exist in 20 or 30 years. What do you think? Do you think it is a good investment?
Posted Using LeoFinance