Hive has a cozy, close-knit community on Twitter trying their best to promote and market the platform on daily basis. I am so happy to be one of those active members who constantly look for opportunities to get the #Hive word out there. It's ironic that we use a centralized social media platform to promote a decentralized, censorship-resistant platform that pays people in Crypto. On Twitter, you get nothing in return for your content unless you build a massive following & create a revenue stream for yourself. And your data is at the mercy of Twitter mods. They can hit delete or block and you are gone in a second. But the thing is that the majority of the crowd is still very much active on these platforms. We as a part of this decentralized community should go ahead and let other people know that there are better alternatives like HIVE Blockchain where one can own their data and take part in Tokenized communities.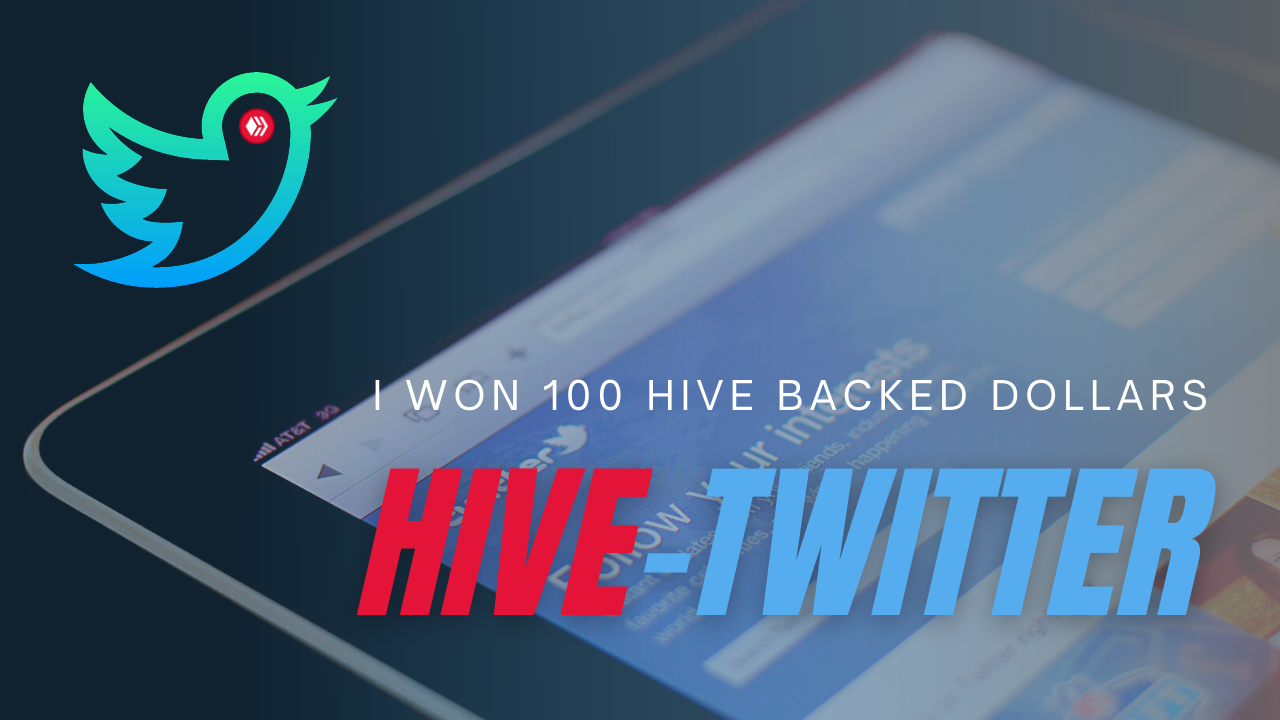 Monetize Your Tweets With Hive
As I mentioned above, on Twitter, you earn nothing for tweeting unless you couple it with a revenue stream. For that, you need to have thousands and in most cases, millions of followers. But with Hive, you have the chance to monetize your tweets. Let me tell you how:
#1
The first thing you can do is to Follow @Nathanmars on Twitter for Giveaways. He is undoubtedly the most active person there who represents our community and trying his best to connect us with the wider crypto community.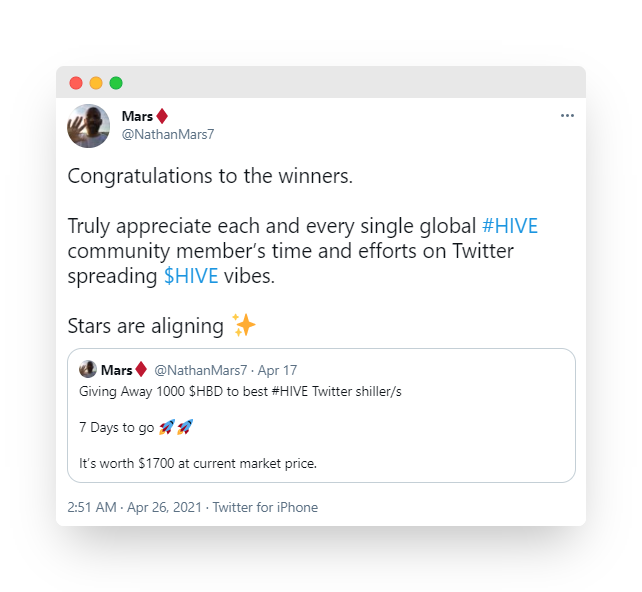 I have recently participated in one of his giveaways 'unknowingly' and won 100 HBD. How cool is that! And it's not just me, there were several other people who got this 'Twitter Gift' for their activity.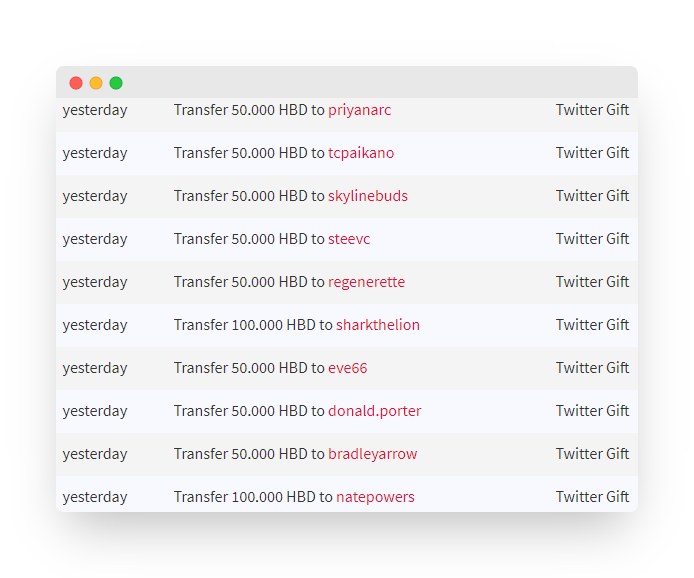 Source: @nathanmars wallet
Anyone can take part in this community-driven effort and amplify it. Every tweet counts no matter you have enough followers or not. The more people we have contributing to this, the better.
I constantly look for opportunities to mention Hive under the Tweets from other famous accounts. Have a look at this example: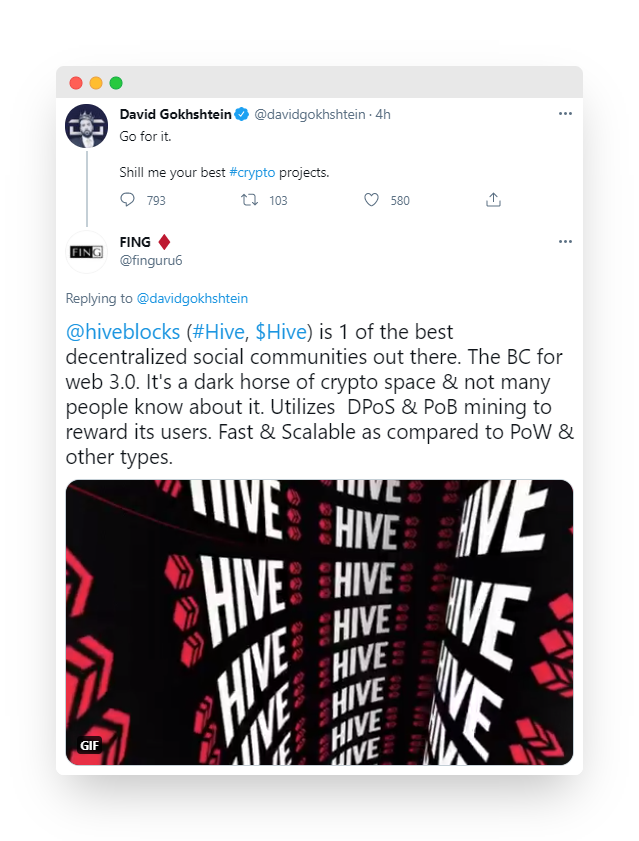 Just imagine if thousands of members start doing the same and raid an influencer's tweet to seek their attention. Success is inevitable if we create such a Hive Powerhouse on the platform. If we constantly do this on daily basis, I am sure we will find many people who might be interested to join Hive's ecosystem as investors, developers, and creators. Please don't forget that your reply tweet can be noticed by David's followers too. Each eyeball counts! Together we can target many more Davids.
Nathan has also launched a DHF proposal that will provide us enough funds to scale this community-driven Hive Marketing on Twitter. Use your precious vote and support it here:
#2
Another way to monetize your tweets is by earning #POSH Tokens for sharing your Hive Links. You can register here: https://poshtoken.fbslo.net/. Once you are done with the registration, all you need to do is to Tweet your Hive Links, and the rest of everything is automated. Everyday there is a set pool of 1000 Posh Tokens which gets distributed among all the Tweeters on that day. You can check the number of tokens earned here: https://poshtoken.fbslo.net/users. They are not redeemable yet but in the future, they will be. :) So collect as many as you can before that happens. Check out the recent developments related to POSH token here: https://ecency.com/posh/@acidyo/some-of-the-ongoing-development-and-future-plans-for-ocd-and-posh

Let me tell you a secret (if you don't know it already) - You can actually get the chance to get upvoted by @ocd, a curation project by @acidyo by sharing your Twitter posh link in their discord server. For more info, join: https://discord.gg/wreH9sZEPJ and go to #Twitter-Posh channel. That's an indirect way to get rewards for your efforts.
Many Hive curators are active on Twitter and I have personally benefited from it as a new user. I tweet all of my LeoFinance Content and interact with other members of the community. Many of them visit my Leo's profile through those Tweets.
There is a list of Hive Community members made on Twitter by @traciyork which comes in very handy to me. It currently has 2.2K members. I am following the list to get the latest tweets from the members. It keeps me updated with what's happening and helps me to find more amazing creators on Hive.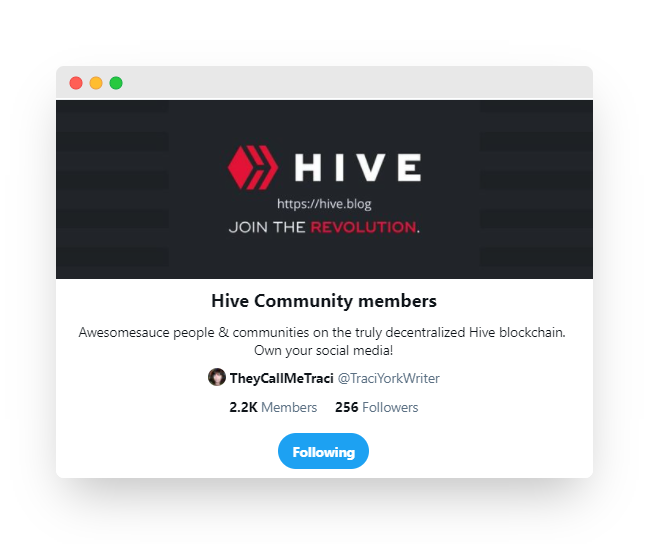 ---
I hope this post gave you enough reasons and resources to kick-start your Hive-Twitter journey. Together we can create an impact by making such small efforts because they go big when thousands of people do it at once. So what are you waiting for? Get on Twitter, Shill Hive, Share Your Hive Links, Earn Rewards in short term and create a scope to get long-term rewards (like $5 Hive or Onboarding of more investors) through this constant community-driven effort. Let's make it rich.
If you like this post, kindly upvote & reblog!
---

https://leofinance.io/@finguru

https://twitter.com/finguru6

finguru#4062
---

No financial advice. For infotainment purposes only.
Posted Using LeoFinance Beta