My account is only 2 months old and I witnessed immense growth in my investments on HIVE & Leo Finance. Not as great as DogeCoin, LMAO! The major investment being time, coupled with my personal financial assistance, has built my account rather quickly. The cherry on the cake is the 'knowledge' I have gained & the 'connections' I made in these 2 happy months.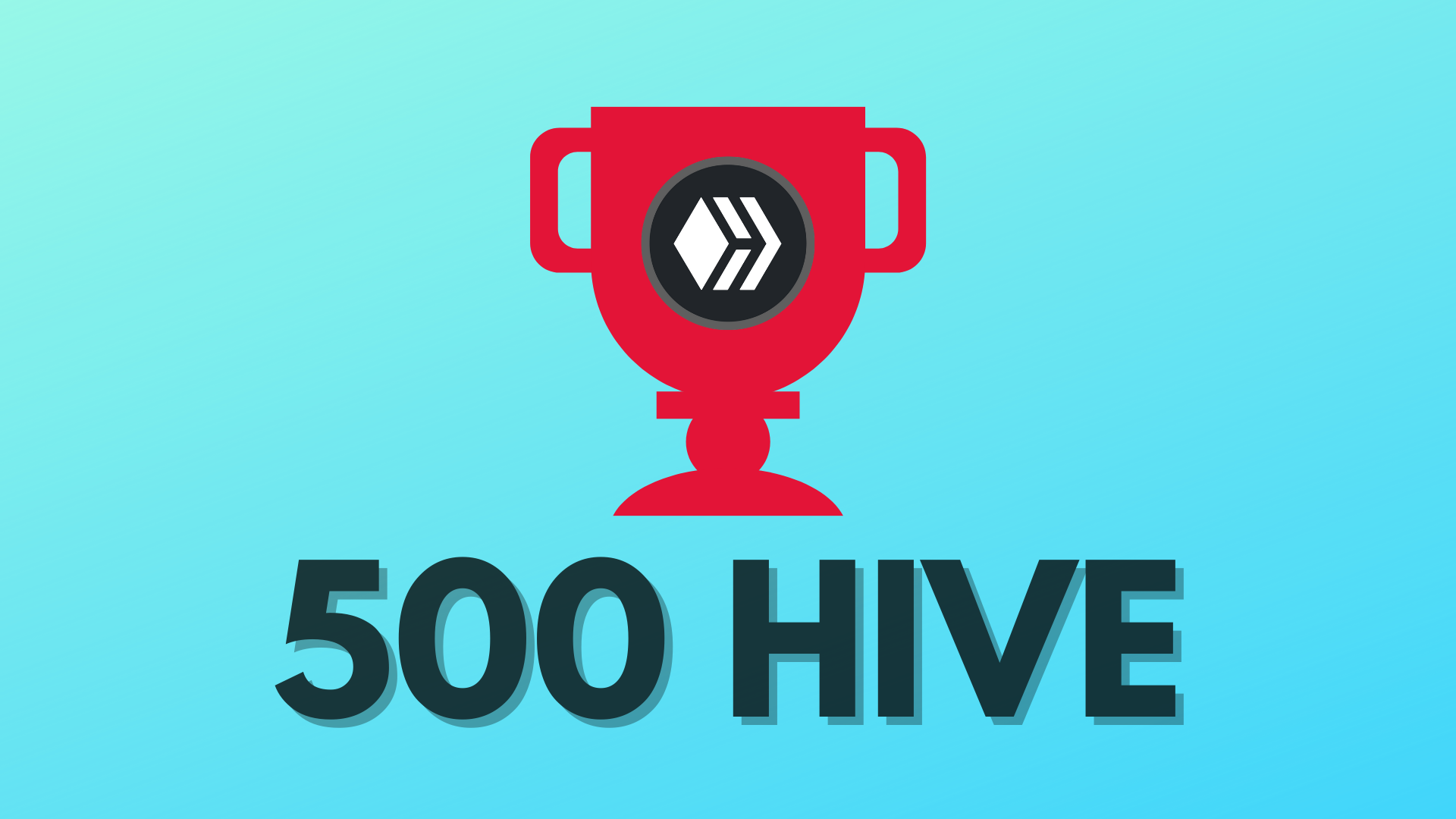 One place I got the most attention from is Twitter. Although a decent fraction of the HIVE community is tweeting regularly, it's not enough. IMO, we are not using the platform to its full potential. Anyway, that's not the point of this post. The reason I am mentioning Twitter is that I found this cool opportunity while scrolling through the tweets with tags like #HIVE, #LEO, #LEOFINANCE etc.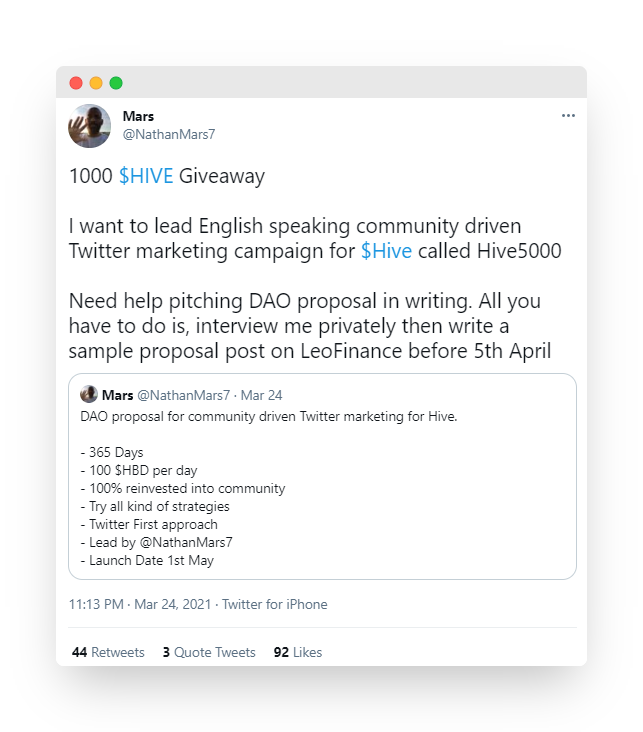 This led me to interview the Twitter Ninja of Hive - @nathanmars. The Telegram call went on for an hour and we discussed about his passion & vision for HIVE & what he wants to achieve through the community-driven Hive Marketing. It was fun! Thankfully I recorded the later part of the call after the introductions. I listened to it like 10 times, did my background research, and came up with a draft of the proposal. It took me around 2 hours to prepare all of it including the graphics but the pre-draft activities were quite intensive. They are supposed to be if you want the outcome to surpass expectations. Anyway, I barely submitted the draft on the last day, I thought I wouldn't make it on time but I did. My sister-in-law gave birth to a baby boy recently. My family & I were busy there. Although it made me nervous but this is the thing with the 'laptop lifestyle'. Just need a working machine & a decent internet connection! I managed to do all of it while we were not at home and traveling constantly. Anyway, after submitting I dropped in a message to Nathan and he replied: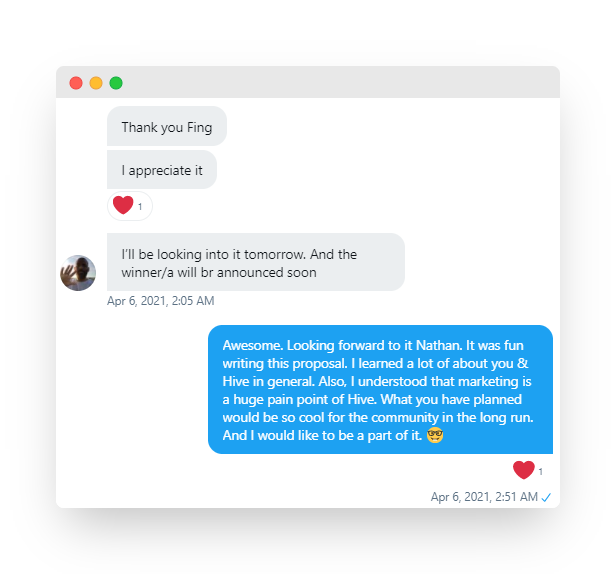 Sorry Nathan for leaking our naughty chats about hive! 😂
Next day Nathan announced to me in the DM that I won the contest and he would be rewarding me 500 HIVE. Can't deny it made me so happy. 😊😊 Btw, please do check out the proposal and vote for it because it will bring a lot of value to the platform.
YAY, I WON 500 HIVE!
500 HIVE ($280 at current price) is a good sum of money for a post! I am a freelancer and apart from running a social media ads agency, I do a lot of things to make extra bucks online, so this not new for me. But I have never been rewarded this much. Thanks a ton Nathan!
What Did I Do With It?
Yesterday I participated in a contest where I answered "What would I do with a $50K Airdrop & 100K HP?". I explained how I will use everything to reinvest in my account. This is what I did with my 500 HIVE.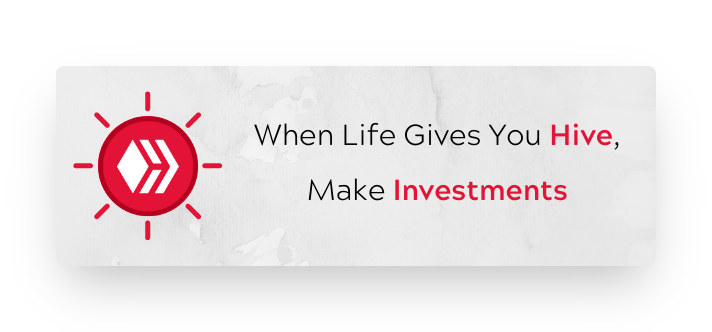 100 HIVE was powered up straightaway. By the end of this year, I want to acquire at least 5K HP, so it's a start.

Rest 400 HIVE was transferred to Leodex to buy HE Tokens. I got 100 LEO Tokens and some BRO, INDEX, LBI & UTOPIS.

---
As a newbie on Leo Finance & Hive, I feel there are ample amount of opportunities to make money. If I can do it then anyone can. I will continue to find such opportunities that would help me do interesting stuff such as this particular one and in the process, reward me which I will reinvest back into my account. Thank you once again Nathan for this awesome opportunity, I was delighted to help you with the proposal. Even if it doesn't get funded, I know you are not going to stop and I will try my best to help you with your mission!!!
If you liked this post, please do upvote and comment below. Let's connect & have fun together!
---

https://leofinance.io/@finguru

https://twitter.com/finguru6

finguru#4062
---

No financial advice. For infotainment purposes only.
Posted Using LeoFinance Beta