We have already seen Kevin O'leary (Shark Tank Fame) putting 3% of his portfolio in Bitcoin & Ethereum after criticizing crypto for years. We have also seen Mark Cuban going all into crypto, using it to sell merchandise & tickets for his NBA team Dallas Mavericks. Recently in a podcast interview, he compared DeFi Success with the early days of the Internet. Two years back, he used to diss Bitcoin & Crypto and even asked other investors to proceed with caution. Crypto has turned these people from critics to advocates and I am sure more people from their clan will realize it sooner or later.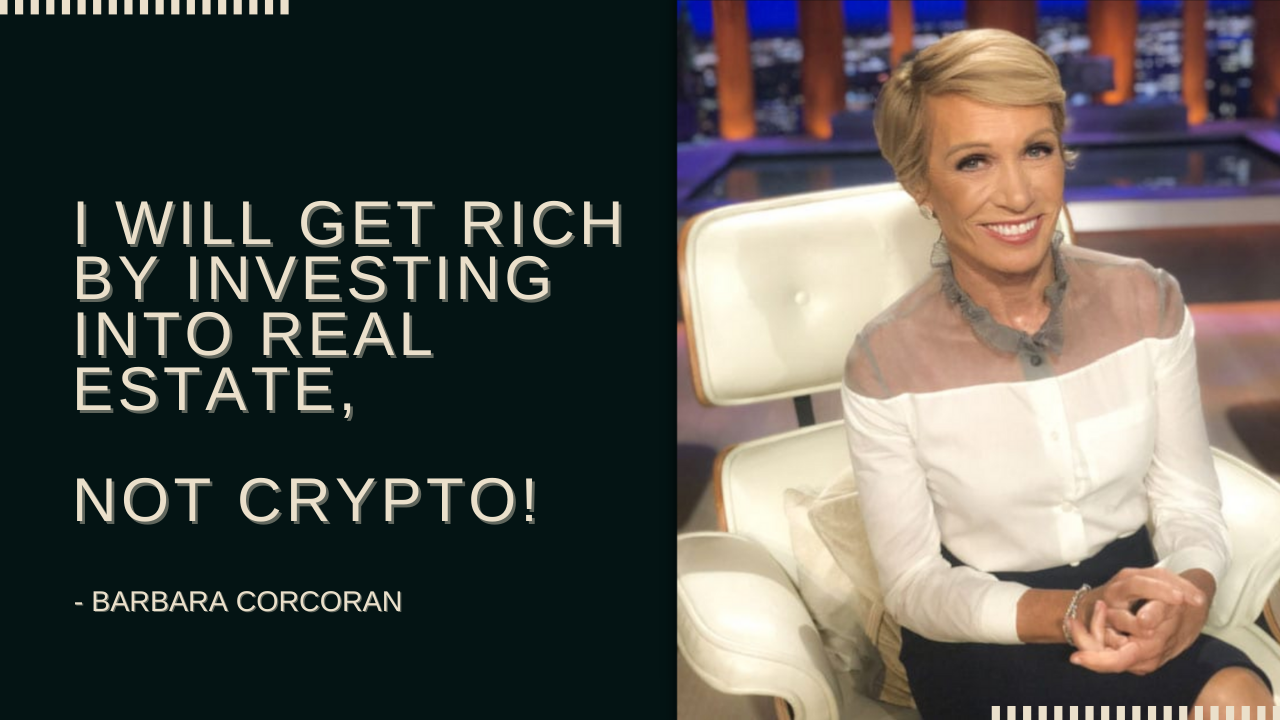 Shark Tank star Barbara Corcoran, the entrepreneur who turned a $1,000 loan into a billion-dollar real estate empire, says she will get rich by investing in real estate, not cryptocurrencies. The American investor takes every extra dime she has and puts it in real estate, emphasizing that she will get rich nice and slow this way.
Source: Bitcoin.com
Barbara C. is a Multi-Millionaire, Real Estate Entrepreneur from the United States of America. In a recent interview with TMZ, she was asked whether she would be interested to get involved in Crypto is quite hot right now. Like any other traditional investor, she answered a big "NO" to this question. She mentioned that she was confronted by many smart businessmen who would want her to join the crypto boat but she's not interested at all. She's putting all of her money into Real Estate to get rich slowly.
According to her, this is still majorly a buyer's market and one needs to look at the right place. But investors need to hurry because this might change by the end of the summer season. She also mentioned that the crypto market is so volatile and according to her more people are losing money than actually making it.
Problems With Real Estate Industry
Although Barbara might be right that this is a buyer's market and one can get great deals, but the major issue with Real Estate is the entry barrier. Also, most people cannot afford to buy outside their local area. While on the other hand, investing in Crypto is easy and because of its digital & pseudonymous nature, you just need a phone & an internet connection. That's it! I have personally tried my hands with buying property in my country and it's very difficult to put your money into something which you haven't seen physically. There are many parameters you will have to see to judge the worth of a property. Also, you need a good amount of capital to get started.
Crypto is a positive-sum game and one does not have to lose to make someone else win. Real estate has traditionally been one of the most desirable options for serious investors and to date it is. But it's not for everyone.
Do you think Barbara will change his stance like Kevin & Mark? I think she will, in due time. All traditional investors will have to otherwise they will be left behind. We have already seen the wave of new millionaires & billionaires coming from crypto space. You cannot ignore it anymore!
---

https://leofinance.io/@finguru

https://twitter.com/finguru6

finguru#4062
---

No financial advice. For infotainment purposes only.
Posted Using LeoFinance Beta