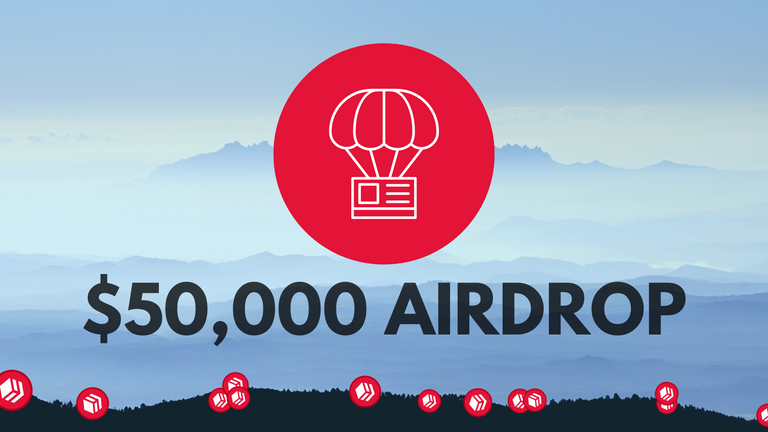 Before you get all excited about me getting a $50K worth of Airdrop, please stop! This post is an entry to the contest by @starstrings01. He had a fake $50K Airdrop experience which led him to the idea behind the contest. Too bad for him, great for us. 😁 Sorry bro, next time!
To participate, we need to answer these two questions: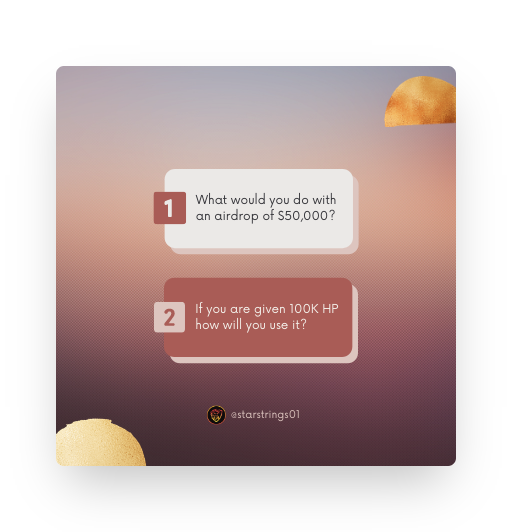 First of all, if such things would happen to me, my first reaction would be to hit myself in the face, just to make sure if I am not dreaming. The world is a shitty place, there are so many crypto scams going on, you cannot be too sure about anything. Because I never heard someone making $50K through a free airdrop on day one. I can imagine the price of coins rise as the projects grow and those free tokens might be worth $50K in the future. But not on the first day!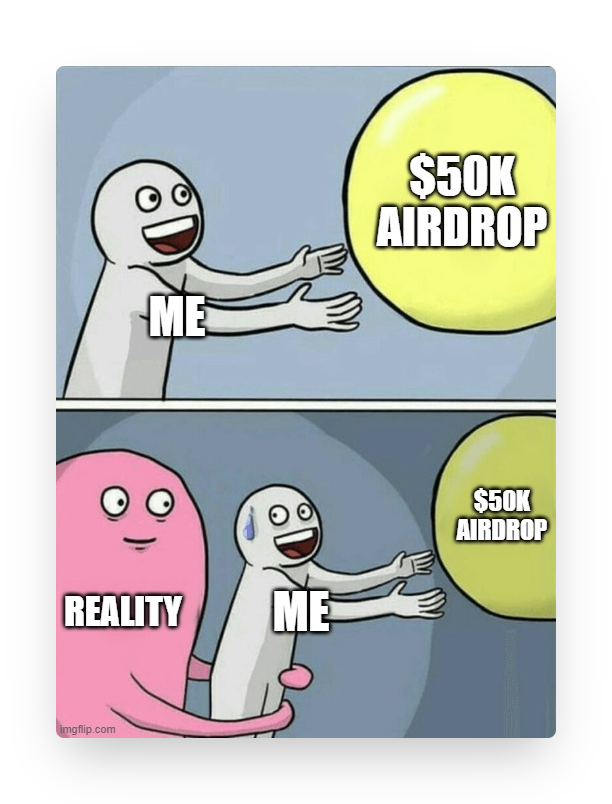 So, if by any chance it happens to me in reality, I would take my own time and flex my brain into finding ways to grow this investment into a much larger sum in the upcoming years. Now, let me answer both of the above questions one by one.
What Would You Do With An Airdrop of $50K?
$50K is a life-changing amount. At least in my country, it is! There is so much you can do with it. While 99% of people getting the airdrop would simply spend the major part of it, I, on the other hand, will try to see how to make it 3x, 4x, or even 5x. It is very important for me to build assets that could help me become financially stable and free in the long run. I will use the airdropped coins in the following manner:
I will keep half of the coins (worth $25k) locked in my wallet for 3 years at least or until the value hits 5x of the current price, whichever comes earlier. I will do this ONLY if the project associated with the coin ace two important aspects - (a) Uniqueness & (b) Creativity. Apart from this, I will do a detailed fundamental analysis of the project wherein I would look at the market cap of the coin, history of the project, liquidity & its volume on the exchanges, and other important parameters which could help me decide if it's worth it or not.

I will sell the rest of the coins for $25K and invest in HIVE at the current price ($0.6). So, as per calculations, I will get around 41.6K HIVE. Will power up 10K & keep liquid 10K available, just in case. Rest 21.6K will be invested into the following Hive-Engine Tokens - LEO, BRO, DHEDGE, INDEX, LBI, UTOPIS.

In case I decide not to keep the original Coin at all, then I will buy $50K worth of $HIVE. So now I will have 83.2K HIVE in my wallet. This time I will power up 20K & keep liquid 20K available with me. Rest 43.2K will be invested into the same HE Tokens listed in #2.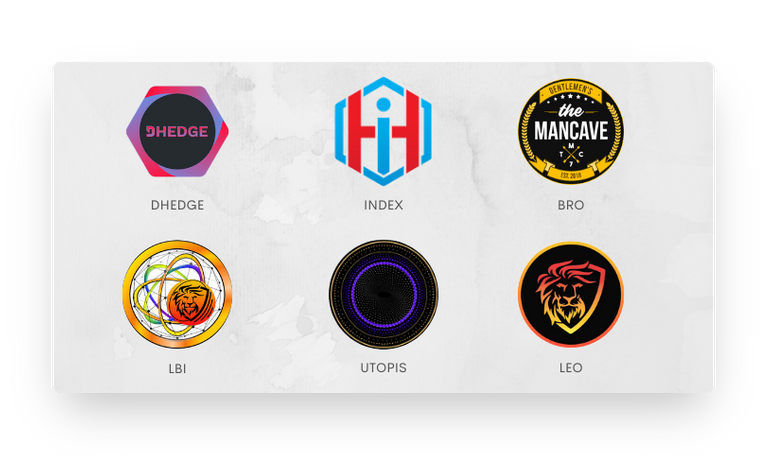 How My Investment Would Look Like In 3 years
Let's just say, on average all of my investments in HIVE & HE Tokens grow by 3x in 3 years. My initial $50K investment would be $150K. BRO, DHEDGE, INDEX, LBI, UTOPIS - Don't forget that these tokens are giving out dividends daily or weekly with APRs ranging from 5% to 20$. Please also consider that I would also be curating through my HIVE & LEO powers and creating content too. You cannot calculate how much of that I will be actually doing but I will definitely try my best. All of that combined would likely raise my investments 10 folds. It's safe to say that through HIVE, we have the potential to create half a million-dollar pot with just $50K. There is no limit to what you can make from it!
---
What Would You Do With A 100K HP Gift?
At current prices, 100K HP would give out $4 upvotes. So for every upvote I give, I get around $2 back as curation rewards. If the price stays around $0.6 per HIVE then I have a chance to earn $40 every day through curation (20 upvotes/day). I hope you are doing the calculations with me. It's mind - boggling!
Sensible Curation = Maximize Rewards
To maximize your curation rewards, you need to curate content that is high quality. You can also support projects/communities like, @aliento by @eddiespino & @grisvisa, which are doing awesome work on Hive and growing rapidly. So I would do just that because such posts will get other big upvotes from the community, thereby, increasing curation rewards for everyone.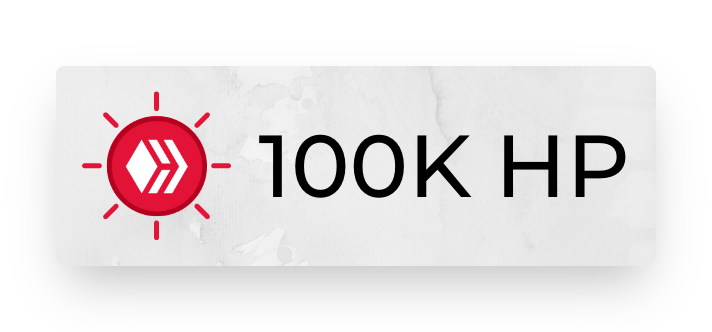 With this much Hive Power, you can do so much like delegate a portion to a curation project like
@ocd
by
@acidyo
to get a share of curation rewards in liquid HIVE. Again, APRs are amazing! In my case, I would delegate half of it to
@leo.voter
to get Liquid LEO every day in my account.
Community Grows Your Investment
I would also delegate a portion of my 100k HP to projects I believe in irrespective of the fact whether I would get Dividends or not. Community building is an important part of the growth of this platform. If people around you make money, you will eventually make money directly or indirectly.

For ex: If you support Project A through your delegation and they did good in 3 years time, they brought in more users, more investments to the platform, then the price of HIVE will rise eventually. Through constant development, support & collaboration growth is imminent. So I will use my HP to aid community-building activities which will, in turn, nurture my investment over time.
That's it folks! This is what I cooked up and I am sure when this happens, I will act according to the situation. But if I get that $50K Airdrop and 100K HP in my wallet, this would be my reaction. What about you? Let me know in the comments!
---

https://leofinance.io/@finguru

https://twitter.com/finguru6

finguru#4062
---

No financial advice. For infotainment purposes only.
Posted Using LeoFinance Beta