I'll be honest with you.
If you are on Hive and you are not paying attention to Splinterlands, you are missing out.
If you are a crypto gamer and haven't looked into Splinterlands, you are missing out.
If you are the Blizzards of the gaming world and you are not paying attention to this trend (play to earn, gaming NFTs, DAO and staking), you might not be around in 10 years.
It doesn't matter if you are a gamer or not, Splinterlands is worth following (and getting involved with) as investments, as hedging against crypto winter or from the development, business and marketing perspectives.
Maybe you remember - if you follow my posts (or simply the news around the Hive ecosystem in this case) - that a little over two weeks ago Splinterlands announced its new governance token along with a plan to distribute it and to bring in certain serious collaborations or investors.
One of the components of the distribution is an airdrop performed to the holders of various assets from the Splinterlands ecosystem.
What happened next is... FOMO. But justified.
To quote from memory what Matt said in the last AMA, he said something like this:
If we will look back years after this and will want to pinpoint something that was the decisive factor in the success of Splinterlands, something like before and after, I believe this is it [i.e. SPS token, DAO, governance and staking].
While Aggroed sometimes gets carried away, Matt is very down to earth. That's why something like that said by Matt (not these exact words, since it's quoted from memory) carries more weight in my eyes.
They obviously know and understand much better than we do the scale of this development because they feel first hand the attention they've been given by various type of entities with serious capabilities, financial or otherwise.
Since their announcement and followup announcements of partnerships or collaborations or investments, FOMO spread around for Splinterlands assets.
Last night the last packs from the Untamed series were bought. Aggroed gave a sort of count down in discord from what I see now. If you want to buy Untamed packs today, here's what you'll see: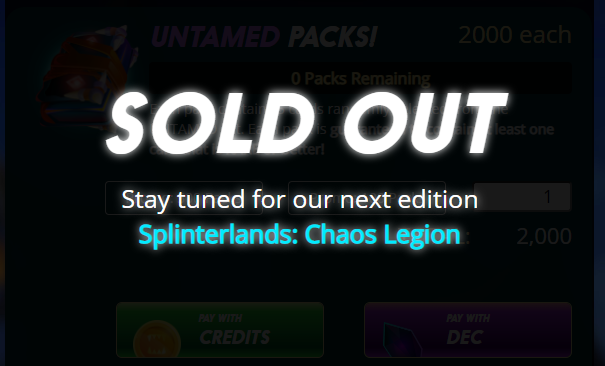 I caught this FOMO as well and bought yesterday another 100 packs!
When I looked how many packs remained before I decided to buy, there were 45k. About two hours later, after I bought them, they were 35k left. They really fly quickly, these last 100k!
I bought them with fiat, because I couldn't bring myself to spend any Hive at these prices and while I'm still accumulating.
The interesting part is there will be a short break before Chaos Edition will be ready, during which more players will join and FOMO will only rise. And the only way to buy cards will be from the secondary market, from people already holding them until then.
Before Untamed packs, Land was also sold out, a few days ago: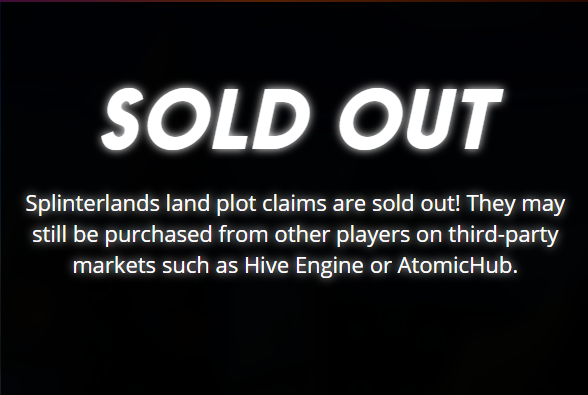 Unlike card pack series, there is no more land printed after this. At least that's what Matt and Aggroed said, that there won't be, for years to come. If someone doesn't have and wants land, secondary market is where it can be found. Meaning from people already holding it.
The difference is that land expansion creates a whole new dimension to the game, but the core game is still playable without owning (or renting) land. One can play Splinterlands without having any land, even after it will be released.
The only assets that are not sold out, besides skins, is the Azmare Dice. About 150k of them still remaining at the time of writing.

Almost surely they will be sold out before the airdrop for SPS starts as well.
Currently, Splinterlands announces weekly something big. In the last AMA it was a collaboration with a huge gaming guild in the cryptosphere, one that is likely to bring an infusion of gaming enthusiasts onto Splinterlands.
Crypto goes up, crypto goes down, it seems like the dollar value of my Splintelands portfolio keeps going up. And we get to play the game. And more layers are added to the game. And we'll have the new SPS token entering the economy of the game.
Hmm, is it possible that Splinterlands will actually make many of the current players rich in a few years? :)
Posted Using LeoFinance Beta