After the FUD propagated by mainstream media and not only of Binance being banned from the UK, which turned out to be blown out of proportions but had enough truth in it to be believable without a deep investigation, it turns out the establishment (may it be legacy financial or political) really has a beef against Binance.
I live in the EU. Here's a screenshot of the email I just received from Binance: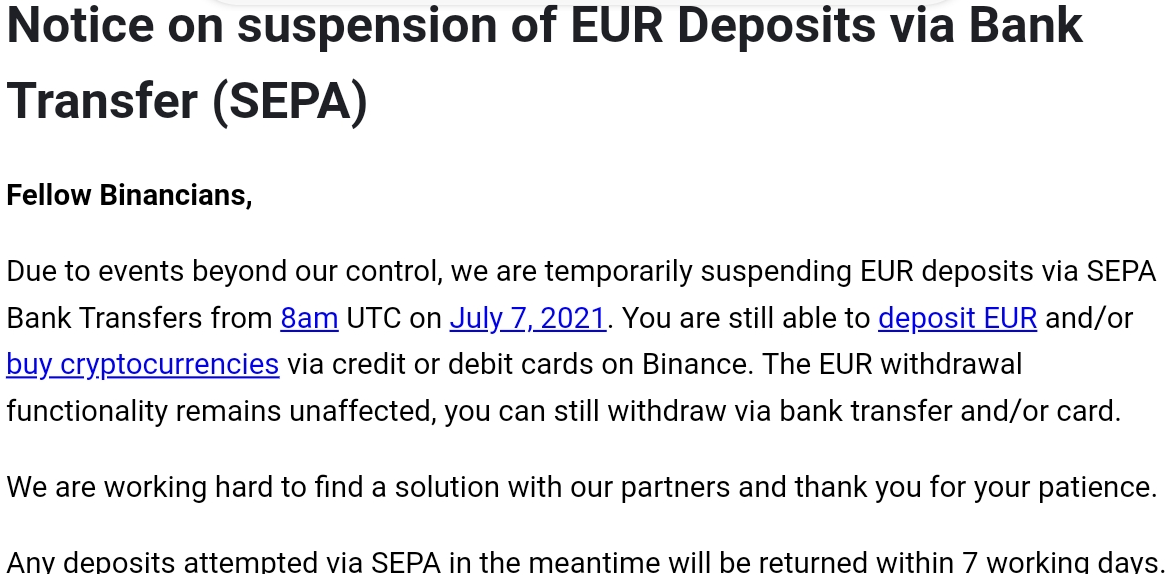 I assume it's a mass mail sent to customers logged in from a country within the EU or who bought crypto with EUR in the past, either using SEPA or not.
What Is a Single Euro Payments Area (SEPA)?
The single euro payments area (SEPA) is a system of transactions created by the European Union (EU). The SEPA harmonizes the way cashless payments are transacted between euro countries. European consumers, businesses, and government agents who make payments by direct debit, instant card transfer, and credit transfers use the SEPA architecture. The SEPA makes it possible for people doing business in these countries to make cashless payments across borders with the same cost and convenience of domestic payments. The single euro payment area is approved and regulated by the European Payment Council (EPC).
Personally I didn't use SEPA. Because bank has to approve these transactions and they take time to complete. I was denied one such transaction in the past because it went to "bitcoin", so I didn't even bother to try again. They are however feeless, unlike card transactions.
If you are wondering who might be behind this move,
SEPA is managed by the European Payments Council on a collaborative basis with the European Commission, the European Central Bank (ECB), and other European stakeholder groups.
So, politicians and banks, two of our favorites.
What you see is not a crackdown on crypto, most likely. It's a crackdown on Binance, because they refuse to play along and be submissive, or rather say they do but don't really. I wonder how much they can take before they do whatever they are asked, whenever they are asked.
In the meantime, maybe it's not a good idea to hold significant amounts of anything on Binance. While right now it seems they are only crippling fiat to crypto bridges on Binance, this may escalate quickly.
Posted Using LeoFinance Beta