Well that was fast
Bitcoin is already taking back much of the drop from the other day.
It dropped from $12,200 down to about $10,600 and now is all the way back to $11,400.
It's $800 off the lows and $800 off the highs.
Decision time: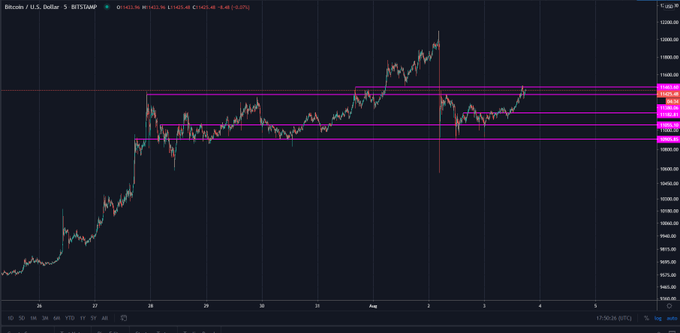 (Source:
1290344561320091648/photo/1) twitter metadata:RWRnZUJpdGNvaW58fGh0dHBzOi8vdHdpdHRlci5jb20vRWRnZUJpdGNvaW4vc3RhdHVzLzEyOTAzNDQ1NjEzMjAwOTE2NDgvcGhvdG8vMSl8 ~~~
This would be a 50% retracement of the drop, where do we go from here?
If we can break $11,500 I think we will be good to go to take back the entire drop.
What do you think?
Posted Using LeoFinance