Bitcoin seeing strengthening fundamentals in the face of flat price action
Bitcoin saw something unusual last week, it saw a massive increase in new addresses.
This might not sound like that big of a deal, and by itself it's not really, but the interesting thing is that this happened while the price was flat to down.
Normally we see increase in addresses when the price is going up.
Not only did we see a large increase, it was the largest increase we have seen in the last 2 years.
Check it out: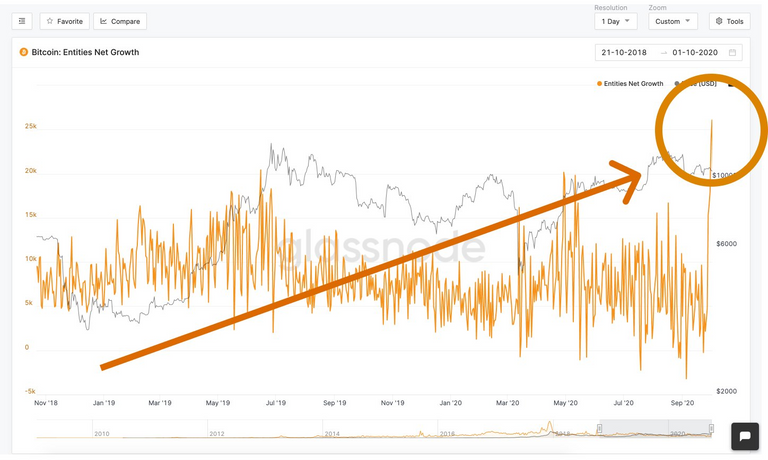 (Source:
1313241838875226112/photo/1) twitter metadata:Q29sZUdhcm5lckJUQ3x8aHR0cHM6Ly90d2l0dGVyLmNvbS9Db2xlR2FybmVyQlRDL3N0YXR1cy8xMzEzMjQxODM4ODc1MjI2MTEyL3Bob3RvLzEpfA== ~~~
Over the last two years bitcoin has usually seen about 5k-10k new wallet addresses each week...
Last week we saw over 25k new wallet addresses!
Which, as I mentioned above, was the highest level in over 2 years.
It can be seen ever more clearly on this chart here: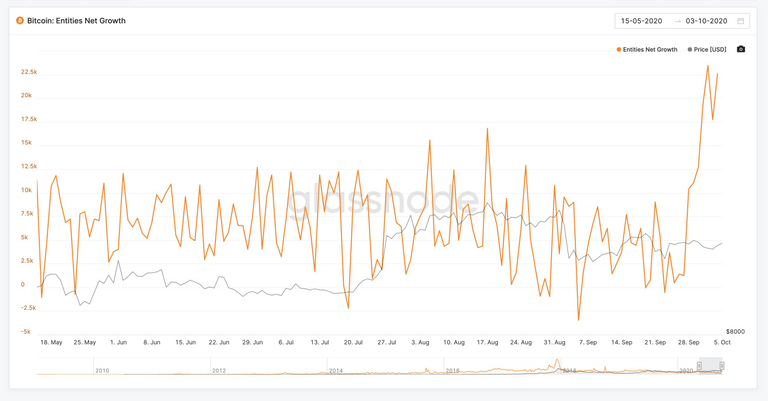 (Source:
1313241848165658625/photo/1) twitter metadata:Q29sZUdhcm5lckJUQ3x8aHR0cHM6Ly90d2l0dGVyLmNvbS9Db2xlR2FybmVyQlRDL3N0YXR1cy8xMzEzMjQxODQ4MTY1NjU4NjI1L3Bob3RvLzEpfA== ~~~
Why is this happening?
Honestly, I don't have a very good guess as to why.
On first thought some people might think it has to do with the Bitmex news and users fleeing the exchange in mass, however, the majority of these new addresses were being created well before that happened.
There were some on Twitter speculating that it has to do with China.
According to the poster, China has started running a promotional campaign on bitcoin and crypto over the last couple weeks.
More on that can be seen here: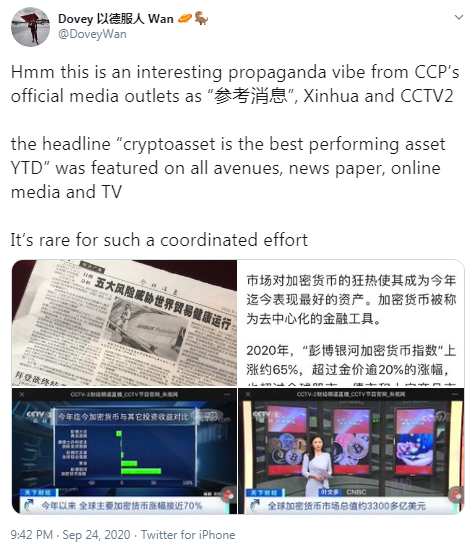 (Source:
1309352583492845568) twitter metadata:RG92ZXlXYW58fGh0dHBzOi8vdHdpdHRlci5jb20vRG92ZXlXYW4vc3RhdHVzLzEzMDkzNTI1ODM0OTI4NDU1NjgpfA== ~~~
China has historically been pretty critical of bitcoin and crypto but, and this is a big but, the majority of mining takes place in China and perhaps China is starting to realize something...
They hold more bitcoin than any other country and it behooves them to promote it.
Perhaps they are realizing that bitcoin has a decent chance of being a widely used global settlement layer, and perhaps it might even have a better chance of being used globally than their own state back currency would be.
For those reasons perhaps they are starting to shift gears on bitcoin and crypto?
These are just guesses on my part as I don't really have a good explanation for why new addresses are spiking so much, do you?
If so, let me know in the comments section below.
Stay informed my friends.
-Doc
Posted Using LeoFinance Beta