Grayscale just keeps stacking!
Based on data released from Bybt, Grayscale has added 27,392 bitcoins in the last 30 days alone.
That is a big number but it appears that number has even been accelerating as of late...
Just in the past 7 days, Grayscale added another 17,100 coins: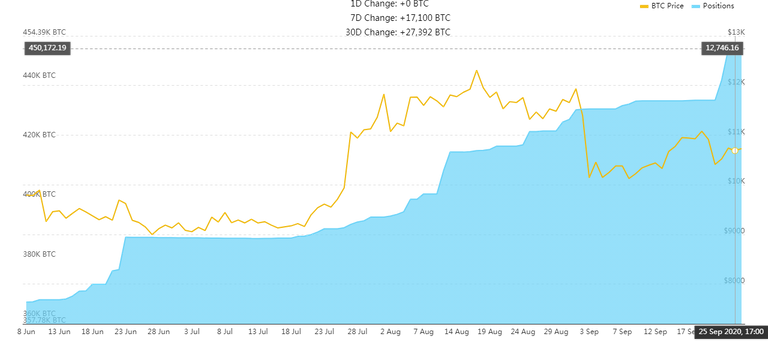 (Source: https://pro.bybt.com/futures/GrayscalePosition)
This addition brings Grayscale's total holdings to 449,900, which is worth a shade under $5 billion at the current prices.
Even more impressive is their share of the total bitcoin outstanding...
Based on the current 18,502,381 coins outstanding, Grayscale now holds roughly 2.4% of the entire current supply!
Wow...
The stars are aligning
When you combine this level of bitcoin being locked up with the large amounts MSTR (among others) is buying, the already small supply numbers get a lot smaller.
Plus, don't forget how several million coins are said to be "lost forever".
Plus plus, don't forget the halving cycle and how we usually start going up around this time historically.
Plus plus plus, don't forget that the 3rd quarter is historically the worst one for bitcoin.
When you combine all these factors, it's not going to take much buying to really send the price skyward.
That buying may be on the way as another round of stimulus is all of the sudden a possibility again:
https://www.cnbc.com/2020/09/27/pelosi-believes-coronavirus-relief-deal-still-possible.html
The recent one speculated at being around $2.4 trillion...
Oh and there's also this...
If the above wasn't enough, we are seeing some other technical factors telling us what we already know.
The Difficulty Ribbon Compression (DRC) is signalling a major move up is on the way for bitcoin: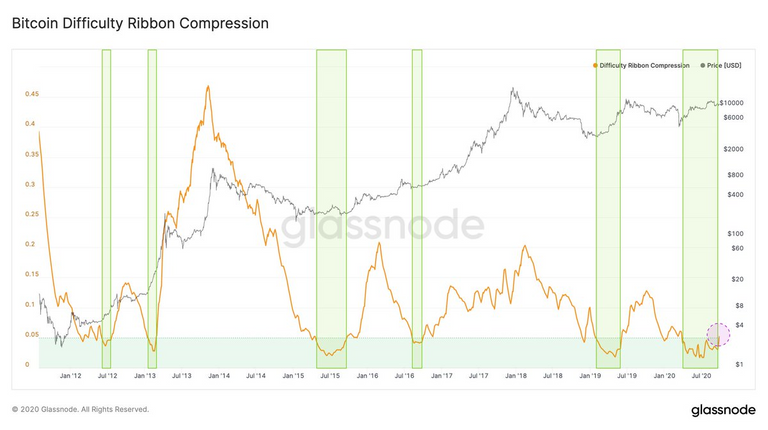 (Source: https://studio.glassnode.com/metrics?a=BTC&category=&m=indicators.DifficultyRibbonCompression)
While you may not be familiar with the pattern, all you really need to do is look at how the price of bitcoin has acted as the DRC moved up and out of the buy range...
As you can see, historically, bitcoin has performed very well just about every time the DRC moved up and out of the buy zone, which is what it is going right now.
It's going to be a fun next several months folks, buckle up.
Stay informed my friends.
-Doc
Posted Using LeoFinance Beta