HIVE dapps are dominating the rankings on Stateofthedapps.com
If dapps are any indication of a project's success, HIVE is already doing very well.
As it stands right now, HIVE is tied with the Ethereum with 3 dapps within the Top 6.
Check it out: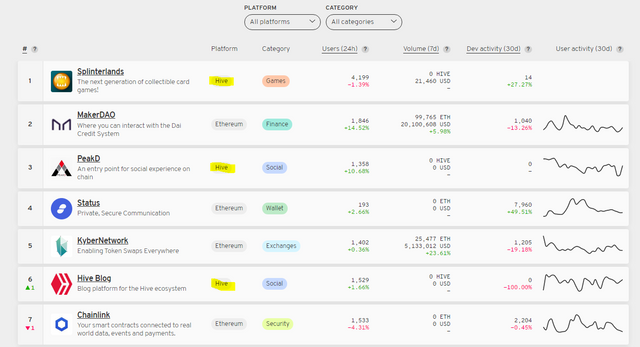 (Source: https://www.stateofthedapps.com/rankings)
HIVE currently has the #1, #3, and #6 highest rated dapps.
We're coming for you Ethereum...
Everyone thinks of Ethereum as being the place to go for dapps, but looking at the recent rankings it looks very much like there is a newcomer on the block that is giving it a run for its money.
We still have a couple months yet before Ethereum upgrades to Ethereum 2.0 so we need to strike while we have this couple month head start.
Now we just need to onboard some big numbers into these apps.
Leading the rankings with 4k daily active users isn't something we should be hanging our hats on just yet...
Not reason we can't get something with 100k daily active users, or even 1 million daily active users.
Stay informed my friends.
-Doc