HIVE looking like it may have found a near-term bottom
After sliding for much of the last 1.5 months, HIVE finally saw a decent sized bounce...
It's not really anything to get too excited over just yet, but after dropping faster than it had been yesterday, HIVE finally found some support around $.23 and bounced decently back up to about $.27.
On the USD chart, this was one of the better bounces we have seen since that $1 rally a couple months back.
Check it out:

(Source: https://bittrex.com/Market/Index?MarketName=USD-HIVE)
As you can see there is not a ton of history to go off of there, but this is one of the few big green candles we have seen on the HIVE/USD chart.
The BTC chart is also looking like it is trying to bottom...
Things are also looking quite positive on the HIVE/BTC chart as well.
After peaking on April 26th, it has mostly been all downhill there as well.
However, the price finally drifted back to some major support levels and is seeing a nice bounce on that chart as well: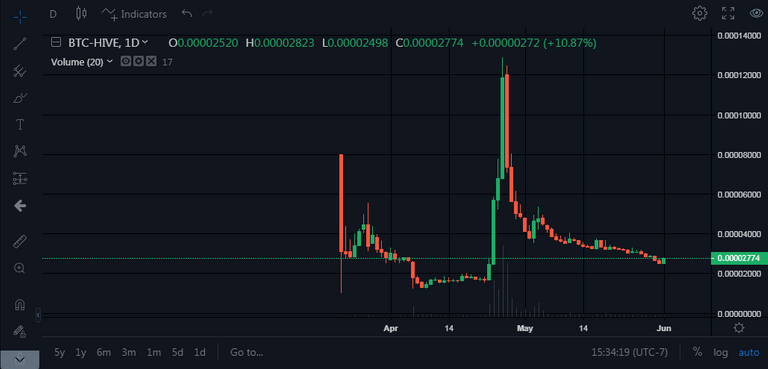 (Source: https://bittrex.com/Market/Index?MarketName=BTC-HIVE)
There is no guarantee this is anything other than a short term blip as of yet, but so far the signs are encouraging.
I picked up a few more HIVE as I mentioned yesterday:
https://hive.blog/hive-148441/@jrcornel/bought-some-more-hive-plus-it-s-a-good-time-to-buy-hbds-on-upbit
But, if that $.23 number does turn out to be the bottom I am going to be kicking myself for not picking up quite a bit more than I did!
Oh well, such is life.
What do you think, is this the near term bottom for HIVE?
Stay informed my friends.
-Doc