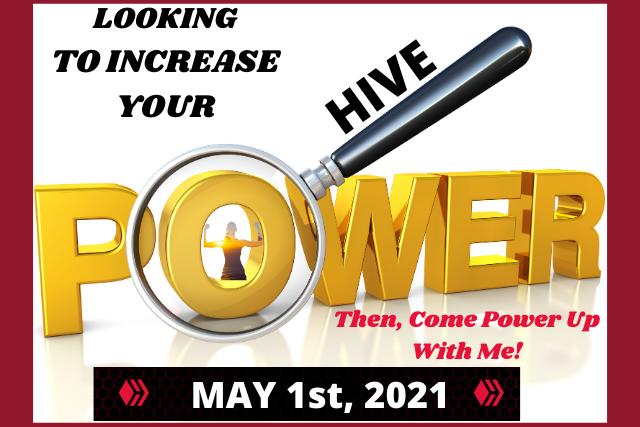 May 1st Hive Power Up Day is here. By participating in this initiative, I'm joining numerous other members on Hive in supporting its growth. Although I don't qualify for prizes, it's just fun to join in and also encourage others who may be thinking about how they can increase their accounts with Hive Power.
Consider this:
Powering up your account can help you by:
Greater voting power on content blogs;
More curation rewards when you vote on other bloggers' posts;
More resource credits to perform transactions on the Hive Blockchain.
Earn interest at about 3% per year currently on your powered up amount.

If you're convinced and are considering participating, @traciyork explains it all in her Announcement Post here:
"If you want to qualify for the AMAZING Hive Power Up Day badge(s), your power up must happen during the 24 hours of May 1st, 2021 according to UTC time.
And/or
If you want to qualify for the #HivePUD prize pool, your power up and post must happen (according to criteria listed below) during the hours of April 1st, your local time."
Still confused about exactly when to Power Up?
HiveBuzz has a convenient time helper for your use in keeping track of the days leading up to the Hive Power Up Day. On the day of the power up, the Timer will also keep track of how many hours remaining for you to complete the power up. Just visit their post here to learn more.
The Hive PUD rules, instructions, and prizes are listed in @traciyork's Announcement Post listed above. If you'd like to know how powering up your account can help you, please read her post. It contains a detailed explanation.

Powering up your liquid Hive can help your account grow. It helped mine. Since July, 2019 my Hive account has grown to over 10,500 Hive Power. It wasn't just by powering up, I worked hard and earned rewards in hive power.
Today is my 5th consecutive power up for 2021. I set aside 200 liquid Hive for today. Here are my beginning balances and power up transaction:
| | LIQUID HIVE | HIVE POWER |
| --- | --- | --- |
| Beginning Balance | 219.994 | 10,560.115 |
| Powered Up | -200.000 | +200.000 |
| Current Balance | 19.994 | 10,760.115 |

Here's a screenshot of my wallet before the power up.


I powered up 200 Hive.


Balances after power up.


So, if you'd like to join in this initiative, check out:
@traciyork's official Hive Power Up Day ANNOUNCEMENT POST - Hive Power Up Day, May 1st 2021 to find out the rules.

@traciyork's official WELCOME to HivePUD May 1st Hive Power up Day post.

@hiveBuzz official post on how participating in regular power ups can increase your Hive Power: First Hive Power Up Day of 2021 - Get a Hive Power delegation
If you have the minimum 100 HP, but not the liquid ten (10) Hive to power up and decide you'd like to do so today before the deadline, then just leave me a note below. I'll respond as soon as I can.

Thanks for continuing this initiative @traciyork.
Good luck today everyone as you power up!
See you in JUNE everyone.

@traciyork initiative @hiveblopomo (Published my Hive Power Up Day post for HivePUD, May 1st).
@flaxz initiative @iamalivechallenge: (Published my 5th consecutive HIVE Power Up post today for the May, 2021 HIVEPUD)

Thanks,
@justclickindiva
Happy rest of the week everyone with whatever your endeavors.



SOURCES:
a) JustClickindiva's Footer created in Canva utilizing its free background and images used with permission from discord admins.
b) Unless otherwise noted, all photos taken by me with my (i) Samsung Galaxy 10" Tablet, (ii) Samsung Phone, & (iii) FUJI FinePix S3380 - 14 Mega Pixels Digital Camera
c) Purple Butterfly part of purchased set of Spiritual Clip Art for my Personal Use
d) All Community logos, banners, page dividers used with permission of Discord Channel admins.
e) Ladies of Hive banner used with permission of and in accordance with the admin's guidelines.
f) Hive PUD image created by me in Canva utilizing its free backgrounds and images

Your Personal Terminal Discord Invite