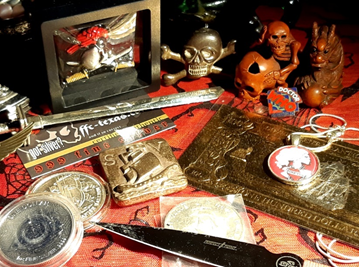 P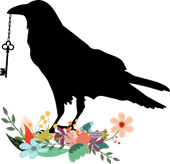 " Blackbirds tend to like Shiny Things" ~ The Bloody Raven
It was a few months ago he asked for permission to send me a gift and it was likely to be silver *" ...in appreciation of all the chats and pictures shared with me…" * Perhaps a coin that has never been available in Canada, Lord knows how confined the Canadian Silver retail market is. The onerous 'Peepal' exchange rate or my favorite pet peeve regarding the Customs Agency intercepting and opening my package for my safety and then charging me for the service. And after citing the potential hazards of cross border shipping piracy, he was still determined so I agreed to the gift.
The Admirer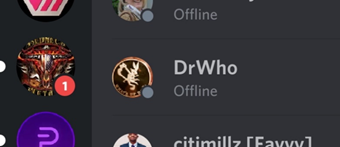 So, what could it be? Silverbugs Treasure Island round? Anonymous Mint's Blackbeard/Edward Teach Round? MME Boston Tea Party/ Don't Tread on me Round?
But what he sent blew me away….
The Valkyrie
FFC Texas Valkyrie Silver Bar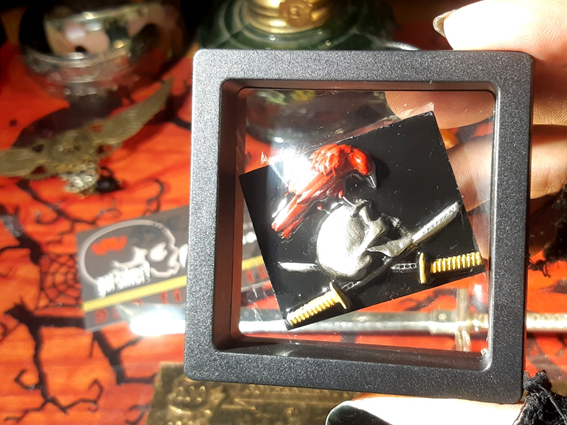 A special Custom made Enameled Silver Flag bar designed and commissioned by DrWho.
2.7 Troy Oz 0.999 Fine Silver
Seemed like our usual chat falls most often upon my lunch break at 3:00 to 3:30 AM PST so it would be about 6:00 to 6:30 AM EST for him over on the East. He was up early or was never was asleep to begin was often due to an ongoing health issue.
I do enjoy the chats especially working alone on my unit. I am not really allowed to have my phone with me because of my Boss's Device Distraction policy. But if my duty lists are all checked off and the shift is going smoothly, then I could have my phone.
FFC Texas Valkyrie Silver Bar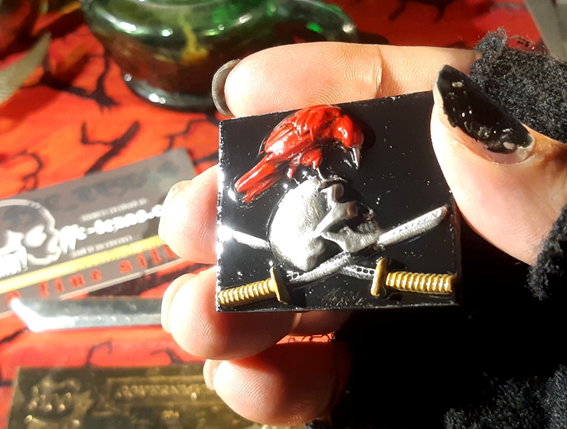 Mintage; 8 Matte Finish, 2 Enameled Finish
His style of Stacking centered primarily on the Dragon theme though he has various other collecting interests as well. And, he clearly understood my Pirate theme Stacking style, a common theme among many Instagram Pourers where we chatted most about.
DrWho had planned this for a while putting this whole package together since this summer. Considering what he sent me, I do not think I am so deserving of such a lavish gift. I would be just as happy and delighted with this bar itself but there was more in the box.
FFC Texas Valkyrie Silver Bar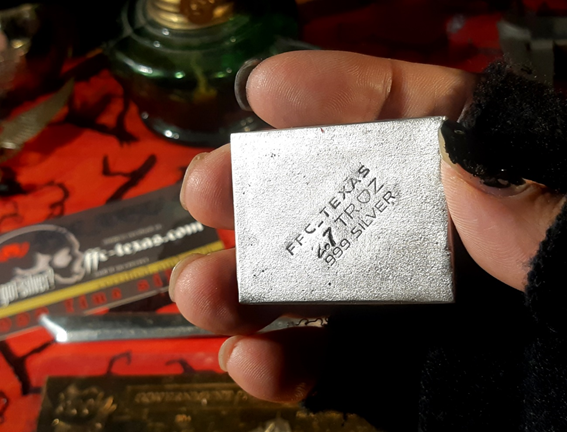 FFC-Texas has recently changed their name to Ragnarok_mtls
The Dr. had put a lot of thought in this interpretation of the Bloody Raven. He was always impressed with my YouTube videos, my Instagram post and Hive Blogs. To have a certain professional quality to them other than just simply uploading a picture and writing a few brief words. I often include my Hive blog link in my Instagram post.

The Fictional account of our first encounter
A distant ship's bell rang off in the moonlight.
It was about the Third watch.
A late hour.
The harbor tavern door swings open to the fleeting odors of spilt ale and rum mingled with the briny sea air. The once raucous sounds of carefree men reveling, in drink and in chance gambling their silver away now gave way to the creak of the floorboards, rhythmic swelling of the surf, and coarse snoring of sailors now sleeping off their drink from amongst the scattered barrels, tables and chairs.
Blown away again
1981 Antigua & Barbuda 100 Gold & Silver Dollars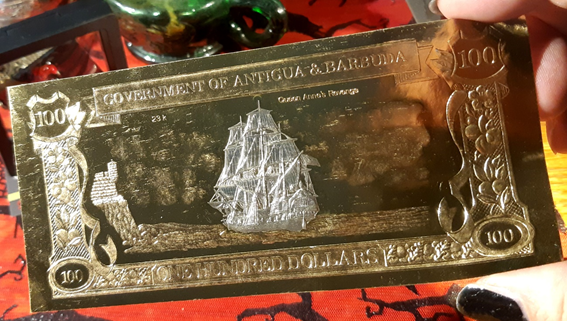 Obverse: Blackbeard's Flagship "Queen Anne's Revenge"
Legend; GOVERNMENT OF ANTIGUA & BARBUDA, ONE HUNDRED DOLLARS, 100, Queen Anne's Revenge
Size 152 x 70 mm
23k Gold plating on 0.999 Silver, 2.43g
Mintage of 20,000
The old dingy tavern was still marginally lit by several candles and what few oil lamps that remained burning. At a corner table sat a solitary woman in black and conducted herself appropriate-like as if to stand in faithful vigil over her drunken comrades.
She mulled over a hot cup of coffee whilst putting quill to parchment making copious notes in her logbook. A mask lay next to a Japanese sword on the table. A small silver Jolly Roger broach pinned over her left chest. There were figures and items of silver arranged in a particular manner on the table before her. "Ah, a Stacker!" The figure straightened his jacket as he approached her table in a sociable manner. Her head remained tilted down to what appeared to be logbook, she slowly lifted her dark eyes.
"Excuse me, Ms…may I look?"
1981 Antigua & Barbuda 100 Gold & Silver Dollars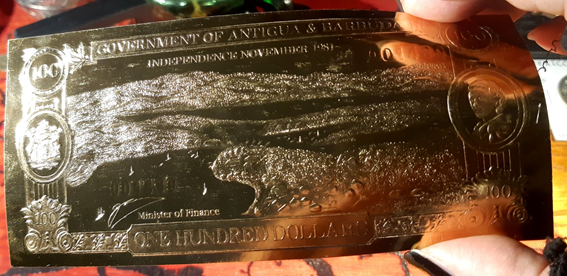 Reverse: Queen Elizabeth II, Coat of Arms, Eastern Caribbean harbor
Legend; GOVERNMENT OF ANTIGUA & BARBUDA, ONE HUNDRED DOLLARS, 100
Legend; INDEPENDENCE NOVEMBER 1981
Minister of Finance John E. St. Luce Signature
Legal Tender Status in Antigua & Barbuda and Eastern Caribbean Islands
#13 of 30 Precious Metal Notes Series
Artwork by Marine artist Alan D'Estrehan
"Knock yourself out Governor but they are not for sale." She replied as her eyes returned to an unfinished sentence. Her quill expertly dipped in and out of the ink well and back to the page without the need to glide off any excess or checking the tip.
" Thank you, Ms." Upon closer inspection they are an impressive variety of Skulls, Jolly Rogers, crosses, and coins with ships from various empires through the ages. Prominent is a set of silver vampire fangs. For a Pirate? The stranger straightened up again, smiled, before introducing himself with a gentleman's flourish, "Let me introduce myself, I am DrWho and I admit to sharing the same interests as you do. Would you like some company?"
Again, her dark hazel doe eyes shifted up, a grin curled at the corners of her black lips, "Why yes, I'd like some company at this time, please have a seat."
Series name; The World's First Gold and Silver Banknotes, The Saga of Treasure Ships and Pirates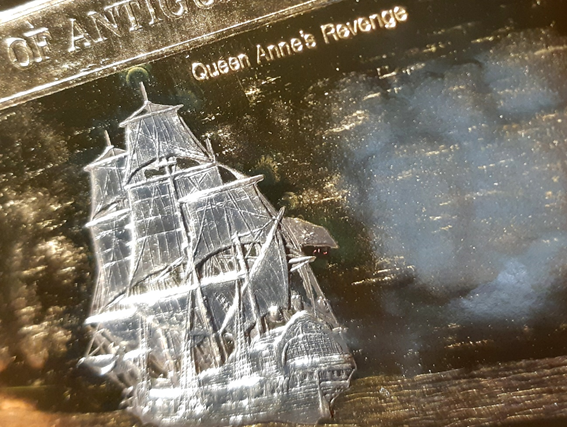 A Closer look at the Queen Anne's Revenge
And back to real life…
The Dr and I shared aplenty about our Stacking journeys; Government bullion, rounds, numismatics, some Crypto and of course Poured silver art being the most common interests. As the 'Time Lord' type, he has his Pickle Rick assistant/Sidekick armed with an array of poured silver weaponry that must be seen to be believed.
"How many weapons does a Pickle need?" And that could be a story in itself.
We shared other interests, experiences, victories and failures, life issues even a tiny bit of politics. But lately he shared something new with me. A rebranding or makeover… his new Instagram logo!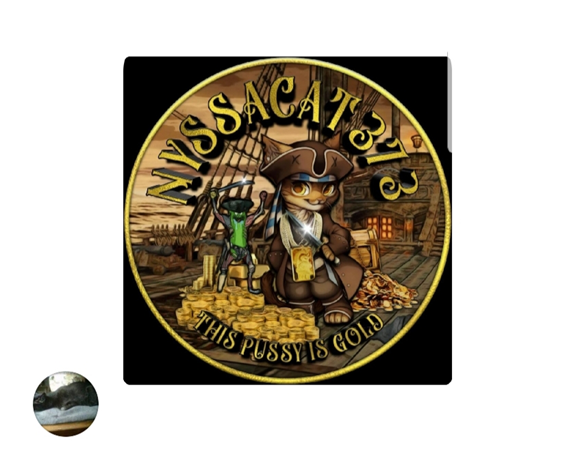 Oh?
I hopes yea enjoyed me Pirate Blog t'day
Thank you fer coming aboard!

The #piratesunday tag is the scurvy scheme of Captain @stokjockey for #silvergoldstackers pirates to proudly showcase their shiny booty and plunder for all to see. Landlubbers arrrh…welcomed to participate and be a Pirate at heart so open yer treasure chests an' show us what booty yea got!
References
1. My own pictures shot with a Samsung SM-A530W
P. Image under Pixabay
R. Clip art from 123RF
W. Wiki Commons
Sources
Web:Banknotes.com $100 Govt of Antigua & Barbuda
Web:Banknotes.com 1981 $100 Govt of Antigua & Barbuda Gold note Series
Website of FFC TEXAS
Web:FFC-Texas.com Valkyries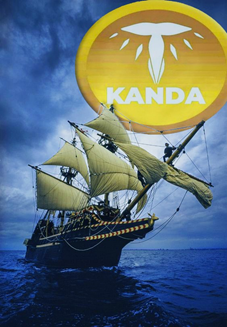 Educating Africans on the benefits of the Block chain
Join our Discord, https://discord.gg/cmbSM5B

"Et lux in tenebris to serve laboro, sum sicarius" "I work in the shadows to serve the Light, I am an Assassin"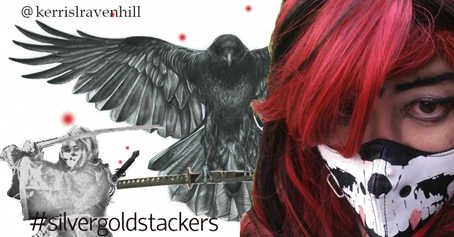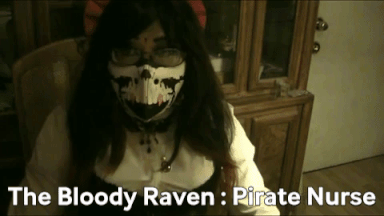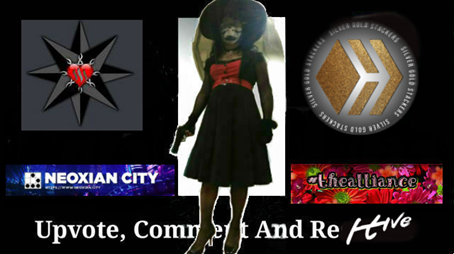 Posted Using LeoFinance Beta