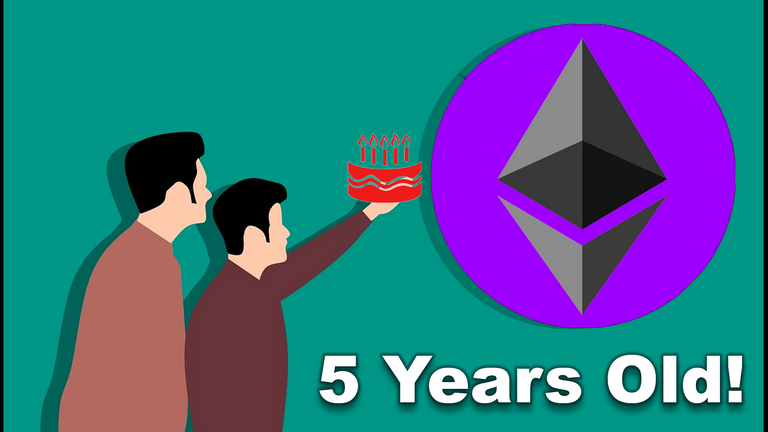 The second largest cryptocurrency in the world - Ethereum - launched its mainnet 5 years ago today. I've been an investor and user of Ethereum for right around 4 years now and it's been a wild ride. We've seen Ethereum evolve into many different things and we've seen macro trends play out in ways that I couldn't have imagined.
With that said, Vitalik somehow envisioned these trends back in 2014. While he obviously can't predict the future, he did see the macro perspective of what Ethereum would become and I think it's an incredibly valuable lesson in crypto:
We can predict the macro, but we have no idea what will happen in the micro.
As crypto investors, we believe in certain macro trends like the fall of fiat currencies, the rise of digital alternatives and the value of decentralized ecosystems. Vitalik proved that it is possible to predict the macro trends, even if the details vary wildly.
In a 2014 interview, Vitalik predicted stablecoins like DAI, USDT and wBTC:
"You can use that currency that uses financial derivatives to perfectly track the price of a U.S. dollar. You can use basket currencies [...] or now you can also have a contract which acts as a Bitcoin sidechain."
He also predicted many of the other popular use cases of the ETH network:
"We're talking about things like making your own currencies, putting on other currencies, decentralized organizations, voting protocols, name registration, any kind of financial contract, financial marketplaces."
From ICOs to DeFi
The 2017 bull run for crypto was accompanied by a boom in ICOs - initial coin offerings. The ICO craze made many people rich, but it also left many others holding worthless bags of tokens that carried big promises and no developments.
Some look at it as a step forward for the entire crypto industry and others view it as a major step backward in terms of regulatory oversight and mass media portrayal of cryptocurrencies as a fraud-ridden ecosystem.
In any new technology-based industry that is fast-growing, there will be scams and malicious actors. There will be people who lose plenty of money and others who profit.. either directly from those losses or in other ways by being better informed.
The trends of Ethereum didn't end with ICOs.. now we see a trend in DeFi - Decentralized Finance. The DeFi arena has been growing at an incredible pace and many people in the crypto space are paying close attention to how DeFi can benefit them and others in the future.

DeFi Pulse
As of today, there is $3.81 Billion USD worth of value locked up in DeFi smart contracts. The most surprising figure for DeFi is the fact that less than 2 months ago (June 14th), there was only $1 Billion USD locked up in DeFi.
ETH 2.0 and The Future of Ethereum
Looking beyond ICOs and DeFi, the future of Ethereum lies in ETH 2.0. Today, there is a growing stack of complaints about Ethereum's network transaction fees (called GAS) along with complaints of long wait times and a horrible user experience.
While 5 years might seem like forever in crypto, it's still a short frame of time for any emerging industry. No matter how much tech you got, 5 years is still not enough time to create the network that we all want Ethereum to be.
ETH 2.0 promises to fix many of these issues along with bring a more scalable, decentralized and technologically capable blockchain. Many are holding out on this amazing development to come to fruition, but with delay after delay, others have begun to lose faith in Ethereum and its future promise.
As I mentioned earlier in this post, I am a big advocate of Ethereum. I've been an investor and user for years and don't plan on stopping any time soon.. regardless of what the fees rise to.
ETH 2.0 is something that I'm looking forward to, but the fact that it's taking far longer to develop than anyone anticipated isn't discouraging to me.
In my opinion, this entire industry (Bitcoin included) is incredibly young. The potential that we all see here - whether you're looking at HIVE or BTC or ETH or BAT - is what we're invested in.
The future looks bright, but perspective can change the shading. HBD ETH!
---
LeoFinance is an online community for crypto & finance. We run several projects that are powered by Hive and the LEO token economy:
Posted Using LeoFinance