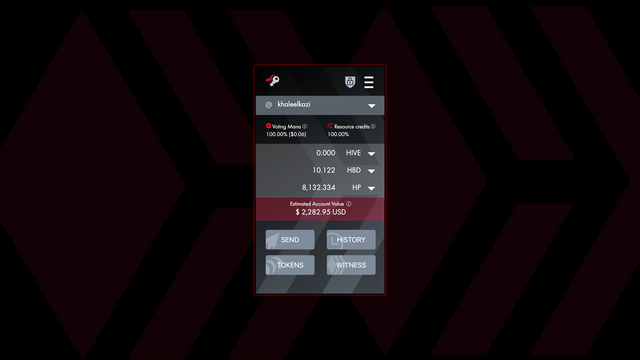 The Hive Keychain browser extension is one of the most versatile tools available on the Hive blockchain. It is one of the very first things that I show any new users to Hive and with good reason — it makes managing your Hive account and utilizing Hive dApps easier than any other option out there.
While there are options like Hivesigner that are good for certain tasks, Keychain provides a much more wide-ranging and speed-oriented approach in my opinion. For example, logging into many Hive dApps like the LeoDex is as easy as typing your username and clicking the login button.
View this guide and more on LeoPedia
---
Don't Have a Hive Account Yet? Check out this LeoPedia Guide for the Hive Account Creation Process
---

In this LeoPedia guide, I'll walk you through the simple process of downloading Hive Keychain to your browser, setting it up with your Hive account and getting started with many of the applications and interfaces that are available to you on the Hive blockchain.
The Installation:
The first step to setting up Hive Keychain is downloading the extension.
The latest information and release of Hive Keychain is always on the Github at https://github.com/stoodkev/hive-keychain#installation. On that page, you'll find the Chrome Webstore and Firefox Add-on links.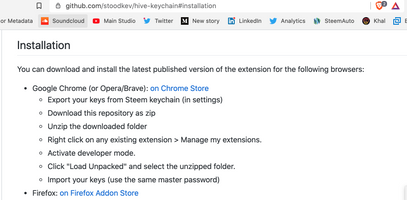 If you are on Brave or Chrome, just click the link for the Chrome Webstore (it's the same link for those 2 browsers). If you are on Firefox, click the Firefox Add-on link.

The Setup:
Now that Keychain is installed on your browser, it's time to setup your Keychain login + add in your Hive account(s). Just click on the Hive Keychain icon at the top right of your browser and then you'll see the prompt to add a new password: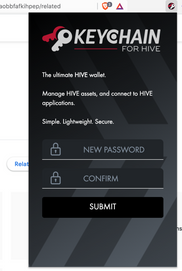 Some users may be confused by this "New Password" field. It's not asking for any private keys in this step. Instead, it is asking you to setup a password to lock/unlock the Keychain extension itself. I like to think of this as a sort of "PIN number" which is similar to what you'd have to unlock a hardware wallet or a bank account ID.
So pick a password that is secure, but also pick a password that is easy to enter and remember each time you want to unlock the extension itself.
Related: Explore all that Hive has to offer in LeoPedia's "Complete Guide to the Hive Blockchain"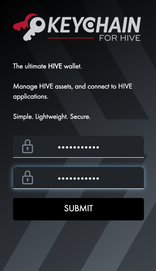 After entering and confirming your password, hit submit and you will see the next screen: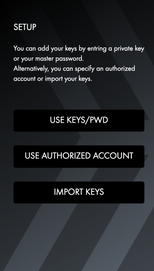 Here is where you'll enter your Hive blockchain account(s) and private keys. For this guide, we'll use the "Use Keys/Pwd" option which will let us manually enter our account user name and private keys. Note that there is only 1 field here for entering a private key.
As it says in the text field on this screen, you can enter your master password to generate all of your other private keys for the extension (your master password won't be saved).
If you'd rather enter each key manually, then enter either your Private Posting or your Private Active key in this field.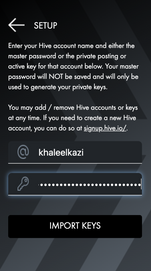 Now that your key(s) are imported, you can see your Hive account in the browser extension.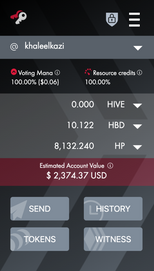 If you'd like to add your other keys, just go to the menu and then click manage accounts. Here, you can manually add your other private keys. I recommend having your posting key and active key in the extension so that you can easily login to applications (posting key) and operate your wallet activities (active key).
The Settings:
There are some settings available for the Keychain extension that can personalize your experience a little bit. Things like Auto Lock are handy features. You can also import/export your extension data in the event that you're setting up a fresh install of Keychain on another browser/computer. I'll let you explore these settings as they're pretty self-explanatory.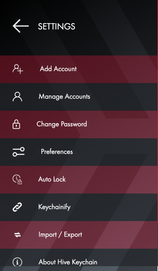 The Features:
As I mentioned at the very beginning of this post, there are a ton of great features that make Hive Keychain an essential part of the Hive experience. From the account page of the Keychain extension, you can do wallet operations — sending transactions on the Hive blockchain. Just click the little down arrow to open the various prompts and you're on your way.
You can also explore the other options with the buttons (Send, History, Tokens, Witnesses). Tokens is another handy feature that I make use of on a daily basis.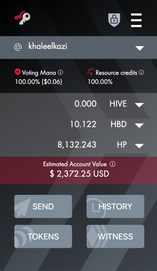 I'd say one of my favorite parts of the Hive Keychain extension is the ability to login to Hive-based applications in under 10 seconds. When I imagine ease of use, this is exactly what comes to mind. You enter your username, click login and then you're off to the races. This is how easy every application on the internet should be.
The Applications:
To finish off this guide, I'll leave you with a list of some applications that are integrated with Hive Keychain and allow for a seamless login experience. I won't list every application, but here are some of my favorites:
---
Our Community:
https://leofinance.io is an online community for crypto & finance content creators, powered by Hive and the LEO token economy.

Posted Using LeoFinance