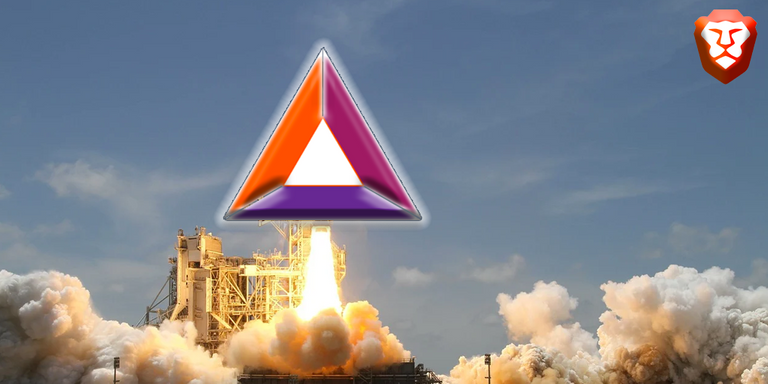 I've been investing in BAT since the last major bull/bear cycle in crypto. After years spent investing in crypto, I've dwindled my portfolio down to just BTC, ETH, HIVE and BAT.
My portfolio is made up solely of these 4 cryptocurrencies (outside of some very minor investments in other altcoins). I have varying reasons for why I picked these 4 out of all the thousands of cryptocurrencies to choose from. In this post, I'll focus on one of the main reasons why I'm so bullish on Basic Attention Token (BAT) and why I've drastically increased my holdings of BAT in this past week.
Brave + BAT = Transparent Web 3.0
ICYMI, Brave is now the best browser in the world. Some may argue that point, but I've used several browsers including Firefox, Safari and mostly Google Chrome.
Brave delivers an experience that is both familiar (because it's built on the same base layer as Chrome) and feature-rich. Many of the features that Brave has are exactly what we need in the current state of the internet. A browser that respects our privacy, allows us to customize our experience in a layered way and also allows us to earn crypto for viewing ads - making it Web 3-enabled.
Combining BAT with the Brave browser is a genius move for many reasons. Clearly, to build a web3 browser, you're going to need some medium of exchange. While BTC and perhaps some other major cryptocurrencies could have served that purpose, creating their own token brings them up a notch. Especially in a world of high TX fees and uncertainty in the world of altcoins.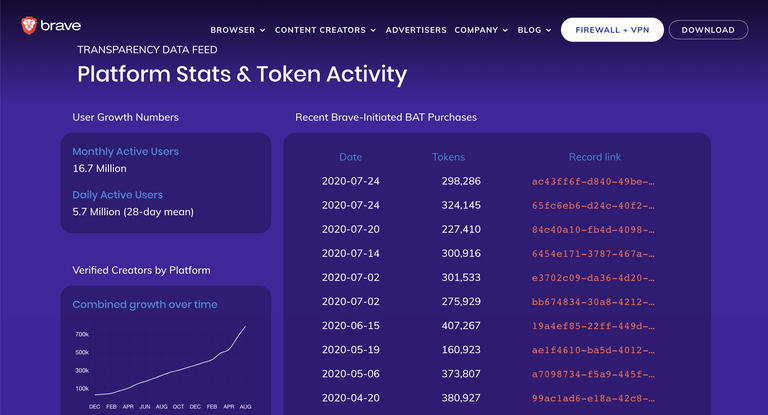 This page is the https://brave.com/transparency page. This is a feed of data for people who are Brave/BAT investors/curious about the progress of the project.
On the left, they show the growth numbers (a new feature that was recently added) where you can see the monthly active users (MAUs) and the daily active users (DAUs). As of now, there are 16.7 million monthly active users of the Brave browser and nearly 1 million verified content creators/websites/social channels.
I like to think of Brave as the User Interface to BAT. It's akin to the BNB token being a medium of exchange/tokenized mechanism for features on the Binance platform and ecosystem.
As the pool of users on Brave grows, so too will the potential BAT token users and HODLers. The value of BAT is inextricably to the usage of Brave.
Popular podcasters/celebrities like Joe Rogan have read ads/talked about the Brave browser and the BAT token. The level of exposure that can come with a platform like Brave underpinning the BAT token is immense. In the time we're living, privacy and independence are increasingly turning into a mainstream conversation.
On the right side, you can see the Brave-initiated BAT purchases. These are purchases that the Brave team makes with ad revenue earned from the Brave ads that you see popping up on the right side of your screen.
When Brave earns revenue - be it in Bitcoin or USD or Euros, etc. - they use a portion of it to buy BAT that is then redistributed to the users.
The amount of BAT being purchased each month is growing exponentially and its been incredible to watch the success of their advertising program. I think Brave's program is only going to grow and expand with time and with product maturity.
To sum this whole post up - one of the core reasons why I'm bullish on BAT is the underlying Brave platform. The roadmap, plan and overall mission of Brave isn't just clear, it's a usable product that anyone can download and use. Brave even has built-in crypto wallets that allow newbies to get into crypto and learn about the industry. I'll have to talk about those in a future post, but Brave can be one of the gateways to mass adoption that everyone in crypto has been waiting for.
---
LeoFinance is an online community for crypto & finance. We run several projects that are powered by Hive and the LEO token economy:
Posted Using LeoFinance