LeoFinance Weekly Dev Update #3 | New LeoFi App, 1st IDO, Geyser Successfully Automated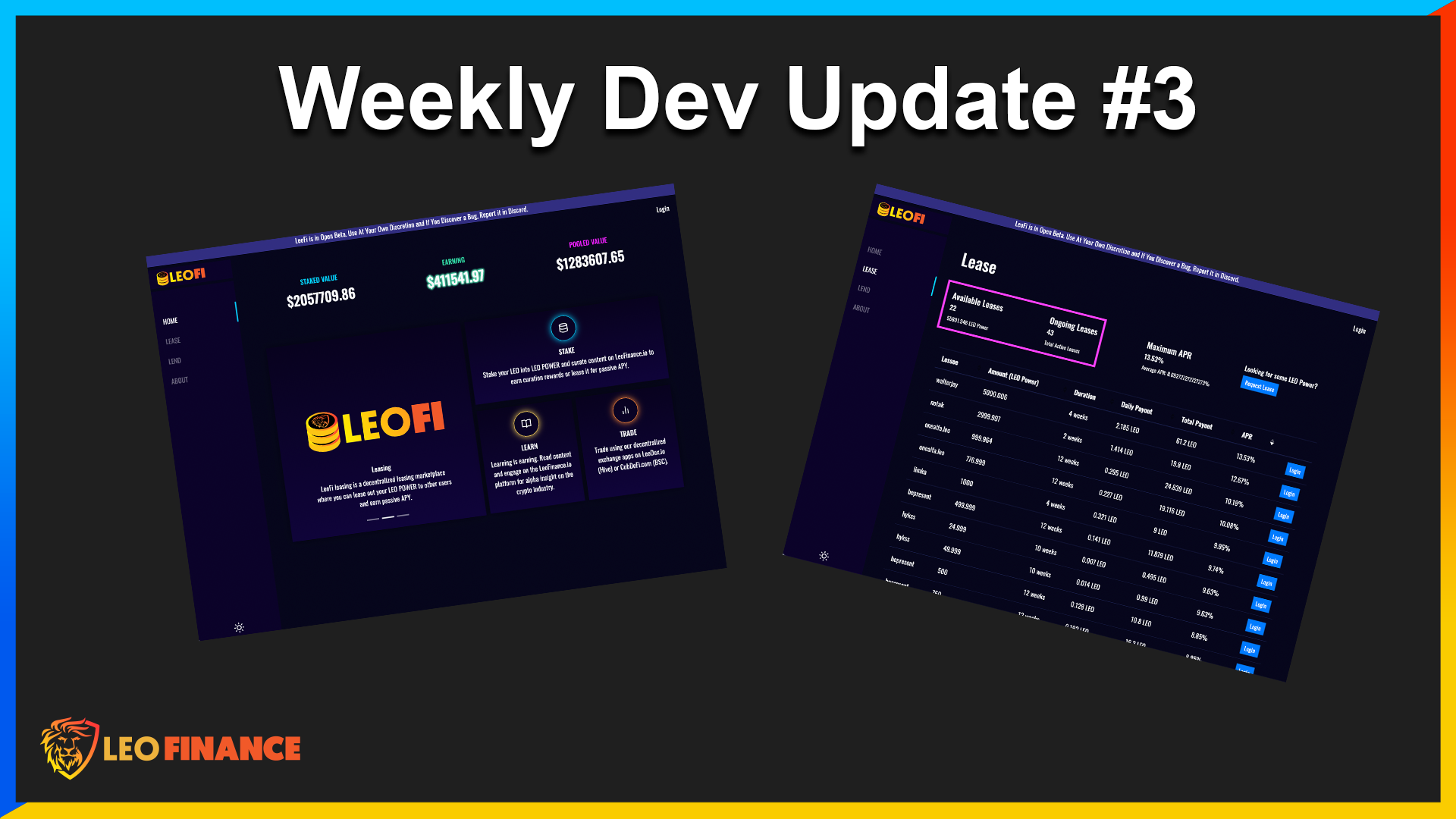 In This Week's Update:
LeoFinance:
New LeoFi App Released Into Open Beta!
LeoBridge Rounding Error Fixed & What We're Working On
Automated Geyser Successfully Implemented on the 15th
LeoFinance.io UI Update & Performance Improvements
CubFinance:
IDO Infrastructure Completed
First IDO Tentatively Scheduled for Tuesday, August 24th
CUB's New Value Capture Model - A Preview of the CUB Tokenomics Update
General:
AMA Tomorrow At 10:30 AM EST
---
LeoFinance:

Welcome LeoFi to the LeoFinance App Suite!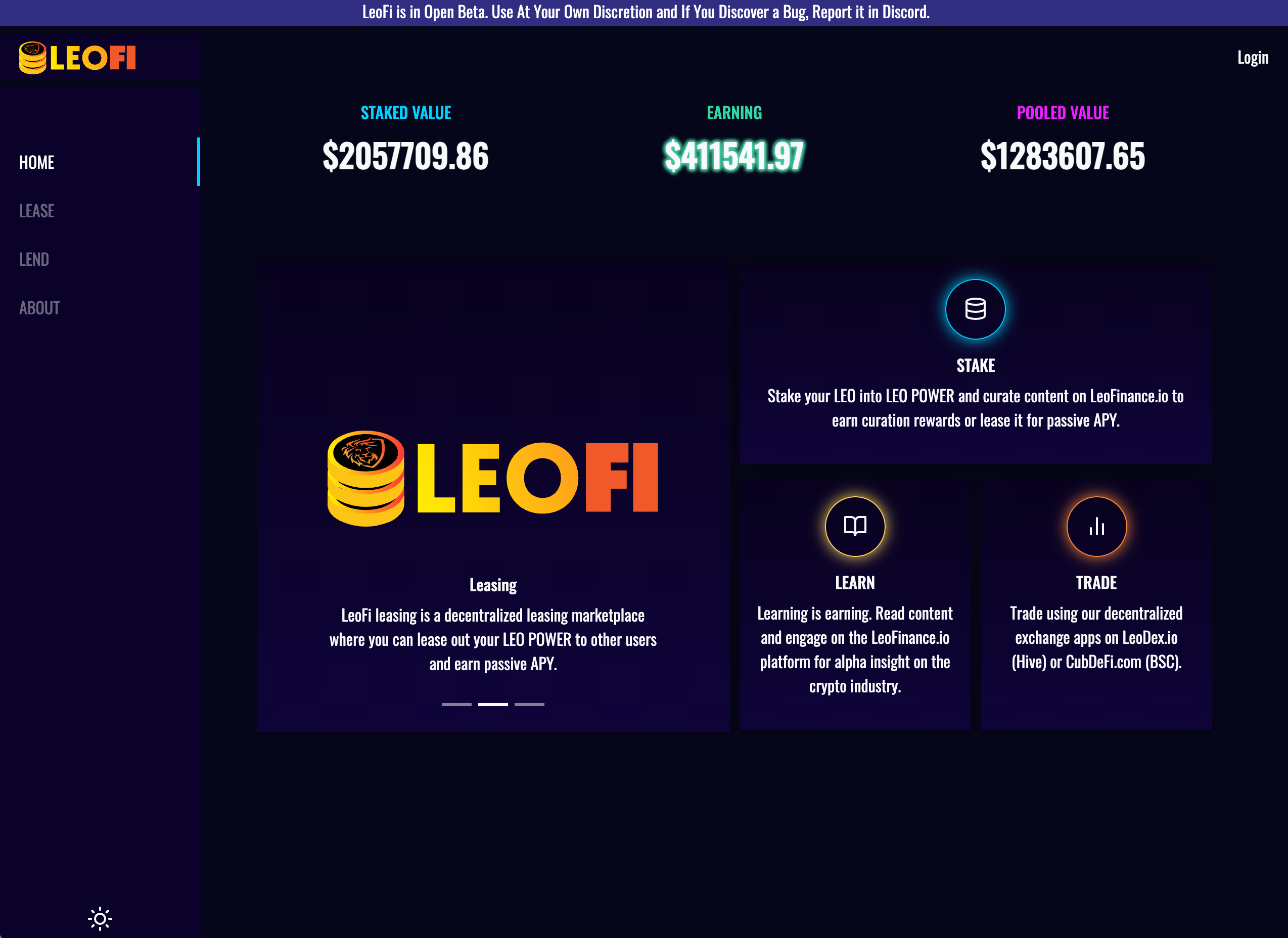 The entire mission of LeoFinance is to expand the scope and scale of the LeoFinance community. As we've said many times over the years since the launch of Leo, our goal is to build this incredible community in both width and depth.
Width means attracting new community members. Depth means giving our existing community more use cases and more value through the apps and products we release.
LeoFi is our latest addition to the LeoFinance suite of applications. This app is aimed at delivering more depth to the existing community while giving the LEO token an incredibly powerful new use case.
LeoFi is now in open beta which means that anyone can go to LeoFi and request a LEO POWER lease or lease out your own LEO POWER to another user.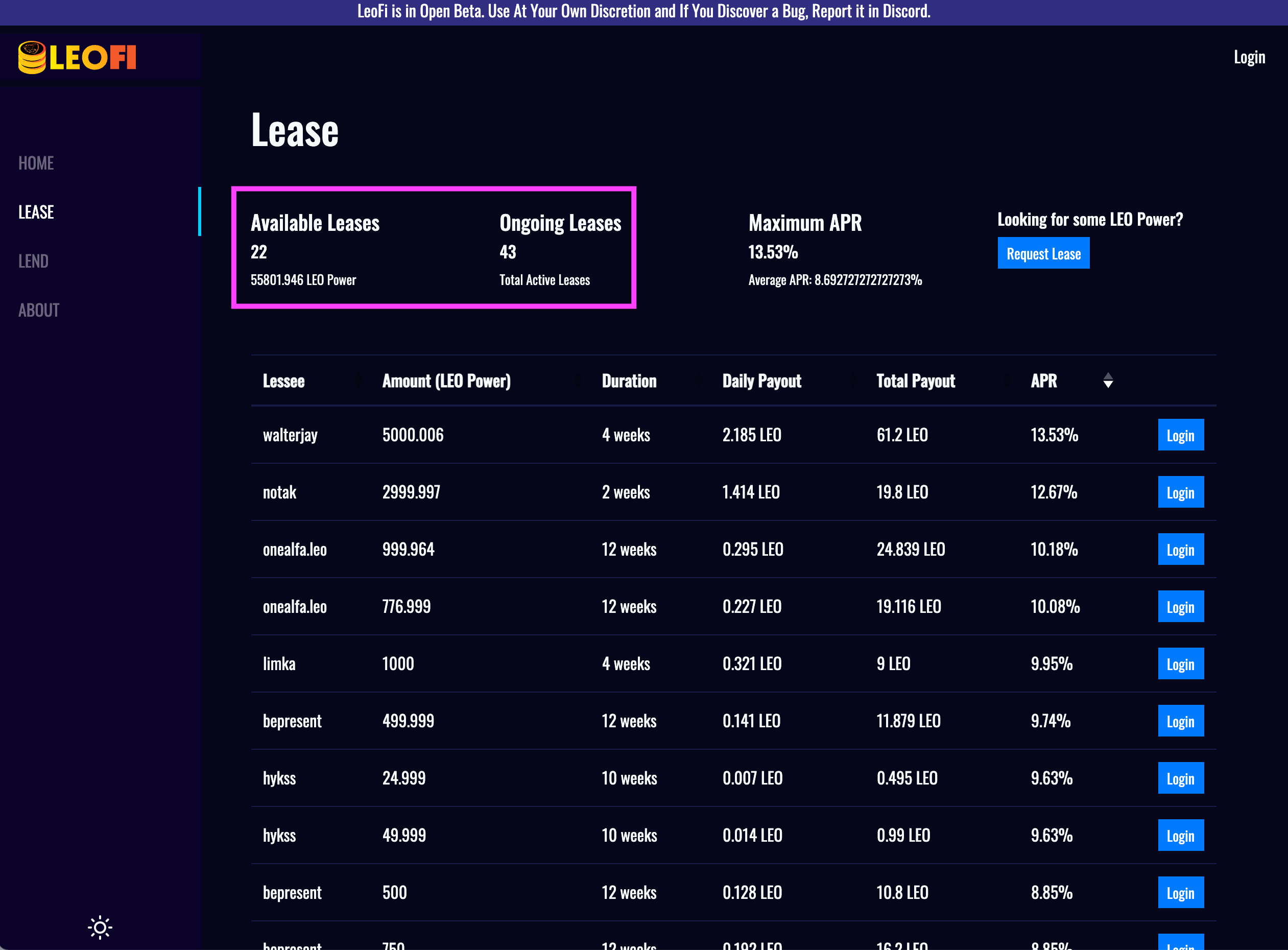 Just 24 hours after launch, here are the current stats:
22 Available Leases Currently Open and Waiting for Delegation
55,801 LEO POWER In Pending Lease Requests
43 Ongoing LEO POWER Leases at Varying APRs
LEO is a powerful token with a wide array of use cases. You can stake it, curate with it, pool it, bridge assets across blockchains with it and now you can lease it out on a decentralized marketplace with your fellow community members.
The use cases for LEO are piling up and creating enormous utility over time. This is only the beginning of our long-term roadmap to turn LEO into a powerful community token.
LeoBridge Patch Fix
LeoBridge had an issue where it failed several TXs. We discovered a rounding error and patched the bug. After a few tests, we're happy to report that the bridge is working once again.
As Thorchain and many other projects have discovered, cross-chain asset bridging is no easy business. We're working hard to deliver a LeoBridge that is fast, reliable and has a beautiful and easy UI/UX for the average crypto user.
Binance recently reduced the daily withdrawal limit for Non-KYC accounts.
This has opened up a massive discussion and *need in the crypto industry for decentralized bridges that can offer users a smart-contracts based method for moving assets to other blockchains.
LeoBridge currently allows cross-chain asset swaps from ERC20 (Ethereum) to BEP20 (Binance Smart Chain). After a number of improvements, the Bridge is better today than it ever was in the past.
Our goal is to continue down this path and relentlessly push updates to improve the bridge both on the backend and frontend.
As we said at launch: LeoBridge is likely to turn into one of the most valuable and important products in the LeoFinance suite of applications. It's the extreme long-game: to deliver a powerful and easy-to-use cross-chain bridge utilizing the multi-blockchain wrapped LEO token economy.
Our next major release outside of continuous bug discovery and patching is the BSC->Polygon LeoBridge update. We're currently working on our Polygon application which will also feature the launch of pLEO and a pLEO pool to go along with it.
This will allow us to create a BSC->Polygon (and vice versa) LeoBridge which will feature low fees (since both of these chains have low gas costs) and the ability to permissionlessly move assets from Polygon to BSC and BSC to Polygon.
Automated Geyser Successfully Implemented on the 15th
Many of you may have noticed that the automated Geyser payout was successful for the first time this month!
This is going to bring a great level of consistency and predictability (finally) to the bi-weekly WLEO-ETH Uniswap Geyser payouts.
If you're a WLEO-ETH LP, then thank you for your patience as we've worked out the Geyser model for the past several months. It's been a long journey thusfar with our Geyser and the current model is light years ahead of what we launched with.
We're looking forward to continuous improvements and efficiency tweaks to the Geyser. Especially as we look to the future with expanding the LEO token economy and building out the LeoBridge infrastructure to handle more cross-chain token swaps via the LEO token!
LeoFinance.io UI Update & Performance Improvements
The LeoFinance.io UI Update is still under development. We recently did a round of upgrades on our server capacity to handle a more beefy and robust Lightning Database.
ICYMI: Leo Lightning DB is our Web 3.0 Caching Layer. This layer allows us to store content / user actions in a top-level database that we can then relay to the Hive blockchain. By utilizing this layer, we can vastly improve the speed of the LeoFinance UI.
In the initial launch of Lightning, we nearly 10x'd the speed of user actions on the UI. In this next update, we'll bring another significant round of speed updates to the UI. This time focusing on page loading speeds and overall improvements in the efficiency with which we serve content to our users.
Speed is important for the User Experience (UX) of LeoFinance. As we complete this upgrade, we'll finalize our work on the all-new LeoFinance Mobile Application and Desktop Framework. In about 30-45 days time, we're hoping to have our Mobile App ready for Open Beta testing and our new & improved Desktop Application will be rolled out into open testing as well!
---
CubFinance:

IDO Infrastructure Ready For IDO #1's Launch
IDO #1 has been tentatively scheduled for Tuesday, August 24th pending the readiness of IDO #1's UI and contracts. Expect to see a number of posts both from LeoFinance and IDO #1 (which will be named as announcements roll out ahead of its launch debut).
On the CUB end of the spectrum, we're all ready for the launch. Over the past week, we completed work on our IDO infrastructure to handle all of the upcoming IDOs that are scheduled (and future ones).
It's exciting times for CUB as we transition yet again into a new era of tokenomic mechanics.
Our change to autocompounding yield contracts signaled a massive shift to sustainable yield farming via CubFinance.
The release of IDOs signifies a massive change in the reasons for hodling and utilizing CUB tokens.
CUB's New Value Capture Model - A Preview
In our economic update to CUB, we'll discuss the tokenomic changes that are impacting the present and future of the CUB token.
The changes began when we started shifting CubFinance into a cross-platform, autocompounding yield portfolio builder.
Now we've built the infrastructure for other tokens to launchpad off of CUB and generate initial liquidity for their project while burning massive amounts of CUB for the opportunity to launch on the platform.
These IDOs create a value capture mechanism for CUB:
CUB tokens capture the value of new platforms that launchpad on CubFinance. For example, IDO #1 will feature a $250k IDO where $125k worth of CUB is burned and IDO #1's team receives $125k BUSD to seed their initial liquidity pool.
Importantly, these IDOs also create an entirely new utility and a dilemma for CUB hodlers. We've already seen a number of posts and discord/telegram threads talking about the dilemma:
How much CUB do I use for the upcoming IDOs?
How much CUB do I keep staked in the Kingdom?
Do I need to buy more CUB so I don't have to use my main holdings to participate in the upcoming IDOs?
This dilemma is the essence of new utility brought to the CUB token. As these first 3 IDOs roll out and we see the impact both of the value capture and the dilemma on existing CUB hodlers, we'll see a massive shift in the fundamental economics governing the CubFinance ecosystem on Binance Smart Chain.
General:
AMA Tomorrow At 10:30 AM EST!

LeoFinance is a blockchain-based social media community that builds innovative applications on the Hive, BSC and ETH blockchains. Our flagship application: LeoFinance.io allows users and creators to engage and share content on the blockchain while earning cryptocurrency rewards.
Earn a 16% APR on HIVE POWER and Support LeoInfra's Onboarding Efforts by Delegating HP to @leo.voter (Currently at 2M HP). We Use this to Claim Accounts and Delegate RCs to Newly Onboarded Users + Daily LEO Payouts to Delegators
Posted Using LeoFinance Beta
---
---