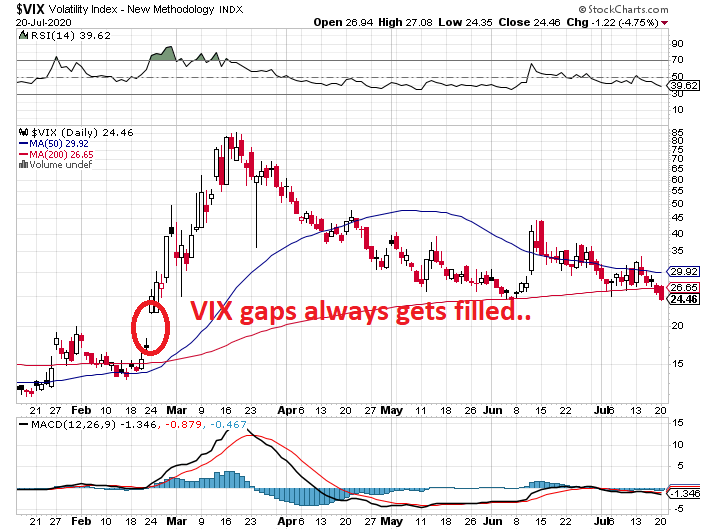 Monday indexes slowly reverse higher, but /NQ not only reversed but basically back within striking distance to all time highs. The NDX which tracks top 100 nasdaq stocks indeed went to all time highs. This happened as last week we saw techs oversold.

I am doubtful we are in capitulation mode just yet as many tech stocks got bought hence I am bullish on markets in general. I am long Roku and will see how this week plays out. IBM just posted earnings and trades reacted positive to the news as after hours stock is up 6% to $133. AMZN lead a massive bullish bet in tech with over $200 gain just today while TSLA is ramping up with $142 gain or close to 9.5%. Will have to see if there is follow through in the days ahead.
Some benefits for stocks to be bullish is the VIX has weaken and continue to weaken. While the Dollar is also breaking down. We can see this with DXY near its March lows. Be mindful though that March lows was also the marking point for when markets turned very turbulent and we had limit down days until the end of the month.

With FED backing up the market and EU close to a stimulus deal and vaccine getting good headlines it is difficult to not go long. Still with modest caution to watch the tape and at any signs of a pullback be ready to get out. For now long tech stocks and key high growth seem excellent.
Posted Using LeoFinance