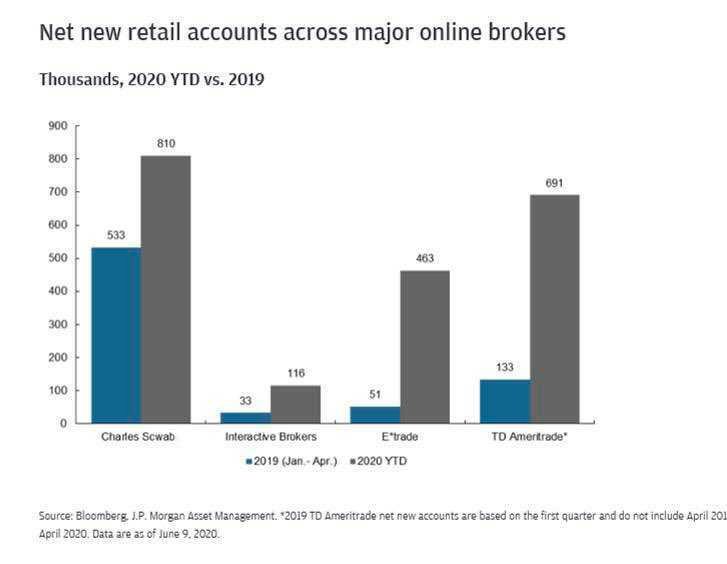 Yesterday's stock market's dramatic drop had continue on to today's trading but the market was able to recover and close higher. After hours markets indexes have almost recover most of its losses from yesterday with news of another possible antibody/vaccine against covid and continue opening of the country. The reality is market is up on this news and only price pays.
Recent lock down and shutdown of casinos and sports may have funneled more people into trading. Hence plenty of new traders are in the mist of one of the strongest stock recoveries in history. Yet even with more retail traders there seems to be a lot of head winds facing the markets.
Earning Season for Banks Kicked Off
Interesting to note banks earns from JPM, C, and WFC came out and although JPM and C beat, WFC took a hit and cut dividends. First sign of bank weakness came as WFC closed nearly 5% down while JPM and C only fared slightly better. As earnings progress into tech companies and other industries it will be worth noting how the stock prices react. I currently am neutral but plan to position short and trying to pick a date of when that will be. No one data point should drag down stocks but as a whole there is a lot to worry about.
Climbing the wall of worries is what bulls use to make it feel alright that stocks can continue to move up. Although this is true it can only be true for so long. With Nasdaq currently below its all time highs and banks looking weak at initial earnings there may be more signs to come that a top has or will be made sooner rather than later. Things I will be looking out for is the intensity of this current uptick. Since yesterday's drop has been bought back can this be sustained for longer than a trading session? Then there is still the challenges with Covid and the government stimulus that is soon to expire.
Political Headwinds....
There has also been recent political stances in the White House that is making some folks scratching their heads.
Mike Pence: "We don't want CDC guidance to be a reason why people don't reopen their schools."
Proof with twitter video feed.
Vice President Pence is recommending not to listen to CDC is as if not to trust in science. Many would know that Pence is not a believer in evolution but there has to be a line drawn to what is common sense and what is not. CDC only does what it does based on science. To not believe in science then what approach do people do to understand better on fighting and protecting ourselves from Covid?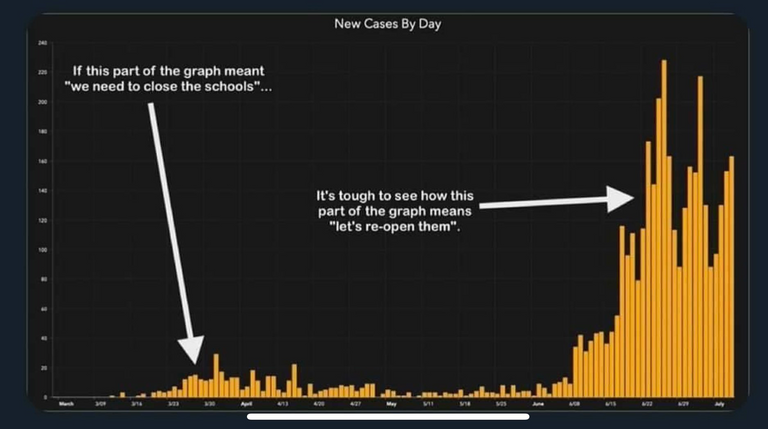 Then there are President Trump and Secretary of Education Betsy DeVos recommending schools opening in the fall. Chart above is spreading throughout the internet and shows that when President recommended the schools and the country to lock down there were fewer Covid cases than where it is now. Projection of more cases by fall is leaving a lot of concerns as to if it is even safe to open schools.
As I list all these headwinds one may think I am already in the bear camp, however again I would say I am leaning more neutral than anything else. I am mostly on the sidelines and feel any of the current upticks in stocks will not hold in the not so distance future. I won't time exactly right on a top but with more and more days goes by and more data proving to be negative to the real economy and an "excuse" for stocks to fall that is when I will accumulate. In the mean time I can scalp daily trend trades just to stay active participant in the markets.
Posted Using LeoFinance