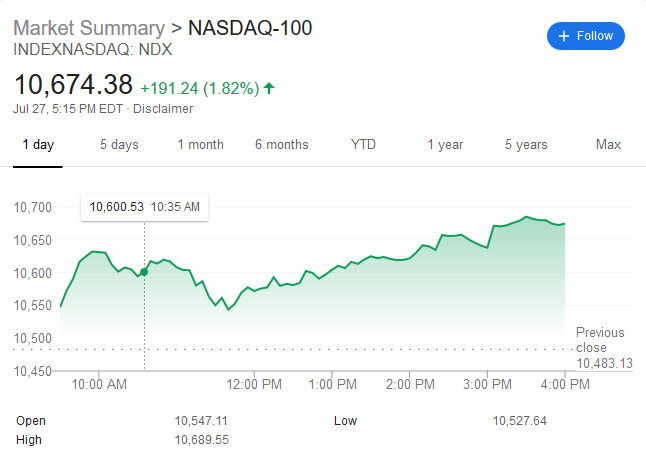 Today tech stocks bounced and held pretty well. In the next few days it will be awaiting on some big tech earnings. So big that FB, AMZN, and AAPL which posts on the same day at end of Thursday will be close to 40% weight of the NDX 100.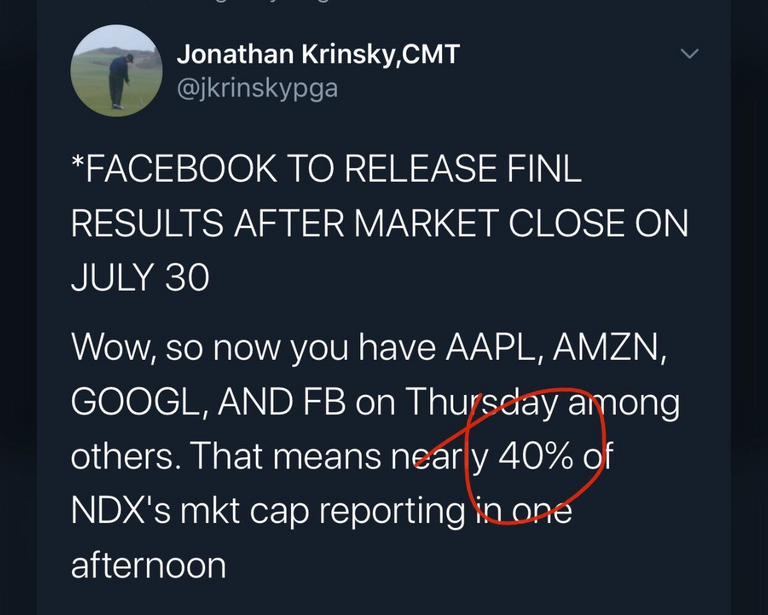 It is interesting the FB is announcing its earnings exactly as when AMZN and AAPL would be and the latter two were already expected prior to this date. So what is plan of action?
The dollar is currently falling and broke off support.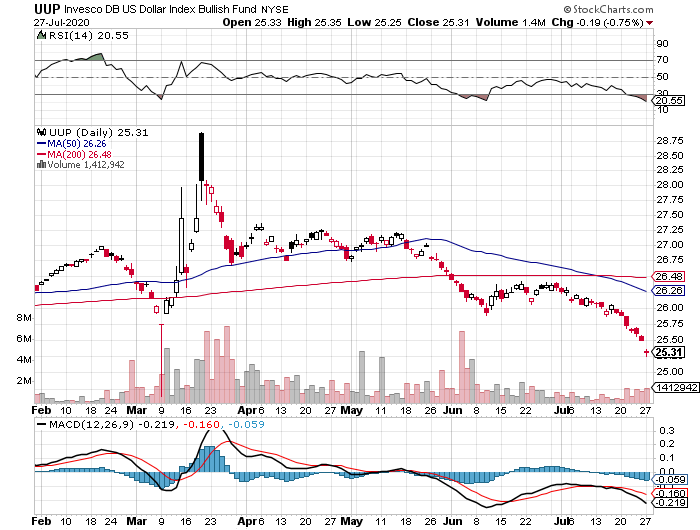 Then there is commodities such as silver and gold booming.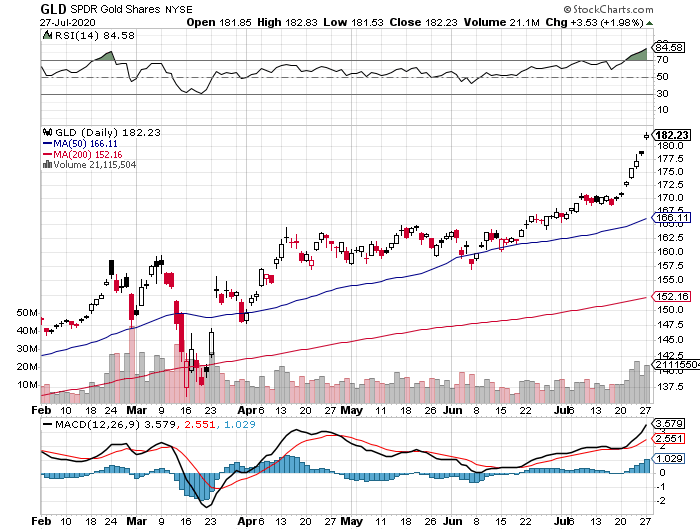 Gold actually got to all time high today and was last around this price in 2008. While the dollar has yet to break below its 2008 lows. This leads me to believe gold has more upside to come. However at the shorter time frame, 1 - 2 weeks it appears gold and silver may need to consolidate before the next run. This is ideal since any continue uptrend will lead to weaker supports when prices retrace.
But back to the main focus of how to trade the big techs. In my prior posts I have mentioned I am leaning bearish on the results. The bounce seemingly leads to a good entry for shorts but what if the tech companies surprise to the upside and push markets higher. For instance since the lock down Amazon has been operating at higher capacity. Although they have earlier warned of significant losses due to expenses for provisions around covid one has to believe the bar is set low enough that Amazon may likely beat. A big bounce could be possible, but we saw that in TSLA.
Then there is the FED put. A continuation of infinite QE to support asset prices which eventually trickles down to stock prices even if they deny it happens. A lot of people know this is the truth and it is quite difficult if not impossible to fight the FED. There are a few points to note that a sell off may still occur post earnings of the big tech.
Insiders selling has reach bearish sentiment. This is sown from a lot of selling from insiders.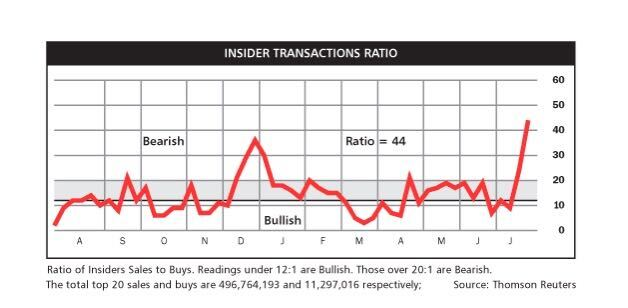 The Big tech companies FANG has mostly pulled the Nasdaq up for the year so there maybe some probability that investors may sell to lock in profits. Its middle of the year and there is still a lot of uncertainty such as will the economy bounce back on V shape, will there be a vaccine to covid-19, and Geo-political risks such as US and China trade war.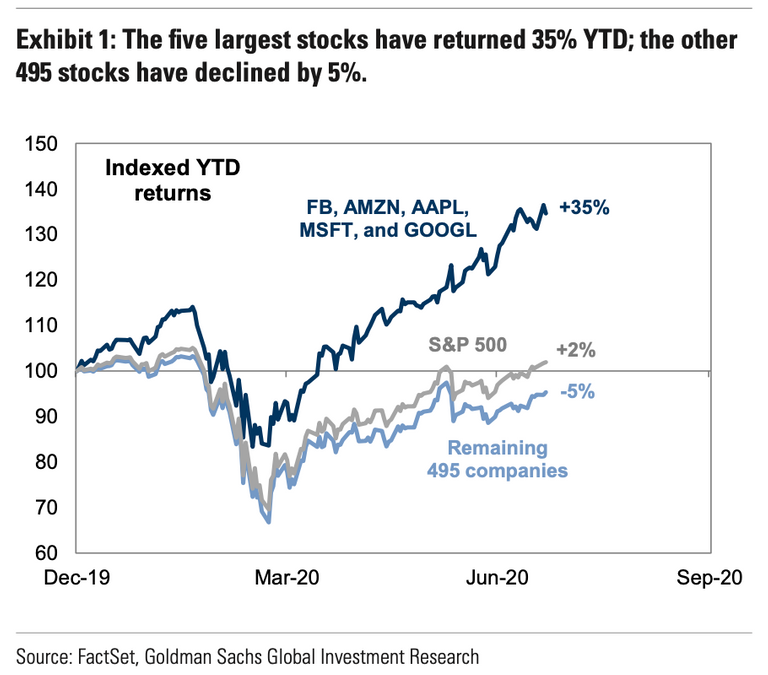 Divergences in both S&P and NDX is showing signs that the higher prices are not supportive as their is less buying and less momentum to the upside.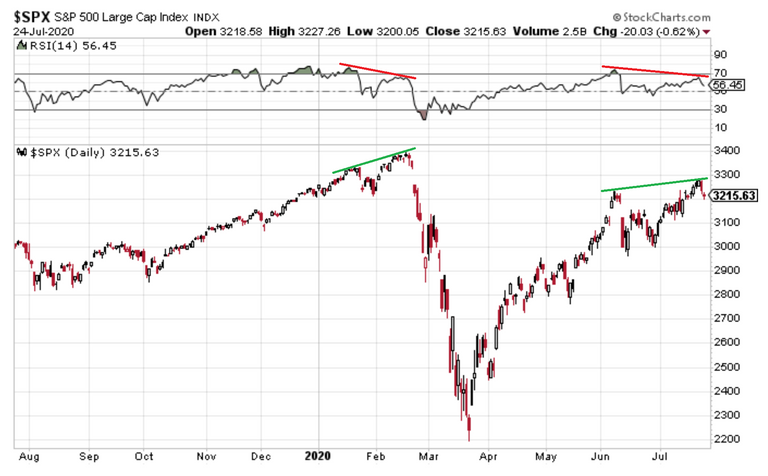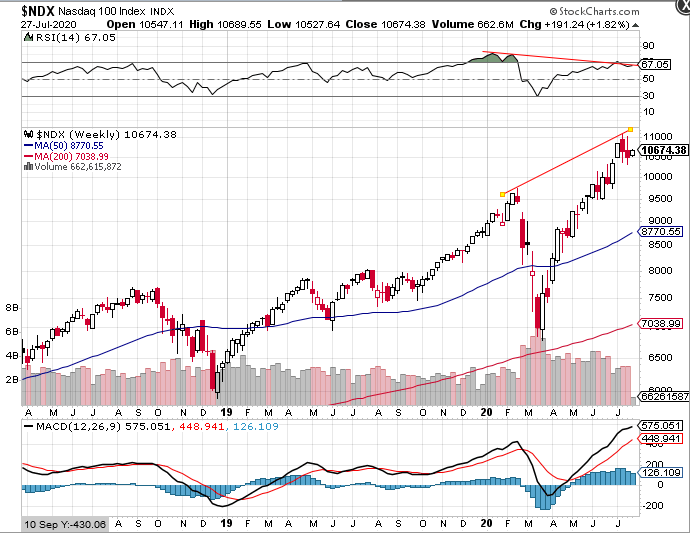 The put to call ratio on some of these big tech names are at extremes.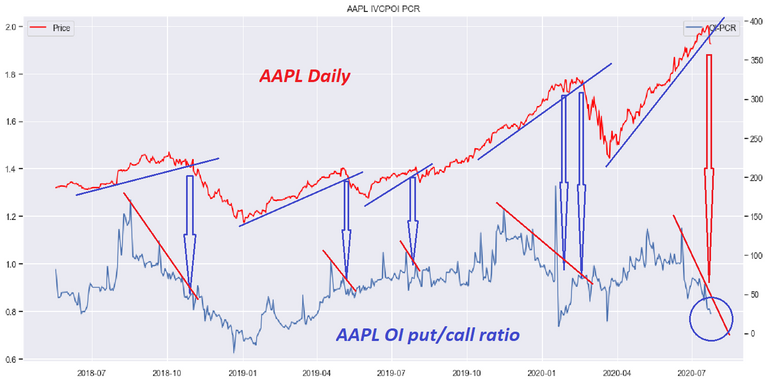 As one may think I am being more pessimistic and hence providing all these evidence to go short, I will still let price dedicate to me which way stocks will go after earnings. If there is obvious trend happening though in prices I will try to place on a trade.
Posted Using LeoFinance