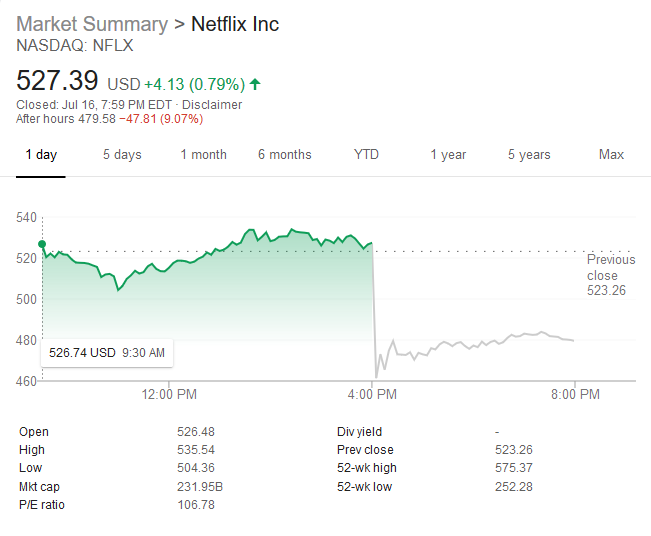 Prior to Netflix earnings there were earnings warnings regarding FANG and other tech stocks. Since March lows up to current prices many tech stocks have risen to the point where evaluations were set as if the pandemic was over and customers were back to full consumption mode. The evaluations were pricing in perfection as some were saying. Today we saw the first glimpse of what earnings could do to tech stocks when results do not meet expectations.
Netflix announced they added 10 million subscribers in quarter 2 but lower guidance in quarter 3. Further earnings were below expectations at $1.59 versus $1.81 expected, but revenues beat at $6.15 billion versus $6.08 billion expected. The reaction to the stock price was not favorable to share holders as initially it plunged over 11% down but recover to end after hour trading slightly below 9% down.
The Nasdaq has been struggling to maintain and bullish run since middle of the week and there seems to be slow down in tech buying as FANGs stocks had multi-day red days. All stocks can't go in a straight line up or down so I expect to see a bounce in techs pretty soon. The challenge is do I buy the bounce or wait and see to short it.
Not Short when things seem flat
To look whether I would want to go short the Nasdaq I can gather sentiment from the other indexes. The IWM is currently in its own uptrend. IWM is still above its 200 DMA but RSI and MACD slopping slightly down. Still I give the trend to the bulls since price is still higher relative to last week.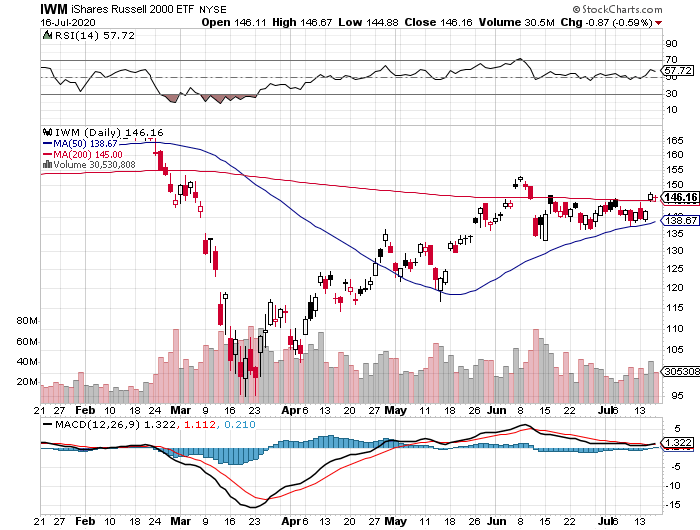 The Dow Jones is also fairing well. Still above its 200DMA and similar in technical as IWM.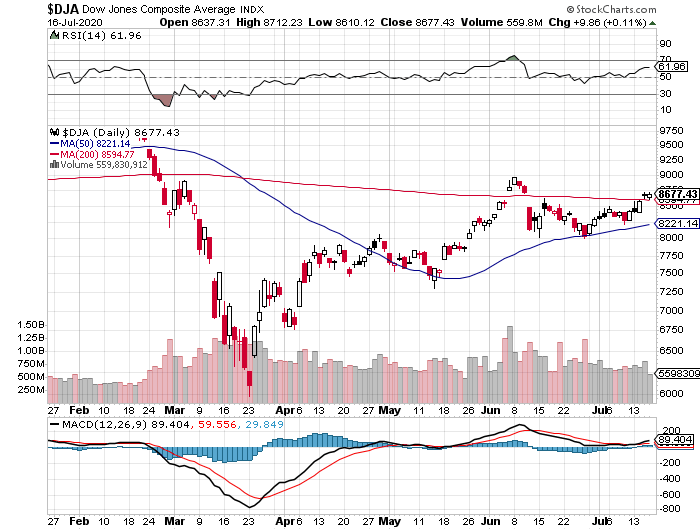 Overall markets although down the last couple of days it has been making higher lows so can not go short when price is showing uptrend being in tack. Sentiment may be changing as the severity of the pandemic is beginning to increase as we can see how sensitive stock prices are when positive news on vaccines spreads while states such as California unwinding its state's reopening has lead to stock price drops. What maybe surprising to note is even with such volatility the SPY index has remain within a range for more than a month.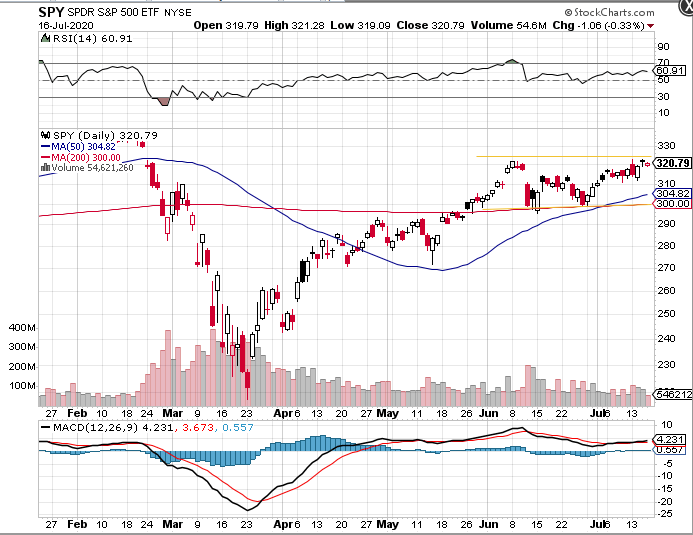 I conclude with the DIX today closing above 45 mark which tends to be bullish for stocks and the fact that indexes remain above higher levels than June it is still overall bullish. Hence I believe all time highs for indexes remain on the table in the weeks if not days ahead. VIX volatility has been draining out every time it has spiked since June and I feel this will remain the case until some event changes things. The reality of the pandemic getting worse I feel has yet to be priced in by the markets, but the trick is not to get short squeezed but to time it where a capitulation has occurred as a sign of a top.
We sort of saw one happened this past Monday. Markets originally were up higher than Friday's close but only to sell off swiftly and it continued onto Tuesday. The Monday highs did not hold long as a sign that buyers may be out of steam even though trend was still up. A point of capitulation where trend is clear but traders were unable to maintain the clear trend. The swift drop was clearly a sign of weakness. We saw this in early June. The difference between now and then was that this time markets had the time to digest the higher range that was reached in June and held. Because it is trading within a range there is not much of an edge to go short.
Posted Using LeoFinance