I was killing my time on Twitter earlier today trying to find good tweets about Hive and WLEO when I stumbled upon a tweet (the link is at the bottom of the post and it's not a novel or something...but sometimes an image or in this case a screenshot is worth a thousand words.)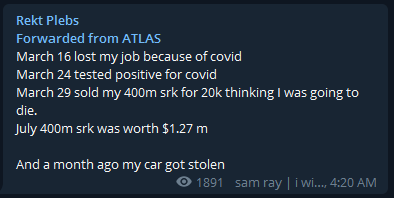 This screenshot really caught my eye simply because it reminded me of all the bad investing decisions I've made over the years...but this guy right here...is killing it.
Just read it one more time and let it sink in...
---
I've been in similar situations a lot of times...and in most cases I've been rekt by the choices I've made, either because of my ignorance or because I wasn't focused enough.
You know...the type of investor that used to buy high and hoped that prices will keep going up like forever...but eventually they crashed back down to Earth...Rekt...or the type of guy that used to buy a stock simply because a friend of a friend who knew a guy who knew how these things work gave us completely shitty info... Rekt again ...and in rare cases such as the guy from the screenshot above, the type of guy that wasn't patient enough to wait for that spark and decided to cash out days before a massive spike...
Ya, that's me...nice to meet you all...
---
That was before I get involved with crypto. A life full of bad investing decisions. And I used to blame everyone...my bad luck, my parents, my girfriend, God himself...but never myself. When in reality I was always uninformed and impatient...
Through Steem Hive I've been educated. I am more informed that ever before, real talk.
I've even made a couple of smart crypto investing choices that have been super profitable till now....And when I say profitable I mean 30x profitable for now.
Why should you care?
I don't expect you to, just trying to make you understand that in crypto world, a few clicks could be the difference between temporary pleasure and life changing events.
That being said I really feel...weird to see people killing their Hive and LEO rewards. Not only because prices at these levels are ridiculously low for both of these projects, but also because all of you people are insiders. You know how Hive works...you know who LEO works...you know the energy and the time and the effort people behind these project put into to turn them into the next BIG thing....you know the potential...
It's one thing to be invested into a project that you have absolutely no clue wtf is going on or if it will end up being a ponzy scheme and another one to be invested in Hive or Leo where you spend hours every single day...
What would you do if there was no Hive?
---
Let that sink in again before you send your tokens to an exchange for a few bucks next time.
Don't be like the guy from the screenshot...
Because there will be a day that you wish you hadn't sold a single HIVE / LEO token...but of course...it will be to late to fix that...
Food for thought...and if any of you has been in a similar situation don't hesitate to drop some comments in the comment section below.
That way I won't feel so desperate for all those years full of investing failures...Ha!
Have a good everyone and stay safe.
Cheers!