Twitter Scammers have made a lot of people miss out on legit crypto jobs opportunities
A lot of people are going to miss out on legit crypto jobs due to scammers running wild on Twitter.
it is sad that this is happening and has become a new norm on Twitter, like I receive close to 10 - 20 messages daily from scammers posing as crypto enthusiasts or claiming to be professional crypto traders, then send you phishing links to join on their master class or that you should invest with them, that they can help you double or triple your money in a week or less, in my head am like do these people think at all, like the format they use to catfish people are always the same and does ever change, they always come up with the same exact story just with a different account or accounts, funny enough some of the time their profile pictures are the same but with different a names, which gets me thinking do people actually fall for these scammers till now with the level of awareness everywhere about scammers and their phishing links.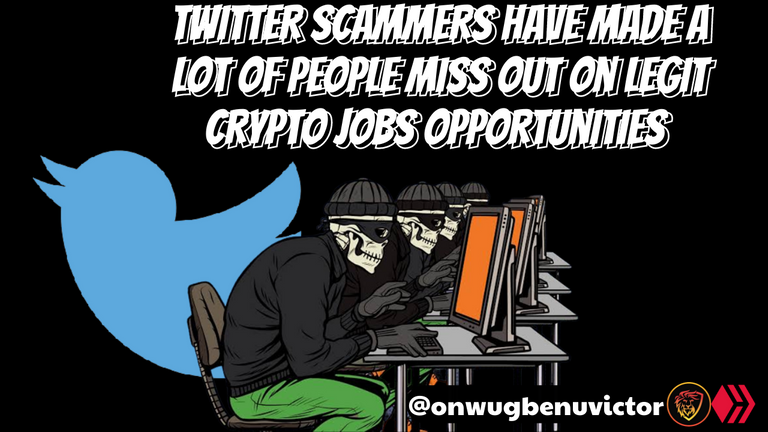 But come to think of it, if their scam does not work on some people, they would have stopped doing it since, but since there are still some people who unfortunately fall for these scammers and their phishing links they would keep on running rampant which is bad, and not fair on the those that are unlucky to believe them and have fallen victim for their tricks and have gotten hacked or invested with these scammers and have their money stolen from them.
Missing Out On Crypto Jobs Dues To Scammers Running Rampant On Twitter
As we all know Twitter is like the crypto hub for information and Crypto Jobs as well, these scammers running rampant on Twitter even with verified accounts scare the shit out of a lot of people including me, not knowing who to trust and who not to trust has made many people miss out on great job opportunities because they don't believe the person sending them direct massage is not a scammer, for me, this is the part that affects me and it pains me so much because I have ignored at a lot of crypto job messages because I thought it was from a scammer and when I later find out it legit I feel so sad because me being careful is not costing my job opportunities but I still won't stop being careful those because it's better to be save than sorry, be careful and stay save out there guys, Twitter is now the home of scams.
THANKS GUYS FOR READING MY POST.
PLEASE FOLLOW ME ON:
Discord: onwugbenuvictor#3447
Twitter: @VictorOnwugbenu
Posted Using LeoFinance Beta
---
---