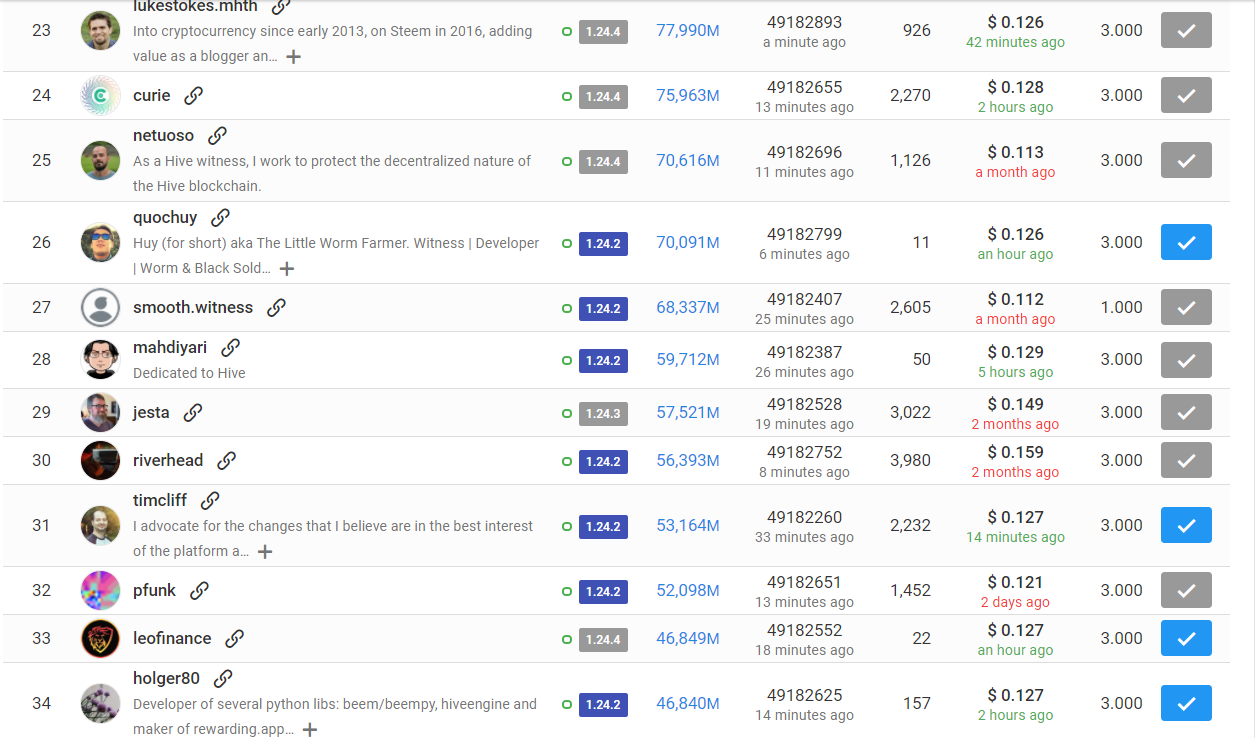 source
I took this picture in December 2020 to locate #leofinance situation in the witness chart.
December looks a long time from now. Around 90 days could be a game changer for Leo.
Even Hive was trading at 12 cents. This blockchain keeps moving 24/7. It means the witnesses
should be up to par all the time to keep this blockchain secured.
Looking through the lens of the community, a lot had change since. Bitcoin is trading around $50k+,
#leo tokens is pushing past the dollar mark and the witnesses are shuffled a little. Some dropped, some
rise to fulfil their everyday duty to secure the chain. Looking at Leofinance in December I was shocked
to see a platform with such a bright future laying around number 33.
As a member of the community my assessment pushed me to write a post then. I continue throughout the months
to bring emergence to this goal.
We moved to 28 and got stuck for a while. The voice of the community does not stop there. I was so happy to see
other members putting their due diligence to promote #leofinance to get to top 20.
From what I see, it is getting closer to 20 than three months ago. It is progressing to a level where top 20 is
just couple months away. I mean top 20 could be days away if Leofinance get the right vote now.

I just want to thank the community and fans for their support. Many may not know how to do it. You have
the choice to support this decentralized blockchain. You are the reason with the supported witnesses we have
Hive today. Any top 20 witnesses deserve to be there. It is a constant work to update the price and make sure
everything runs smooth accordingly. More than that the witnesses bring change the way we see the blockchain.
Changes are inevitable.
Do you know how to vote for a witness like #leofinance?
This link should help if you use hivesigner
https://hivesigner.com/sign/account-witness-vote?witness=leofinance&approve=1
Next you can use this link as well if you use #ecency user interface to check on your witnesses.
This link gives you a clear idea to pick your witnesses using hive keychain.
#peakd is another way to check them as well
follow this link
https://peakd.com/me/witnesses
Go to action and click on witnesses.
It is recommended to check from time to time your selection.
One witness could drop out of contention
you need to bring another one to your 30 selection.
That way you promote and dispose of your eyes in the blockchain.
Again #leofinance deserves to be up there for what they bring to the community.
It is a choice you have to make.
You probably tried #uniswap with #Wleo/ether and it is a great way to interact with Ethereum blockchain through #defi.
Recently you probably tried #Cubdefi where you have a portal to Binance smart chain and a way to diversify into
decentralized finance.
They have more to deliver and bring more eyes via Leofinance to Hive.
We are no stranger to decentralize. This is the way forward to support what bring diversity
and ample earning for everyone.
This is the beauty of crypto. Everything moves and we have to adapt and get the best of what will keep us on the light.


Posted Using LeoFinance Beta