LET'S JUST MEET IN THE MIDDLE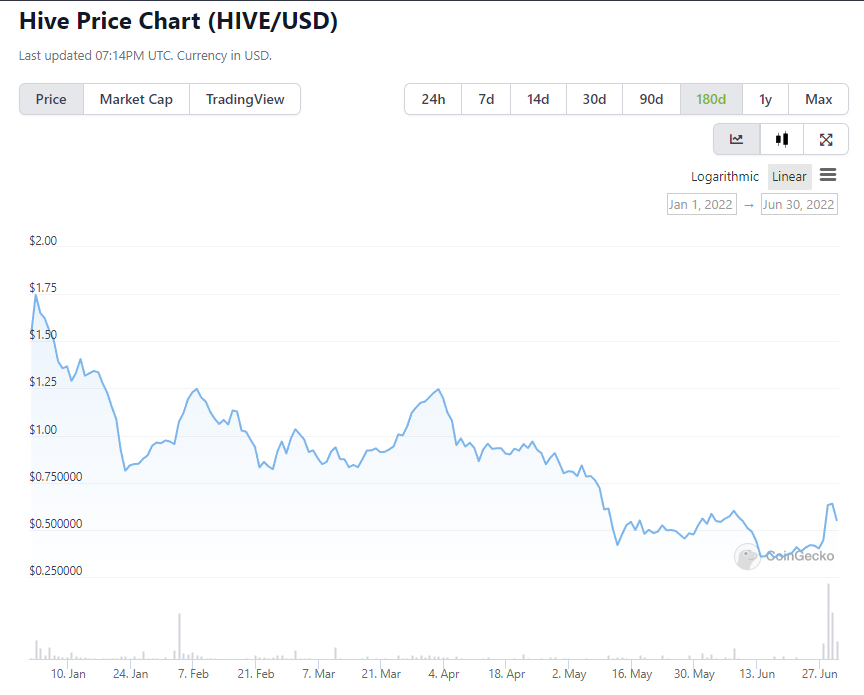 source
Give or take July will commence the other side of 2022. It is a pure reminder to look at the numbers everywhere, you will come to understand the ramifications and the reason we are here trying to limit the action of the bear. For many it is a reminiscence of previous two years trying to make ends meet. For others they take risks that pay into the bear market. It does not care where you land everyone feels it somehow. This experience is putting everyone in fast lane.
According to this pic even #Hive was busting more than a dollar then. BTC was around the $45k+ mark.
Despite all these the value remains for many tokens except for the memes and the ones that collapsed all the way to bottom. Everywhere you look the price is good to enter the market. Predicting the bottom is the elephant in the room. You do not want to buy and you see value falling again.
180 days the stock market is in constant freefall erasing billion of dollar. So do not panic thinking crypto is the worst in the market. Due to crazy volatility, risk asset like crypto fell as well. The pressure is everywhere.
Anyone selling right now has an agenda I wish to know about.
Even if you are buying, it is good to share cause money hate to sit in the corner.
Actually you have to do something, this is way of life.
S&P are projecting to evaporated from the market a whooping $8 trillion.
Crypto is losing billion so far.
Any loss will leave a gad taste in anyone palette.
HERE WE GO JULY
Let's hope a break has applied to slowdown the value drain. Accidentally we are doing it by not selling. It will be a slower drainage due to the fact it is Summer. Many start putting together that this year is done deal. We are shifting slowly from inflation talk to recession and find ways to hold what can be saved for later.
Dare you to predict where the price will be in July.
I will try to contemplate that attitude on my head.
These days going forward is important but you need to be aware every move you make, tends to make you less than before. The risk is more abundant than before.
It will not stop a flurry of stocks or tokens to show some sign of a quick bull in the interim.
The consensus will wane the moment to flush all bad actors. The market is really good at taking care of itself. Crypto will find ways to recapture its heydays.
Mr. Saylor is still convincing. I can see where he stands since both of his feet are already in BTC.
This is what bring a sign of crypto prowess knowing there is more to crypto than other stocks out there.
We know for sure it will take time and slowly the market will come back. This is how it works as the engine of the financial world. Risk, try, more risk, change course and hold.
The same way many will not let go of Tesla stocks or others, it is the same mindset for BTC and close to us #Hive. I am going closer #Leo. Why even think of selling when you will always be around crypto?
Let's meet in the middle and restart the rest of the year by making ways to close 2022.
Happy early #LPUD and #HPUD
Keep on vesting in you.
Posted Using LeoFinance Beta
---
---