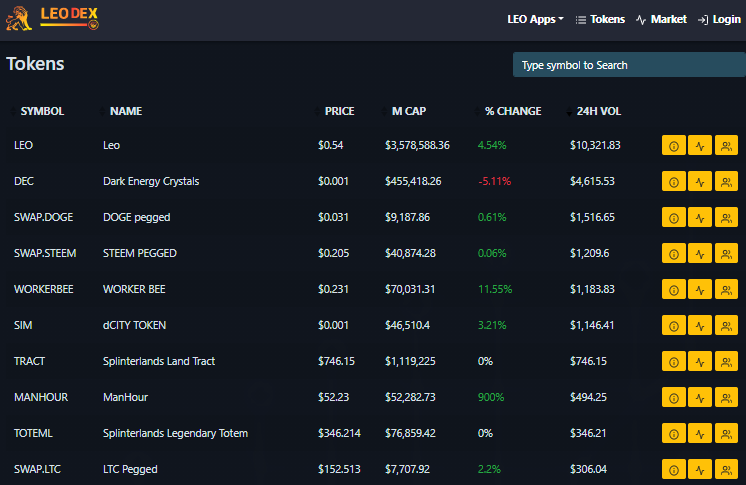 source
Usually when I look in leodex you see only three tokens pulling the
weigh. So far for this 24 hour volume, you have multiple tokens doing
the same thing. As always #leo is leading the force. The price range of
54 cents is very positive.
#DEC maintained second position despite its price value/ratio. I was hoping to see
#sim in third place. Now you see two other non-tribe tokens taking the lead.
#Doge-pegged and #Steem-pegged are pulling their weigh around.
#workerbee is right there in the mix.
If you are paying attention to Hive-engine update to be decentralized, this could be the
reason for this #workerbee increase in value. You need it for the witnesses vote starting today.
Great things are coming for second layer token.
Definitely decentralization and #leofi
and many more that will strengthen the bond between first and second layer.
Hive blockchain is fulfilling a minimal part of what it can do.
One thing remains, will leodex or Hive-engine will be able to serve as a sink
for Hive? That would be a plus for all second layer tokens to grow on the back
of the blockchain.
Today begins the decentralization of the whole system. It brings confidence for
all communities and the use case for the dex is growing. I just look again, the volume
keeps going up. This is great news.
I wish to see #leofinance lands a helping hand to other tokens to follow their route. That way more pressure
on Hive blockchain that will correlate to the appreciation for Hive and back to the community.
I can see great thing coming to second layer.
Keep stacking satoshis.

Posted Using LeoFinance Beta