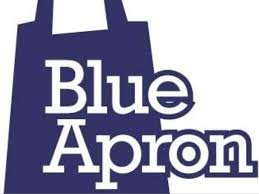 According to Johns Hopkins University, the US now has over 4 million people infected with COVID-19 and over 150,000 people have died. Today Fed Powell held interest rates steady, but had a lot to say about COVID-19. Fed Powell said the increase rate of COVID-19 cases is threatening the recovery in the US. The Fed Powell noted that credit and debit card spending, hotel occupancy rates, and visits to restaurants and bars have flattened due to rising COVID-19 cases.
Many restaurants across the nation are shutting down on their own accord because their employees are testing positive for COVID-19. Although local economies haven't mandated restaurant closers, many have a 25%-50% capacity mandates. So many restaurants are setting up shop outside, but who wants to eat a meal in 90 degree weather.
Even the big national chains aren't immune from the adverse effects of COVID-19. Starbucks recently announced it will close 400 stores in the U.S. and Canada over the next 18 months And during McDonald's recent earnings announcement, second-quarter net income fell 68% to $484 million while, same-store sales fell 24%.
Blue Apron is responsible for pioneering meal kits to the masses and went public in 2017, but they really had no competitive advantage. After Amazon bought Whole Foods, two weeks after Blue Apron went public, Amazon announced it was entering the meal kit business. Than with the advent of the fast / gourmet delivery service companies, it gave consumer many more options.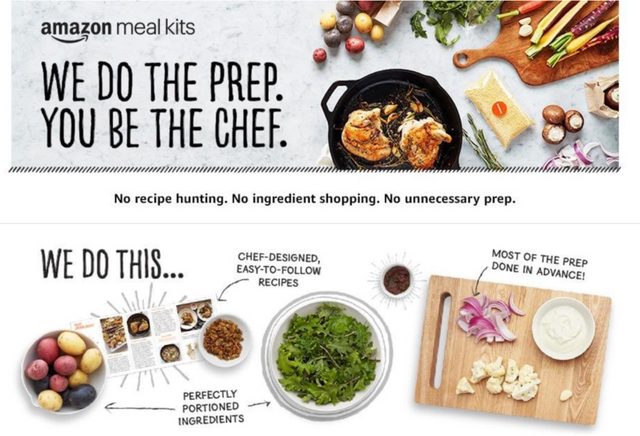 No one wants to say the coronavirus pandemic is actually good for business, but Blue Apron Holdings (NYSE:APRN) is showing that certain companies were uniquely positioned to capitalize on the new normal COVID-19 created.

The meal kit delivery specialist reported second-quarter earnings that were demonstrably better than what it has been able to produce pre-pandemic, going so far as to report a surprise profit for the period.

Blue Apron unlocked a number of achievements this quarter, including adding another 20,000 customers, the second quarter in a row it has grown its subscriber rolls sequentially.
Source
The Wall Street Journal reported that this was Blue Apron's first profitable quarter since it went public three years ago. But don't get it twisted as Blue Apron is expecting a loss for the third quarter. Although the chart suggest a break out based on the ascending triangle pattern, I think Blue Apron's time in the shine will slowly simmer out.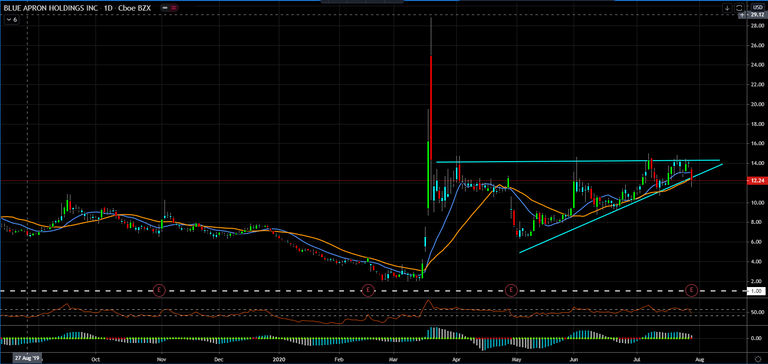 This post is my personal opinion. I'm not a financial advisor, this isn't financial advise. Do your own research before making investment decisions.

Posted Using LeoFinance