Don't Worry...Bacon Prices Should Ease Up A Bit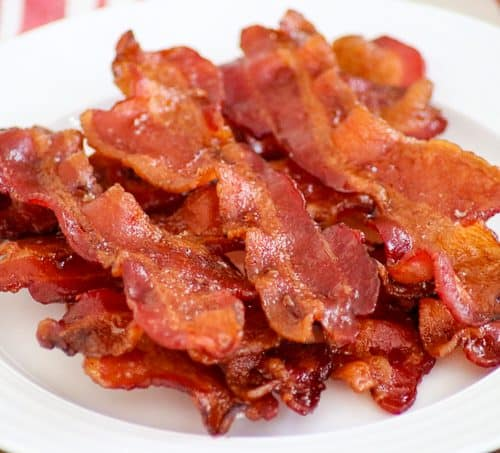 Commodities are unprocessed products that have high fixed and determinable costs and are regularly traded market. Commodities are usually equated with money. However, a commodity is a non-monetary good which has full or considerable value for immediate use. Since commodities are produced on a large scale and are traded on a worldwide scale, they are a worldwide good.
A month ago, I talked about how we witness 20% of all US dollars ever printed occurred in 2020 as a means to help jump start the economy. We are now witnessing a pending third stimulus in the US. The American Rescue Plan includes a $1400 third stimulus check, among other benefits for US citizens that are eligible.
The reason why the equity markets have corrected over the last several weeks is because inflation is accelerating as a result of the US dollar losing its purchasing power. It's the reason why Cotton was up 18%, Soybeans were up 50%, Wheat was up 18% and Corn was up 35%, the highest price has been since 2013, but has more room to go up in price. It's the reason why bacon at Costco is becoming an issue.
It's been about a year since the first wave of Covid-induced panic buying began, which means we're all a little more used to the idea of fluctuating prices and inconsistent supply when we go grocery shopping. Now, however, a surprising demand-based development at Costco could truly test our limits.

Recently, the big box retailer admitted that it's got a bit of a bacon problem. Specifically, Costco Chief Financial Officer Richard Galanti admitted to investors that "bacon is up 45 percent in pounds, for whatever reason," suggesting that they're paying a much higher price to curate cured pork for its
customers.
Source
So will Lean Hog prices continue to rise, lets go to the chart?
Monthly Chart (Curve Timeframe) - the monthly demand is at $35 and monthly supply is at $90.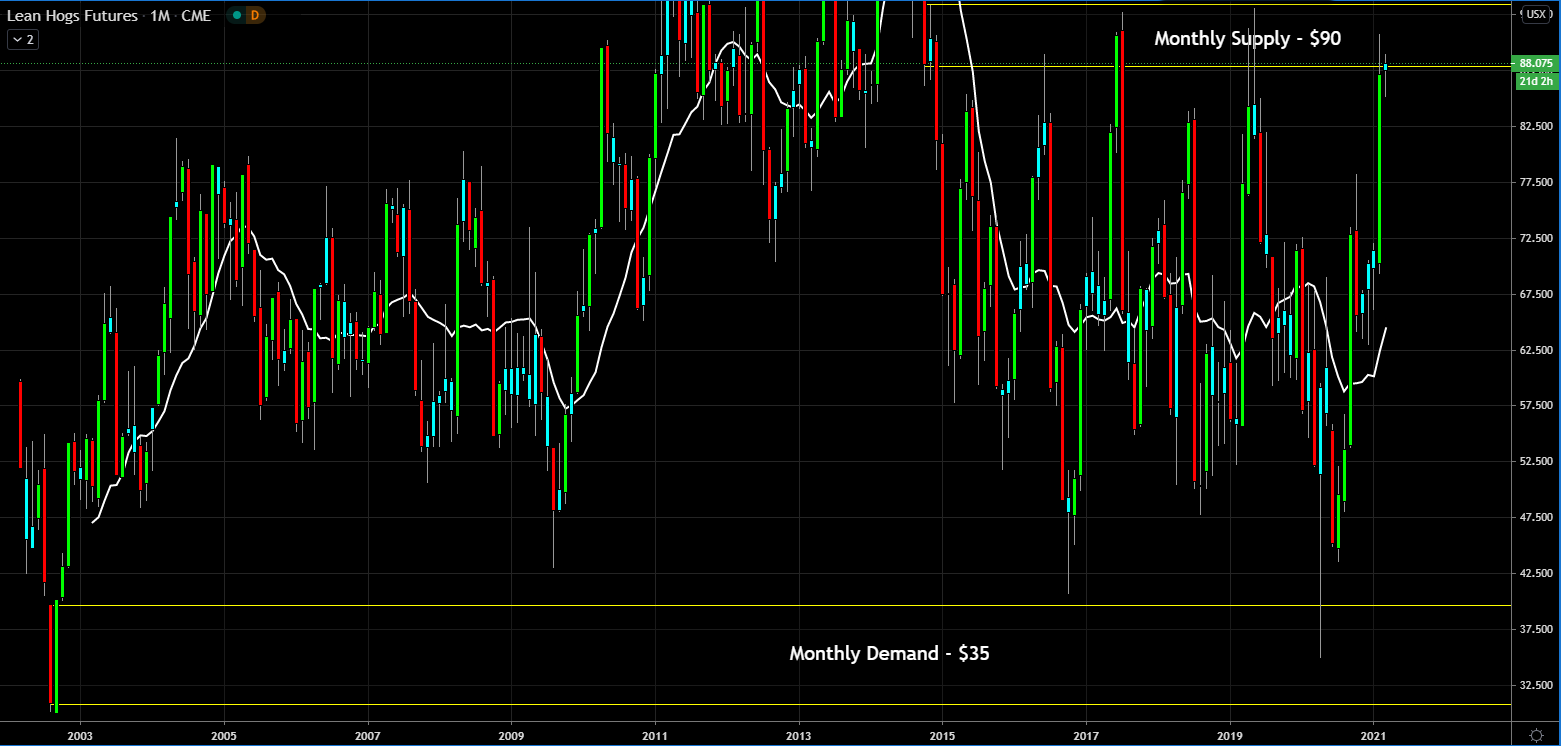 Weekly Chart (Trend Timeframe) – the trend is up.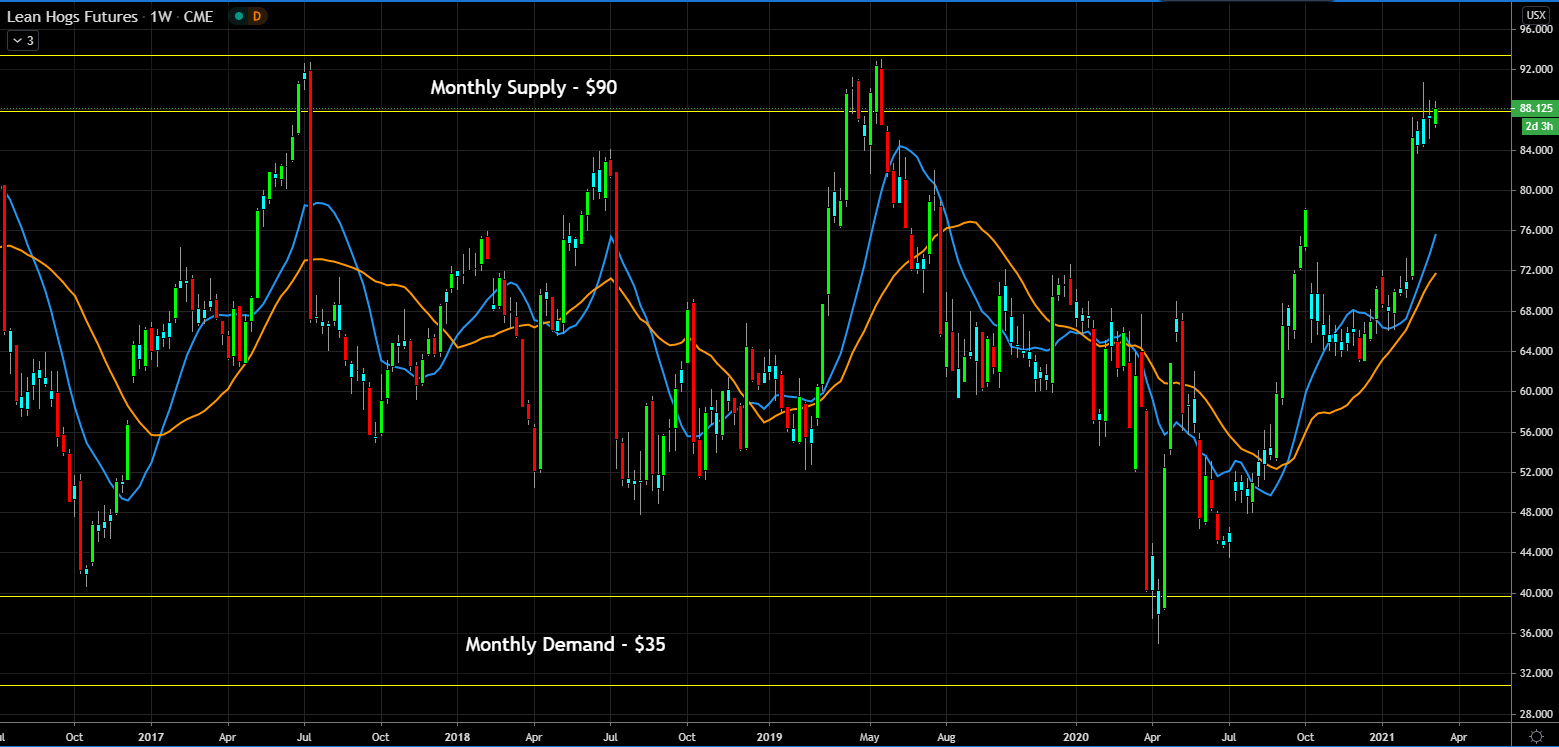 Daily Chart (Entry Timeframe) – the chart suggests price should at least pause in the monthly demand and if prices are going to go lower, the daily demand at $84 must be breached first.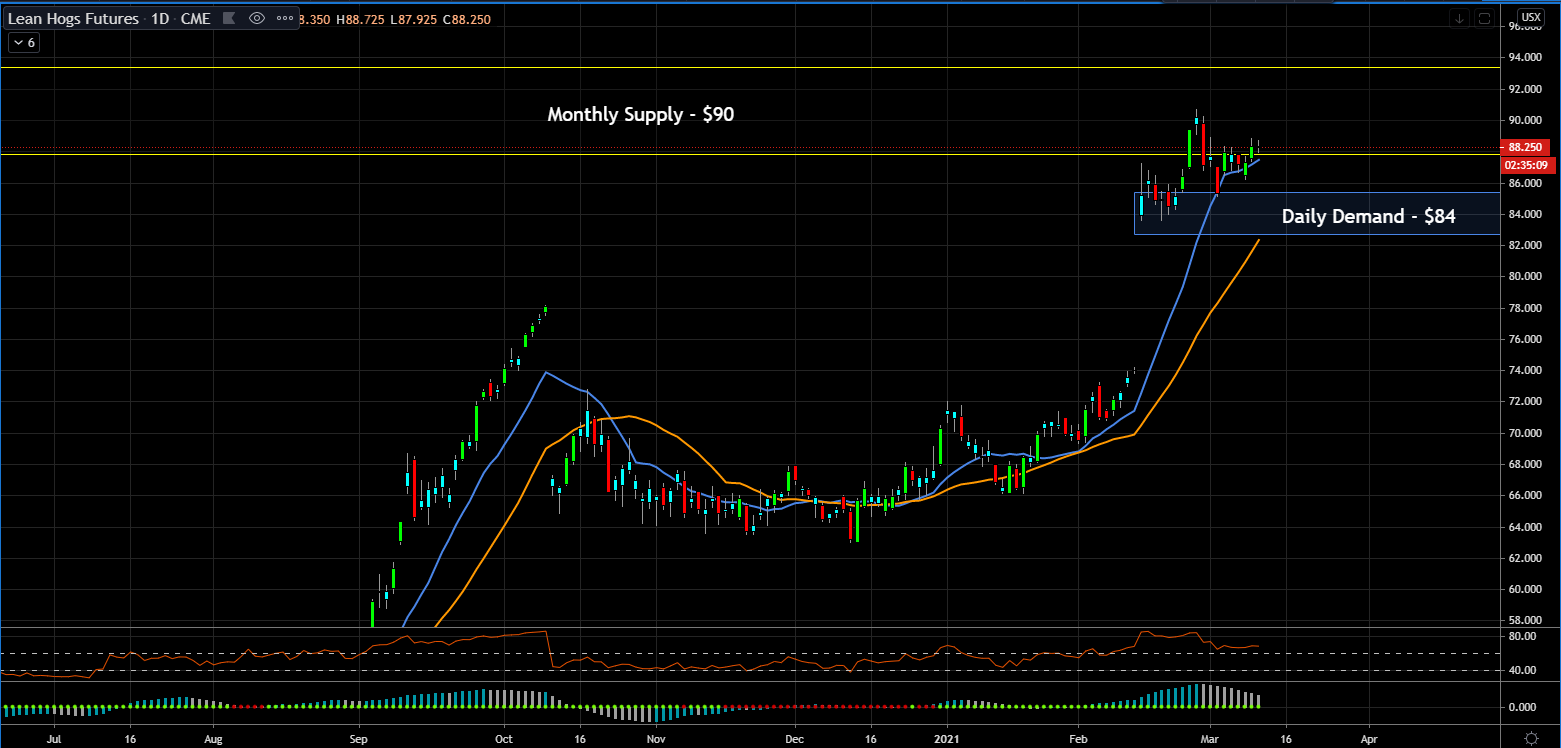 This post is my personal opinion. I'm not a financial advisor, this isn't financial advise. Do your own research before making investment decisions.
Posted Using LeoFinance Beta
---
---