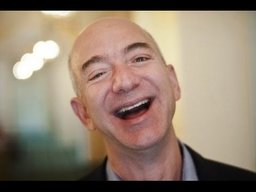 It was Jeff Bezos' first time on Capital Hill and I think he held his own. The conversation surrounded whether third-party sellers were customers or competitors and whether that was a conflict of interest. Rep. Pramila Jayapal (D., Wash.) grilled him about Amazon uses data on third-party sellers to give its own products a leg up on its marketplace. Jeff played it cool buy saying the company has policies against that, but that he couldn't be sure that policy hasn't been violated. Rep. Lucy McBath, (D., Ga.) said the committee's investigation has concluded Amazon is a bully when it comes to the third-party sellers.
But Jeff did have an out. While Jeff was grilled about Amazon's dominance, Jeff said Amazon has one million workers which includes the 175,000 temp workers the company has hired during the pandemic and of which 125,000 temp worker will be given the chance to become permanent employees. Jeff also stated, those employees that are hired and trained will have the opportunity to program in which the company pay 95% of training costs for certificates or diplomas in occupations that are in high demand.
But Jeff had more important things to focus on, that was Amazon's quarterly earnings last night, of which I know they were going to kill it because FedEx and UPS told us so.
FedEx posted stronger-than-expected revenue and profit in its latest quarter due to COVID-19. Wall Street was worried that their business-to-consumer deliveries wouldn't be enough to offset their business-to-business deliveries, but their strong ground performance resulted in a 13% pop in the stock after earnings. UPS also crushed earnings expectation to the point that the stock hit all-time highs yesterday.
The company reported second quarter earnings of $10.30 per share on revenue of $88.91 billion, a 40% increase year over year.

Analysts were expecting the company to report earnings of $1.46 per share on revenue of $81.53 billion. However, Amazon's bottom line varies widely from quarter to quarter and analyst expectations for its profit are sometimes not that applicable.

"This was another highly unusual quarter, and I couldn't be more proud of and grateful to our employees around the globe," said Jeff Bezos, founder and CEO of Amazon, in a statement.

Amazon shares popped 5.32% to $3,214 after hours as the company continues to grow rapidly. Amazon's operating income for the quarter increased to $5.8 billion this year from $3.1 billion a year ago.
Source
Amazon's net quarterly sales increased 40% year over year to $88.9 billion. Operating income increased 89% year over year to $5.8 billion. Net income doubled year over year to $5.2 billion. Operating cash flow jumped 42% year over year to $51.2 billion, while free cash flow increased 28% to $31.9 billion. And if that wasn't enough, For the third quarter, Amazon is forecasting net sales between $87 billion and $93 billion, representing growth of 24% to 33% year over year and operating income between $2 billion and $5 billion.
Look for Amazon to take out there all-time highs in this Fall.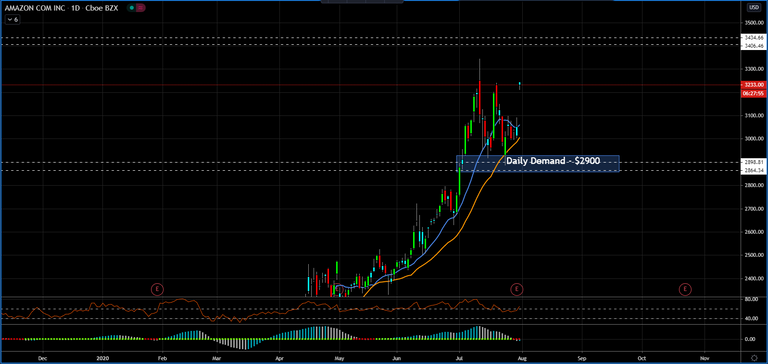 This post is my personal opinion. I'm not a financial advisor, this isn't financial advise. Do your own research before making investment decisions.

Posted Using LeoFinance