Here's How Cathie Woods Is Dealing With The ARK ETF Bear Market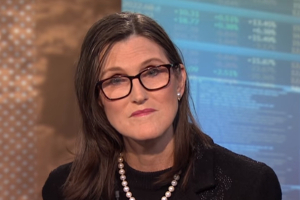 Last week, the Nasdaq gave up all its 2021 gains. Tesla Inc. which was added to the S&P 500 in December lost about 30% in February. We are talking about $277 billion in market cap for Tesla…gone. It the reason why ARK Innovation ARKK, ETF which includes stocks like Tesla, Square, Zillow, Roku, etc is down more than 20% from its peak. It's why Cathie has been taking some heat from Wall Street.
But Cathie took it on the chin like an OG. She took the opportunity to buy the dip. Three of her funds ARK funds added Tesla stock. The ARK Next Generation Internet ETF bought 29,508 shares of Tesla, while the ARK Autonomous Technology & Robotics ETF added 13,173 shares, and the ARK Innovation ETF purchased 89,447 shares.
You see, Cathie thinks this reflation trade is actually good for the Markets. Because she has been around the block a couple of times, she saw the dip coming, didn't panic and just followed her portfolio management and stock allocation playbook.
After remaining quiet on the topic, she's finally speaking about it.
---
---